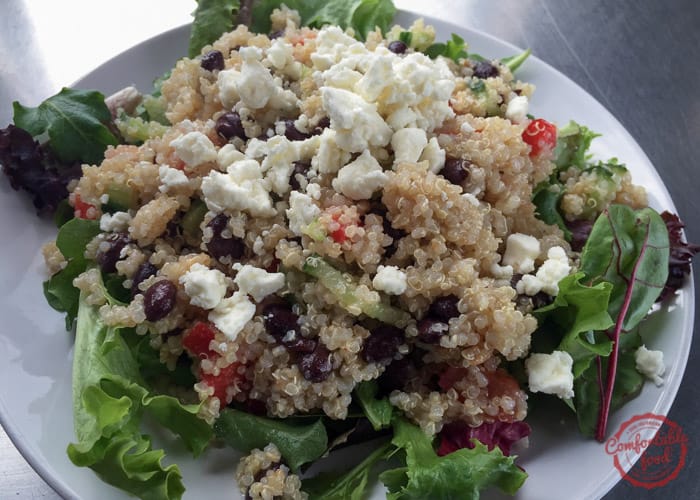 This super hearty and healthy salad could not be easier to make! Just toss all the ingredients together with this super zesty, best-ever dressing and you have a summer lunch or light dinner in minutes. Quinoa is not only delicious, but it's so good for you, and I absolutely love the texture it adds to this salad. I've found that plain white quinoa is the easiest variety to work with, but if you'd prefer black or red, feel free!
If you're looking for a quick, delicious way to get some healthy goodness in you, this is the salad for you. This recipe is easily modified to your taste – add more veggies or try a different kind of cheese (goat cheese would be delicious). Just don't skip the dressing, it's my favorite!
(This recipe was originally published here on 06/17/2015)
Ingredients
how to
for the dressing:
 In a stainless steel bowl, use a whisk to mix the ingredients together until well combined and the dressing begins to thicken - about 2 - 3 minutes.
for the salad:
In a large bowl, toss the quinoa, black beans, red pepper, cherry tomatoes, and cucumber with about ⅔ of the dressing.
In a separate bowl, toss the greens with the remaining dressing. Arrange the greens on 4 plates, then top with a heaping amount of the quinoa salad and sprinkle with Feta.
Serve chilled.