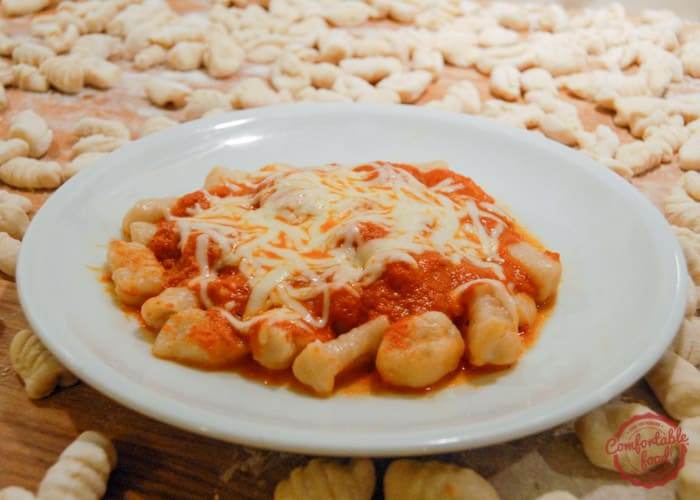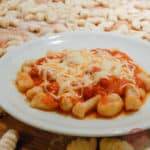 This recipe has been in my family for 3 generations, it comes from my great grandmother in Naples.  There is no egg in this recipe, the cheese and flour hold the potato together.  These gnocchi tend to be a bit on the dense side, but they hold sauce supremely well and are really really delicious.
Ingredients
how to
Bring a pot of water to boil and cook the potatoes until tender, about 15 - 20 minutes.
Press the potatoes through a fine mesh sieve or use a ricer to get them very smooth - add the parmesan and salt and mix together well.
Add about 2 cups of flour and mix together well, until a ball of dough forms.  Turn the dough out onto a heavily floured surface and begin to knead, gradually adding flour until the dough no longer sticks to the counter, about 15 - 20 minutes.
Divide the dough into tennis ball sized balls then roll each ball out into a 1/2" thick rope - about 2 feet long.
Use a knife to cut the ropes into 1" pieces.  Sprinkle the pieces with flour when you set them aside so they don't stick to one another.  Roll these gnocchi over the tines of a fork to mark them.
Bring a large saucepan of salted water to boil over medium-high heat, and cook the gnocchi in 3 batches.  Add about 1/3 of the gnocchi to the water and wait for them to rise to the surface - about 3 minutes.  Remove to a plate with a slotted spoon and cover with foil to keep warm while cooking the remaining gnocchi.
Serve with the sauce of your choice, gorgonzola, basic tomato sauce, bolognese, pesto - there are limitless options.