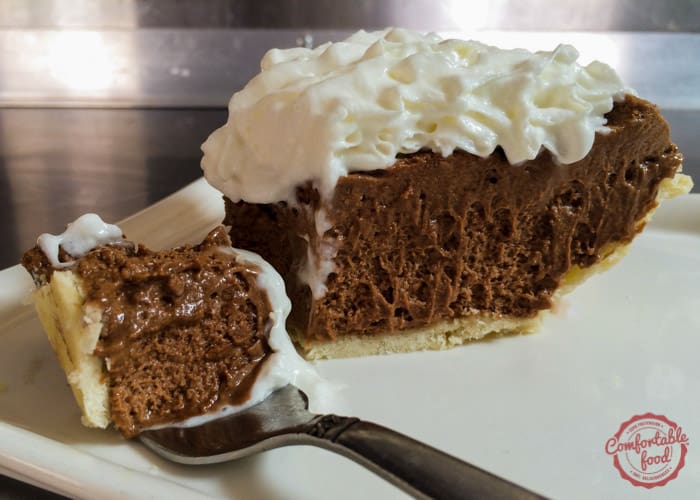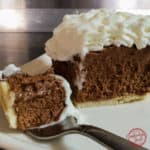 I had a craving for French silk chocolate pie, so I decided to come up with a recipe for one. My mom always made this pie when I was growing up, and hers was this perfectly dense texture and consistency. I tried to make mine a bit more fluffy and mousse-like and it turned out absolutely amazing.  It's so rich—so creamy, and at the same time super-light and fluffy.
If you like a more dense chocolate pie, you can just leave out the whipped cream. If, however, you love a divinely light and fluffy pie, just follow the recipe as is—it really is delicious.
(This recipe was originally published here on 07/14/2014)
Here are some things to help make this pie if your kitchen is missing them - check them out here:


Ingredients
how to
Place the crust in a pie plate and poke holes with a fork all across the bottom. Line the crust with foil or parchment paper then add pastry weights and bake in a 400 F oven for about 10 minutes. Remove the paper and pastry weights and return to the oven for another 5 minutes, or until the crust is browned - then remove it allow the crust to cool.

 In a medium sized bowl, use an electric mixer to blend the butter and sugar together until light and fluffy - about 3 minutes. Keep the mixer running and pour in the melted chocolate and vanilla.

Add the eggs, one at a time - mixing at medium speed for about 5 minutes between each addition.
In a separate bowl, beat the whipping cream until it thickens, then add the powdered sugar and beat until stiff peaks form.
Use a rubber spatula to fold this into the chocolate mixture, then pour this into the cooled pie crust.
Allow the pie to cool completely in the fridge (about 2 hours) before topping with whipped cream and serving.