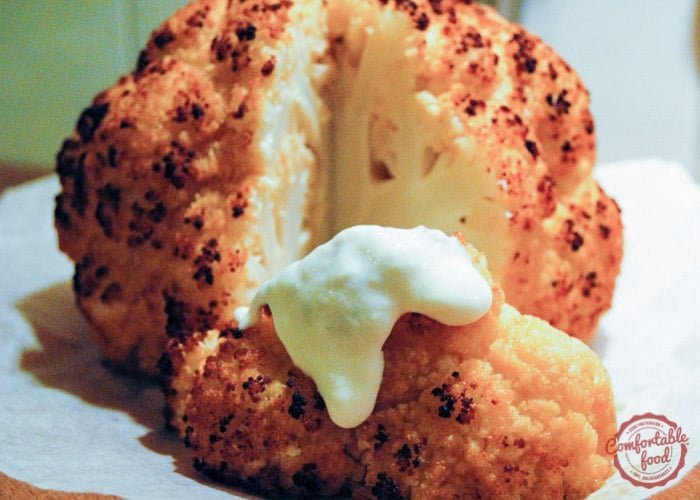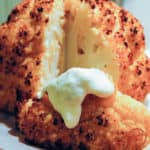 Cauliflower is one of my all-time favorite vegetables. It's often overlooked, I think, but really shouldn't be. It's incredibly versatile and hearty—this dish can easily be a meal itself. I served it as an appetizer before dinner, and it was a big hit. The cauliflower itself is super-flavorful, from the water bath and then the roasting—and the cheese sauce just really takes it over the top.
This is a great addition to a brunch menu. It's also good party food—you can cut up the cauliflower into pieces and stick a toothpick in them, and they become delightful finger food. It's also a great side dish with dinner, and perfect fare for a vegetarian guest.
(This recipe was originally published here on 04/24/2014)
Ingredients
how to
make the cauliflower:
Preheat oven to 475°.
Clean the cauliflower by removing all of the leaves. Rub the cauliflower all over with a little olive oil, sprinkle with salt, and set aside.
Put the water in a large pot on the stove, add the remaining ingredients, stir well, then bring to a boil. Add the cauliflower and reduce the heat, allowing it to simmer for about 15 - 20 minutes, or until a knife inserts easily into the center.
Remove the cauliflower to a colander and allow to drain. Put the cauliflower on a large roasting sheet, and roast in the oven until browned - turning the sheet occasionally. It should take about 40 minutes.
make the herbed cheese:
Mix the shredded cheese and sour cream together in a microwave safe bowl and microwave on high for about 1 minute. Use a fork to whisk in the cream cheese, basil and olive oil - then put the cheese mixture in a serving dish.
Sprinkle the roasted cauliflower with some sea salt, and serve with the cheese sauce on the side.