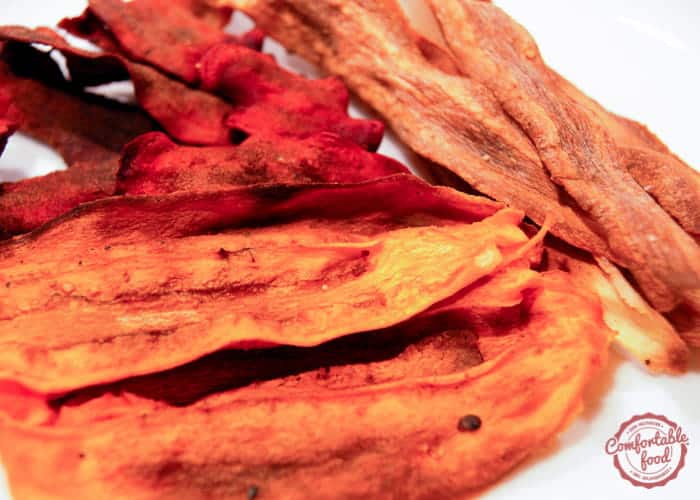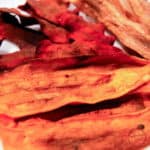 These veggie chips are so good and easy to make at home.  They are highly addictive and delicious, so be careful - do this once and you will want them all the time.  You can use any root vegetable you want, here I used beets and carrots and parsnips.  Be careful with the beets, they will bleed a lot - you have to do them last so as to not stain the other chips.
I meant to serve these with hummus but they came out too thin, so they weren't suitable for scooping - but they are delicious by themselves or with a creamy dip like ranch or a sour cream dressing.  Yum.
Ingredients
how to
Pre heat your oven to 375 F (190 C).
Peel your vegetables, then use a y-shaped vegetable peeler, and being very careful, peel down the length of the vegetable, making long, thin strips.
Put one kind of vegetable strip at a time in a large bowl, and hand toss with some olive oil and salt and pepper.
Arrange the strips so they are touching, but not overlapping, on a baking paper covered baking sheet, and bake in the top and bottom third of the oven (rotating the baking sheets a few times during cooking) for about 10 minutes.  Remove, turn the chips over with tongs, and return to the oven for another 10 minutes.
After cooking on each side for 10 minutes, begin to check them often, and when they begin to look browned and smell as if they are starting to burn, remove from oven and allow to cool on a cookie rack - the chips will harden as they cool.
4

stars - based on

1

review(s)