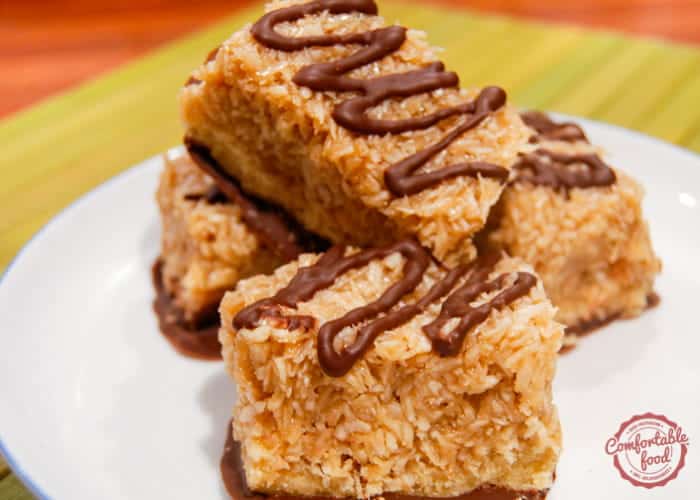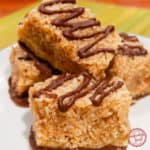 Salted caramel sauce seems to be everywhere nowadays. I had never made it before and decided to see how it would pair up with coconut in these Girl Scout cookie knockoffs. A bar seemed like the logical choice, and any concerns I may have had about the salt and coconut not being a perfect match were (happily) completely unfounded. The sauce blends perfectly with the coconut, the cookie base adds the perfect texture, and the chocolate does a huge part in tying all the flavors together. If you're apprehensive about the salt, don't be—just follow the recipe and leave it out, or put in half the amount. The bars will still be perfectly delicious.
There's a lot of coconut and a lot of caramel sauce in this recipe. I wanted a thick, chewy bar, and that's what I got. But if you don't want them so big, you can reduce the topping portion by half and have a much thinner bar.
(This recipe was originally published here on 05/17/2013)
Ingredients
how to
Preheat the oven to 350 F (175 C) and lightly grease a large 9" x 13" baking dish.
In a large bowl, use an electric mixer to cream together the sugars and the butter until light and fluffy.
Beat in the egg and vanilla. Then, with the mixer on low, gradually mix in the flour and salt until they're all mixed together.
Press the dough evenly into the bottom of the prepared baking dish and bake for 20 - 25 minutes, until it's set and the edges begin to brown. Allow to cool.
While the crust is cooling, reduce the oven temperature to 300 F (150 C). Spread the coconut evenly on a parchment lined baking sheet and toast in the oven about 20 minutes (stirring every 5 minutes), until the coconut is golden brown.
Heat the sugars in a heavy bottomed sauce pan over medium heat and whisk until they are melted. Then whisk in the butter.
Allow the sugars and butter to cook together for about 3 minutes, swishing the pan around often, but not stirring.
Remove the pan from the heat and slowly whisk in the cream, until it is all blended and smooth, then whisk in the salt and allow to cool for about 10 minutes.
When the caramel has cooled, stir in the toasted coconut and dollop the sauce all over the cooled crust. Use a spatula to spread the caramel into an even layer, then put in the fridge to cool and set.
When cool, cut into bars (24 - 30 depending on size) and melt the chocolate in a bain marie or in the microwave.
Dip the bottom of each bar into the melted chocolate and put on baking paper to set.
Drizzle the remaining chocolate over the bars using a ziplock bag with the corner snipped off or a pastry bag, and put in the fridge to chill and harden before serving.