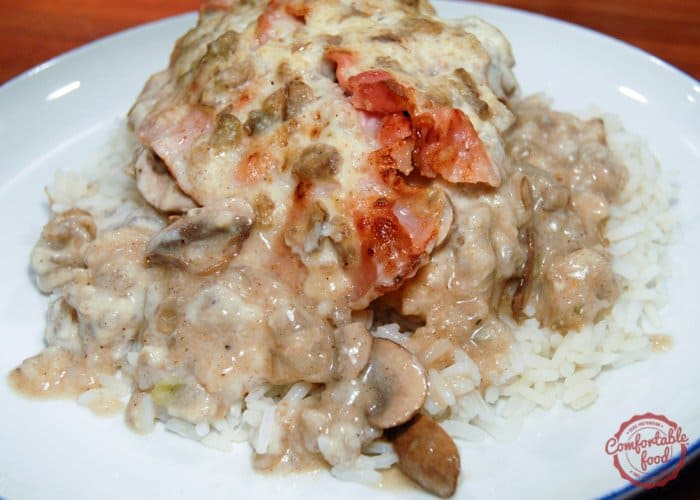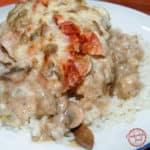 This recipe for browned chicken breasts topped with mushrooms and bacon, then smothered in delicious gravy and baked is comfort food at it's finest.  It's easy and quick to throw together, super flavorful, and the chicken is so tender and succulent - a crowd pleaser for sure.
Ingredients
how to
Preheat the oven to 350 F (175 C) and grease the bottom of a 9 x 13 casserole dish.
In a shallow bowl, whisk together the flour, bread crumbs, salt and pepper.  Dredge each piece of chicken in the mixture, and set aside on a plate, reserving about 1/2 cup of the left over flour mixture.
Cook the bacon in a skillet until almost crisp, but not quite browned then remove to a paper towel lined plate.  Reserve about 1 tbsp of the drippings in the skillet.
Add the butter to the skillet, heat over medium high heat, and brown the chicken breasts, about 2 minutes per side, then transfer the chicken to the casserole dish and top each piece with two strips of bacon.
In the same skillet you used to cook the chicken, add the remaining tbsp butter and return to medium heat.  Cook the onion and celery until they begin to soften, then sprinkle over the reserved flour and cook until the flour begins to darken.  Stir in the stock and cook and stir until the gravy begins to thicken.
Put the sour cream in a small bowl, then whisk in some of the gravy a few tbsp at a time to temper it, then stir it into the gravy.  (if your gravy is really thick, you can just add some water to it to thin it down)
Sprinkle the sliced mushrooms over the chicken breasts, then top with the bacon slices.   Pour the gravy over - smothering them well and bake in the oven until cooked through, about 25 - 30 minutes.
Serve with rice or pasta.