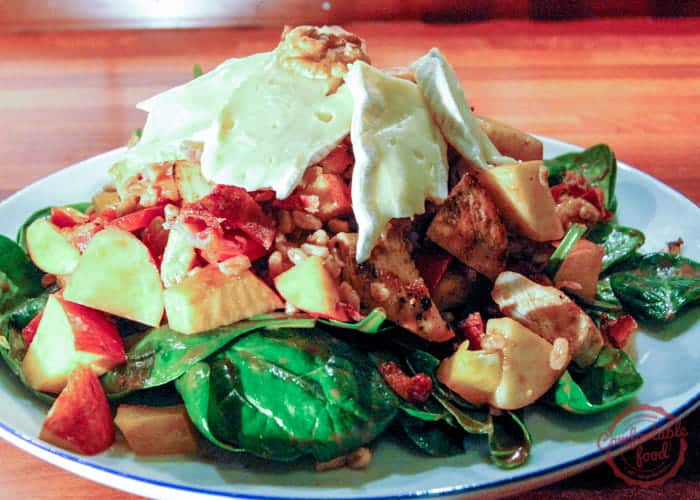 The spinach, spelt and apples give this salad a healthy feel to it, and the acidity in the red wine vinaigrette pulls all the flavors together.   The chicken give great protein and substance, and bacon just makes everything better.  This is an easy salad to prep the night before then throw together just before lunch.
Ingredients
how to
for the dressing:
In a bowl, whisk or pulse blend the vinegar together with the dijon mustard, salt and pepper.
Slowly add a stream of olive oil and whisk or blend until dressing begins to thicken.
for the salad:
Cook the spelt according to package directions, then let cool completely.
Cook bacon and chicken breast, then roughly chop and allow to cool.
Toast the walnuts over medium high heat until fragrant, about 3 minutes, then allow to cool completely.
(all of this can be done the night before, then thrown into the salad for a quick lunch)
Toss the spinach in about 1/3 of the dressing, arrange on four plates.
Toss the apples, peppers, chicken and spelt in the remaining dressing, then spoon on top the spinach.
Sprinkle the bacon and walnuts on top, arrange the brie and enjoy!