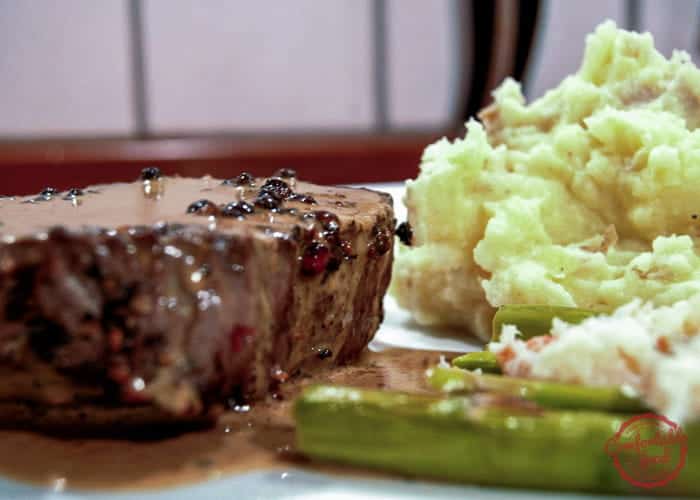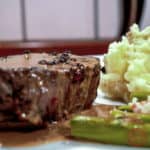 I love steak au poivre because of the way the spicy pepper crunches and contrasts with the creamy flavorful cognac sauce.  It's the perfect solution for a quick special dinner, and goes great with almost any sides.  Mashed potatoes, asparagus, mac 'n cheese - you pick.
Ingredients
how to
Remove the steaks from the fridge about an hour before using and sprinkle generously with kosher salt.
Roughly crush the peppercorns using a pestle and mortar.
Spread the broken peppercorns on a plate, and gently press both sides of each steak into them, coating them well.
Heat the oil and butter in a skillet (I love cast iron) over medium heat for a few minutes, until it begins to smoke.
Add the steaks, and cook for about 4 - 5 minutes per side for medium rare, a bit longer if you like your steak less red.
Remove the steaks to a plate and cover loosely with foil while you make the sauce.
Spoon any excess fat out of the pan, but leave the bits of pepper and charred beef, and while the pan is still hot, pour in the cognac.
Tip the pan over your flame (or use a match) to ignite the cognac (be careful - it will produce a size-able ball of fire) and then let the fire die out.
Put the pan back on the flame, add the cream and cook, stirring vigorously to incorporate all the drippings in the pan, for about 5 minutes - or until thickened.
Spoon the sauce over the steak and serve.