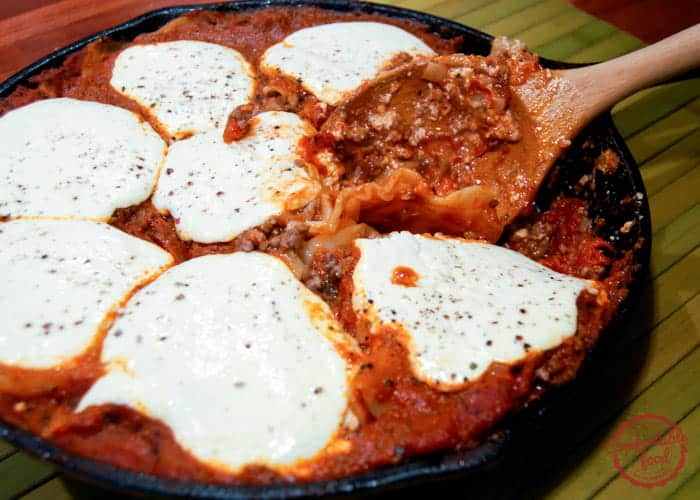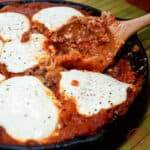 An quick and easy take on a classic dinner, this one skillet stovetop lasagna is so good.  On the table in under an hour, it just might become your new favorite lasagna recipe.
Ingredients
how to
In a small bowl, mix together the ricotta, Parmesan and egg. Generously salt and pepper and set aside.
In a large cast iron, or oven proof skillet heat the oil over medium low heat. Add the onion and cook for about 3 - 5 minutes, until softened, then add the garlic and cook another minute or two.
Increase the heat to medium high, add the ground beef and stir and cook until no longer pink.  Stir in the Italian herbs, generously add salt and pepper, then drain any excess grease.
Stir in the tomatoes, water, and pasta sauce, then fold in pasta pieces (make sure they are all well covered by the sauce) and bring to a boil - reduce heat to a simmer and cook for about 20 minutes, or until the noodles are soft. Turn your oven broiler on to 400 F (200 C).
Dollop the ricotta mixture over the top with a spoon, then put in the top third of your oven and let cook for about 10 more minutes, watching carefully towards the end that the cheese topping doesn't burn.  (if you don't want to finish the lasagna in the broiler, just cover the pan again for about 10 minutes to cook the ricotta/egg mixture)
Remove from the oven and allow to cool for about 10 minutes before serving.