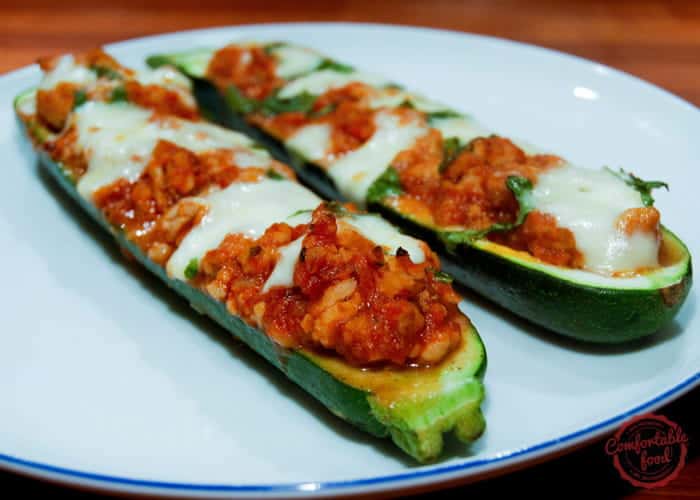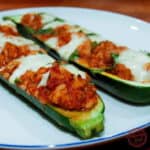 These stuffed zucchini are delicious, and perfect for a lighter, low-carb meal.  The flavor of the chicken stuffing combines perfectly with the zucchini, the tomato sauce adds the perfect tangy sweetness.   You could easily make these vegetarian by just using mushrooms or any other vegetables.  Beware of the cooking time, the recipe is for al-dente, if you want them softer add about 5 - 10 mins.
Ingredients
how to
In a large skillet, heat the oil over medium heat and saute the onion for about 3 - 5 minutes, or until beginning to soften.  Add the garlic and saute another minute or two.
Increase the heat to medium high and add the ground chicken.  Stir in the Italian seasoning, generously add salt and pepper and cook - breaking it up well - until done, about 6 minutes.
Stir in the tomato sauce and let simmer until thickened, about 10 minutes, then remove from heat.
Heat the oven to 360 F (180 C).
Cut the zucchinis in half lengthwise and use a spoon to scoop out the seeds and enough flesh to leave a 'boat', then place them in a greased casserole dish and generously salt and pepper them.
Fill each boat with a heaping portion of the chicken, then cover the dish tightly with foil and bake for 25 minutes.
Remove from the oven, uncover the dish and sprinkle the mozzarella cubes, then the fresh basil over the tops.
Turn your broiler on high, and return the dish to the top third of the oven for the cheese to melt, about 2 - 3 minutes.