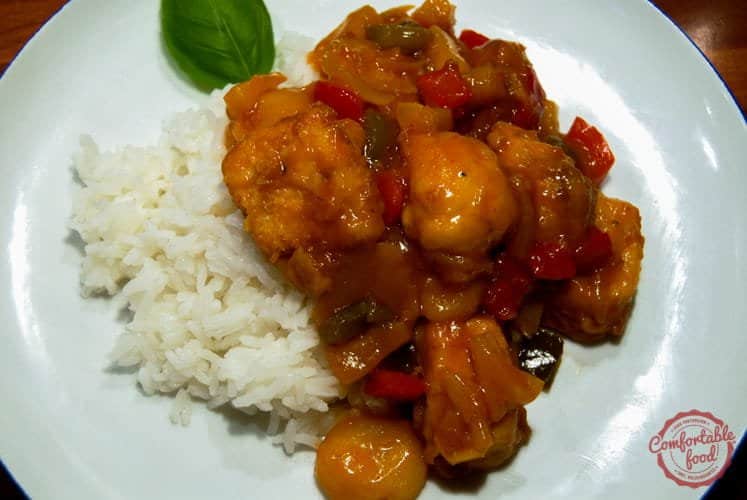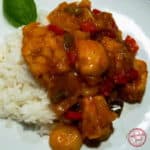 I love the combination of sweet and sour in a savory dish and they blend together so perfectly here. Sweet and Sour Chicken is such a popular dish in Chinese restaurants, and it's actually pretty easy to make at home. There are a lot of ingredients, and each one is necessary to provide the delicate balance between the opposing flavors. This dish is guaranteed to impress any guests or family members—it's restaurant-quality delicious.
(This recipe was originally published here on 06/06/2013)
Check out these kitchen essentials helpful in making this recipe:
Ingredients
how to
make the chicken:
Cut the chicken breasts into bite size cubes, about 1 inch - then season with salt and pepper.
Put the cornstarch into a shallow bowl, then roll the chicken pieces in it. Shake off any excess starch, then dip in the egg mixture and set on a plate. Continue until all the chicken pieces are battered.
Heat the oil in a large skillet over medium heat, then cook the chicken pieces until browned, then place the chicken on a paper-towel-lined plate to drain. Discard the used oil.
make the sauce:
Drain the pineapple chunks and set aside, reserving the juice.
Put about 3 tbsp of the reserved pineapple juice in a large bowl and whisk in the 3 tbsp cornstarch until the mixture is smooth and creamy.
Stir in the remaining pineapple juice, water, soy sauce, vinegar, grated ginger, brown sugar, ketchup, chili flakes, and garlic salt then set aside.
In a clean, large skillet heat the 1 tbsp of oil over medium heat and cook the onion and peppers until starting to soften, about 5 minutes.
Stir in the chicken, water chestnuts, pineapple and the sauce and cook, stirring often, until the chicken is cooked through and the sauce begins to thicken - about 8 - 10 minutes.
Serve with white rice.