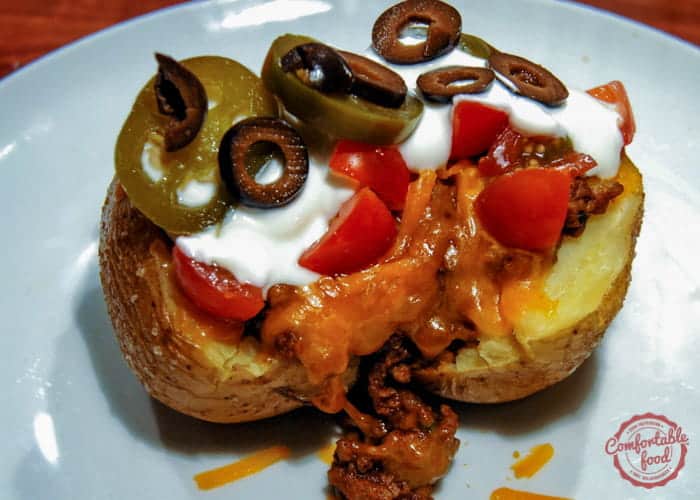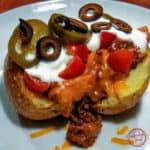 These beefy baked potatoes are topped with flavorful taco meat and Mexican inspired garnishes.  They are flavorful, fun to make and super easy to modify.  This 'recipe' might be a bit obvious, but use it as an idea and jazz them up any way you want.
Ingredients
how to
Heat the oven to 400 F (200 C).
Rinse and scrub the potatoes under cold running water then pierce them about 4 times on each side with a fork.
Rub the outside of the potatoes with a bit of olive oil, then sprinkle generously with coarse sea salt.   Place on the center rack in your oven, (put some foil on the lower rack to catch any drippings) and bake for about 45 minutes, or until tender when pierced with a fork.  Remove from the oven and allow to cool for about 10 minutes before opening.
while the potatoes are baking, make the taco meat:
Heat the oil in a large skillet, over medium heat then cook the onion for about 3 - 5 minutes, or until beginning to soften.  Add the jalapeño and garlic and cook for about 1 more minute.
Increase the heat to medium high and add the ground beef.  Cook until browned, breaking it up with a wooden spoon as it cooks.
Generously salt and pepper the beef, then sprinkle over the taco seasoning.  Whisk together the tomato paste and 1/2 cup hot water and stir this into the beef.
Lower the heat and cook for about 5 more minutes, or until thickened.
When the potatoes have cooled a bit, split them open and spoon over the taco meat.  Sprinkle with cheddar cheese and top liberally with salsa, sour cream, diced tomatoes, jalapeños and black olives.