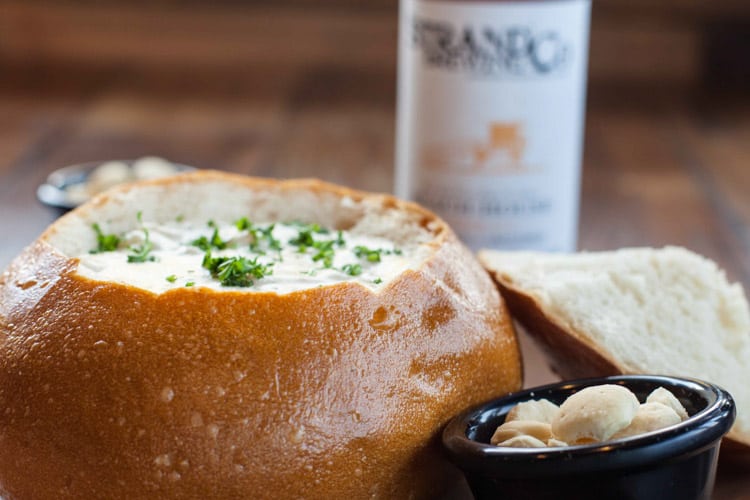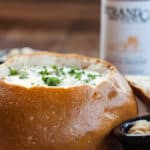 Nothing says beach food like Clam Chowder – and this recipe from The Hermosa Beach Fish Shop in California is simply the best.   It's not hard to make, and it's rich and creamy and chock full of tender clams.   I've made a few different types of clam chowder in my day, and this one is absolutely perfect.
If you're land locked and looking for some flavors of the coast, this recipe is a must have.  It's delicious.
(This recipe was originally published here on 02/29/2016)
Ingredients
how to
for the roux:
In a sauté pan, add ⅓ stick of butter and 1 cup of flour.
Place pan on low heat and mix ingredients together until mixture thickens.
for the clam chowder:
Wash and peel potatoes. Cut potatoes into medium-sized cubes and place in water for when ready to use.
In a large pot and on low heat, add ⅓ stick of butter.
Once butter has melted, add diced celery, diced onions and minced garlic to pot. Cook for 10 minutes, stirring ingredients every minute.
Add 1 cup of flour and stir until flour is not visible.
Once ingredients have been mixed thoroughly, add beer to pot. Stir ingredients to incorporate beer and add 8 cups of the cut potatoes from Step 1.
Add fish stock and strained clam juice to pot and stir thoroughly.
Add kosher salt and ground black pepper to pot and stir thoroughly.
Cook ingredients on low heat for approximately 1 hour or until potatoes are tender.
Add the roux and stir until it's completely dissolved in the soup.
Add cream to pot, turn off heat and mix in the clams. Stir chowder to incorporate all ingredients.