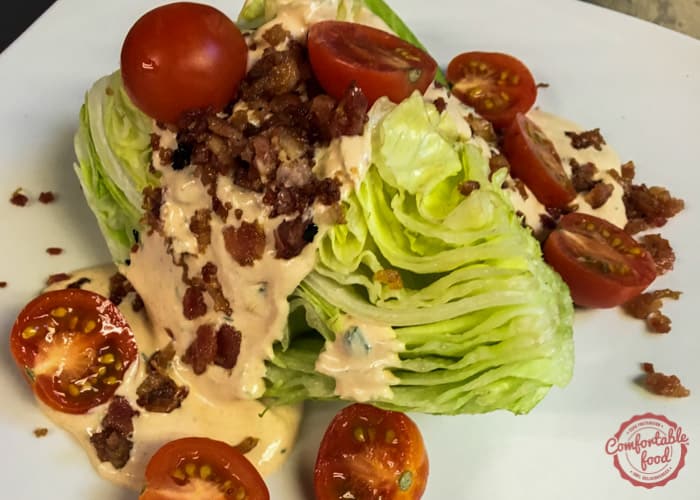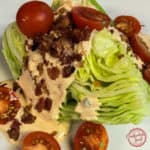 The wedge salad has been a staple in American steakhouses for as long as I can remember – and for a good reason.  It's crispy and crunchy and with the right dressing it's one of the best things ever. The standard dressing is usually a blue cheese, but I'm not a huge fan of that so I decided to spice this one up a bit and go with this super delicious chipotle ranch.
Ranch dressing is really easy to make at home, and this one is one of the best I've had.  It's spicy and creamy and goes so well with the bacon and tomato it's like eating one the greatest BLT's ever, just without the bread. This salad is seriously delicious – it's the perfect start to any great meal.
(This recipe was originally published here on 01/28/2016)
Ingredients
how to
make the dressing:
 Put the mayonnaise, sour cream, parsley and chives in a large mixing bowl and whisk until combined.

Put the garlic, chipotles, adobo and buttermilk in a food processor and pulse until completely blended. Add this to the mayonnaise mixture with the salt and lime juice (start with 1 tbsp, then use the remaining to thin the dressing out if it's too thick) and whisk again until incorporated then set aside.
make the salad:
Cut the cored iceberg lettuce into 4 quarters and put each quarter point up on a salad plate. (To core the iceberg, I always just hold it with the core on the bottom, then hit it hard on a counter, the core should pull out easily.)
Pour a generous amount of dressing down the middle of each wedge, then top liberally with crumbled bacon and cherry tomatoes. (The bacon is best warm, so if you didn't cook it right now I suggest putting the crumbles in a skillet and stirring them around until they brown and look beautiful.)