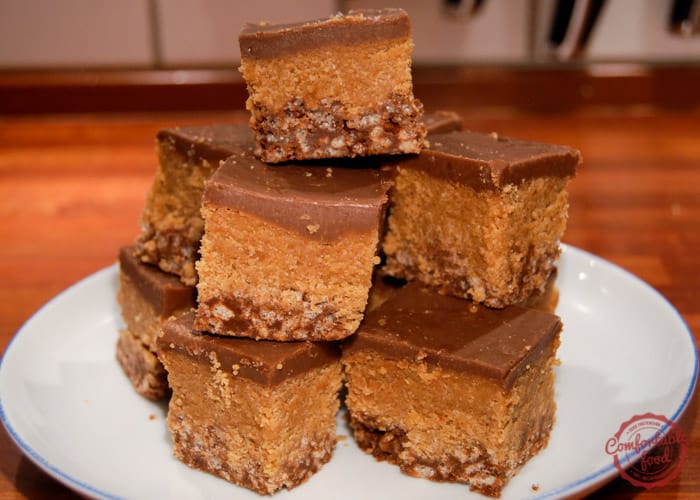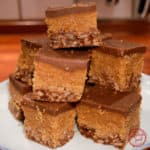 This layered peanut butter fudge recipe starts off with a crispy crunchy base that is topped with a layer of perfectly sweet peanut butter fudge then finished off with a layer of creamy chocolate fudge.  This flavors blend together perfectly like only peanut butter and chocolate can and the rice krispies in the base provide the perfect texture to contrast and support the creamy fudge.
Ingredients
how to
for the crispy layer:
Spray a 9x11" baking pan and line the bottom with parchment paper - spray the paper.
In a heatproof bowl over boiling water, melt the chocolate and butter together, until smooth.  Remove from heat and stir in the peanut butter and rice krispies.
Spread the mixture evenly in the bottom of the pan and chill in the fridge for about 15 minutes.
for the peanut butter layer:
Melt the butter in a large sauce pan over low heat.  Add the sugars, evaporated milk and salt; increase the heat and bring to a boil.  Boil for about  6 - 7 minutes, stirring constantly - until the mixture begins to pull away from the sides of the pan and form a very soft ball.
Remove from heat and stir in the marshmallow fluff.  Stir until melted, then stir in the peanut butter and vanilla.
Spread this mixture evenly over the chilled chocolate bottom and put in the fridge to chill while you make the top layer.
for the chocolate layer:
Use the heatproof bowl again over boiling water, and melt the chocolate together with the condensed milk, stirring until smooth and combined.  Remove from heat and stir in the salt and vanilla.
Pour this layer over the peanut butter, then let chill uncovered in the refrigerator for at least two hours before cutting into squares.  (if you have the time, chill it overnight covered loosely with foil)