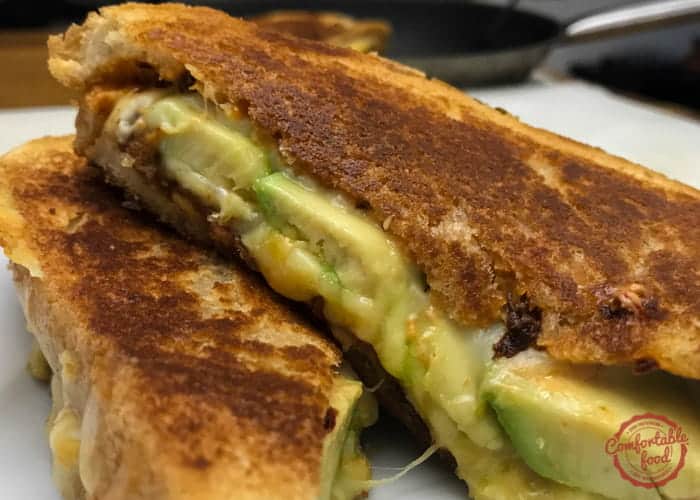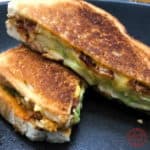 Happy Cinco de Mayo!  To celebrate all things Mexican (which I do all the time anyway) I decided to come up with a spicy, delicious, melt in your mouth (and burn it a bit) grilled cheese sandwich.  Of course, as all grilled cheese's go - it's super easy to modify.  I love cooking mine with mayo on the outside - plus a little butter in the skillet.  If you're more of a butter person, then just spread the mayo on the inside of the bread and butter up the outside per usual.  Use whatever kind of cheese you want.  Use avocado or not - it's completely up to you.  I was super happy with the way this came out, it was ooey, gooey, spicy deliciousness.
Check out these kitchen essentials helpful in making this recipe:
here's a video showing how to make it:
Ingredients
how to
make the chipotle mayo:
Use a handheld blender to puree together the mayo, dijon, chipotle, adobo and salt.  Pulse and blend until smooth.
make the sandwich:
Generously spread an equal portion of the chipotle mayo on one side of each of the 4 pieces of bread, then stack on the counter with the mayo sides touching.
Add a slice of cheddar cheese to each one, then four 1/2 slices of bacon, half of the shredded cheese and half of the avocado on each.  Top with the slice of gouda.
Heat some butter in a large non-stick skillet over medium heat.  Remove the top layer of buttered bread with the toppings and place in the skillet then add the other piece on top.
Cook, flattening with a spatula for about 3 minutes before flipping the sandwich (and adding a bit more butter) and cooking the other side for an additional 3 minutes.
Once the bread is toasted and the cheese is melted, remove, slice at an angle and enjoy!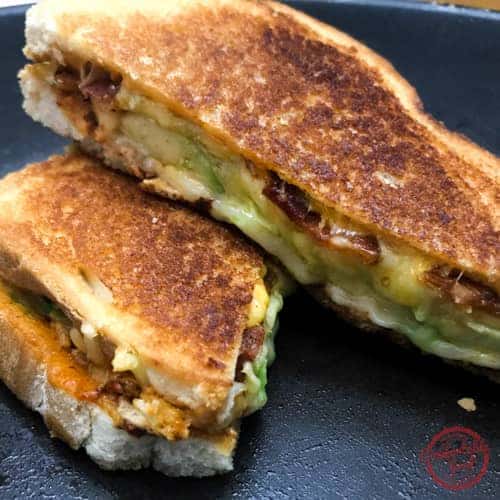 5

stars - based on

1

review(s)