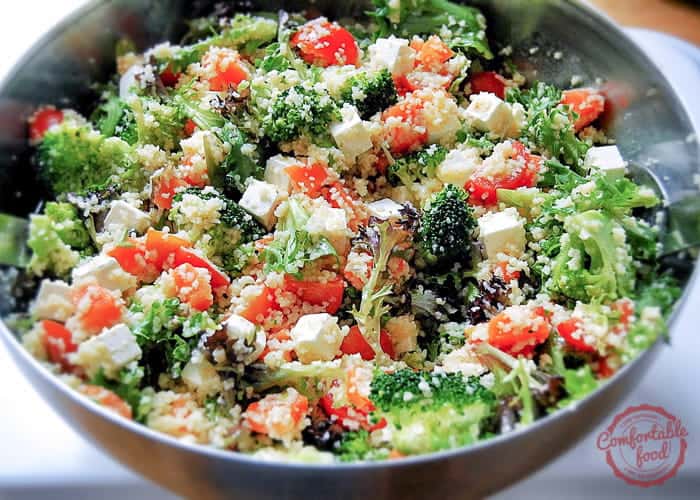 The combination of vegetables in this very flavorful salad is just perfect.  The bulgur adds a wonderful springy texture and the dressing is seriously the best - it's bright and tangy, and the garlic add the perfect amount of flavor.  This salad is so delicious, it's perfect for guests - either as a main course, or without the chicken and on the side of a quiche or pizza for a great lunch.
Ingredients
for the salad:
broccoli - 1 cup, florets
carrots - 1 cup, peeled and diced
bulgur - 2 cups, cooked, drained and chilled
chicken breast - 2 cups, cooked and chopped
feta - 1 cup, cubed
cucumber - 1, peeled and diced
cherry tomatoes - about a cup, halved
avocado - 1, diced and scooped from shell
salad greens - about 3 cups
for the dressing:
lemon juice - 1/3 cup, fresh
dijon mustard - 1 tbsp
garlic - 1 clove, pressed
salt and pepper - use very generously
olive oil - as needed
how to
for the dressing:
Put the lemon juice, dijon mustard, the garlic, and some salt and pepper together in a bowl.
Use a whisk or hand mixer and pulse blend together, or whisk vigorously while adding a steady stream of olive oil.  Stop when the dressing reaches your desired consistency and flavor.
to make the salad:
Blanch the broccoli and carrots in a colander over boiling water – about 3 minutes for each, until crisp tender.  I usually cook the vegetables and bulgur the night before, then allow to chill in the fridge overnight.  If you want to make it the same day, just be sure to run cold water over the cooked vegetables and bulgur, then allow to chill for at least 1 hour before tossing them in the salad.
Mix all ingredients together in a large bowl, sprinkle generously with salt and pepper, and toss in the dressing.