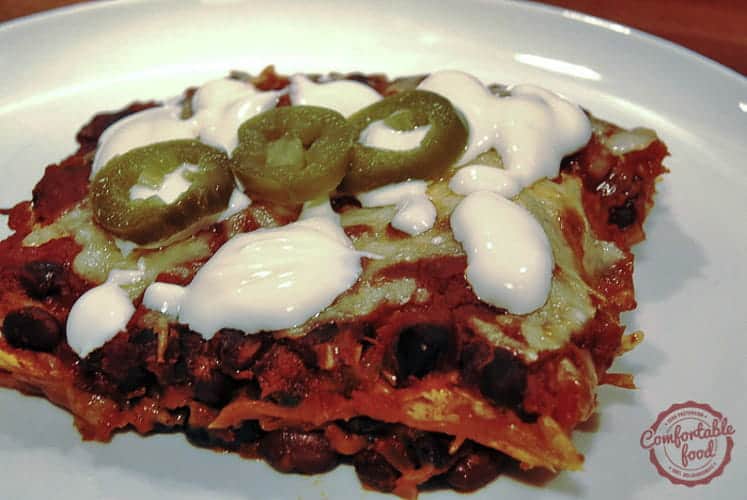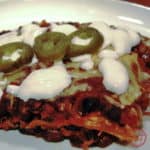 This simple enchilada casserole recipe is made with black beans, and is completely vegetarian.  It's very flavorful and super easy to make, it's a quick option for a tasty, meat free dinner any night of the week.
Ingredients
how to
Preheat your oven to 350 F (175 C), and grease a medium/large casserole dish.
In a large, heavy bottomed skillet, over medium heat, saute the onion, red pepper, jalapeno and garlic for about 5 minutes.
Increase the heat to medium high, and add the cumin and taco seasoning, stirring well until very fragrant.
Stir in the tomatoes and 1 cup of the salsa, then reduce the heat and simmer for about 5 minutes.
Add the black beans and stir well, then remove from heat.
Spread about 1/3 of the black bean mixture across the bottom of the casserole dish, then add a layer of tortilla strips, letting them slightly overlap.
Sprinkle 1/3 of the cheese on the tortillas, then add another layer of the black bean sauce, then repeat the whole process, so you have two layers of cheesy tortillas, and 3 of the black bean mixture.
Spoon the remaining cup of salsa over the top of the casserole, and sprinkle with remaining cheese.
Cover loosely with foil, and bake in the oven for about 35 minutes, then remove the foil and bake for 10 more minutes uncovered.
Serve garnished with jalapenos, diced avocado and/or sour cream.