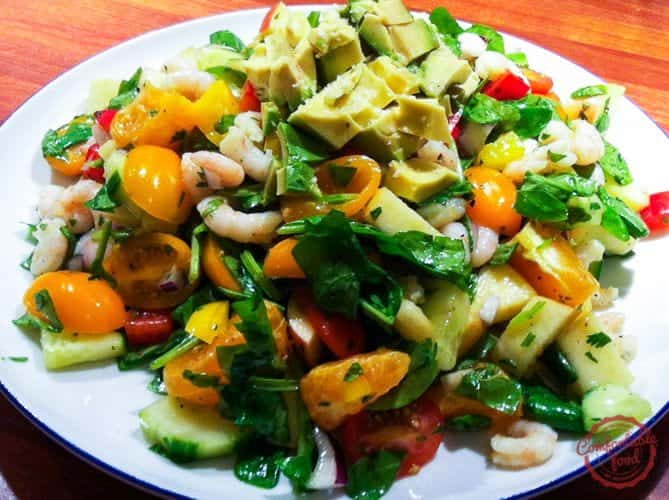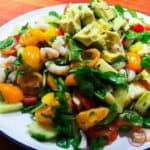 I came up with this salad because I wanted to use some shrimp I had in the freezer.  I had a bunch of clementines that were perfectly ripe, and I thought they would go great with the shrimp.  The cilantro and the onion pair so well with the creamy avocado and the sweet apples, and the spinach gives so much substance and has a great texture.  This is not only a beautiful looking salad, it's light yet filling - the flavors are so bright and refreshing, it's really delicious.
Ingredients
for the salad:
spinach - about 4 cups, fresh
baby shrimp - about 3 cups, peeled
apple - 1, cored and diced
clementine - 1, peeled, seeded, and diced
cucumber - 1/2, peeled and diced
cherry tomatoes - handful, halved
yellow pepper - 1/2, seeded and finely diced
red pepper - 1/2, seeded and finely diced
red onion - 1/4, finely chopped
cilantro - 1/4 cup, finely chopped
avocado - 1, diced and scooped from shell
for the dressing:
orange juice - 1/4 cup
garlic - 1 clove, pressed
dijon mustard - 1 tbsp
olive oil - as needed
salt and pepper - use very generously
how to
To make the dressing:
Whisk (or pulse blend) the orange juice with the garlic, mustard and salt and pepper. Slowly add the olive oil until the dressing reaches desired consistency and flavor.
To make the salad:
Chop all the vegetables, cilantro and spinach, then toss everything together with the shrimp, then top with avocado.