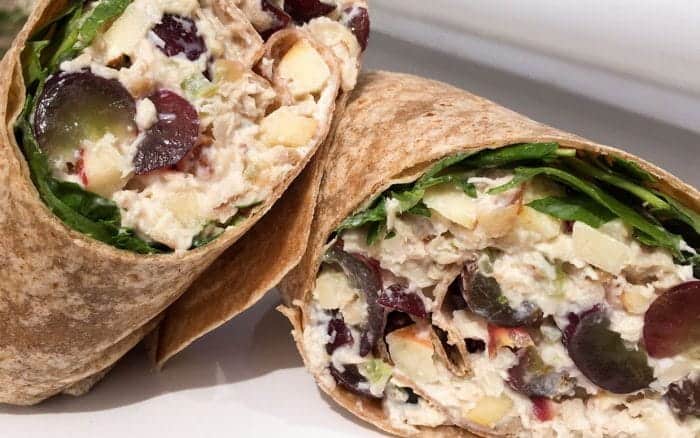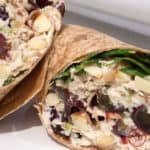 I love Waldorf chicken salad – it's really the perfect summer food. Full of fruit, it's ridiculously delicious and light. For this recipe I used Greek yogurt as a dressing to keep things on the lighter side. If you want a bit more flavor you can substitute 1/2 cup of the yogurt with mayonnaise and give it some extra richness.
This wrap is perfect picnic fare or great for a nice lunch on your back patio. If you're going for low carbs, just put a heaping scoop directly on the arugula and watercress with some field greens and skip the wrap. This chicken salad is so flavorful, it's guaranteed to impress.
(This recipe was originally published here on 04/17/2015)
Ingredients
how to
Chop up the chicken, either with a knife or by pulsing it in a food processor, then put in a large bowl with the celery, grapes, raisins, apples and walnuts. Salt to taste and toss together well.
Put the yogurt in a blender or food processor, add the lemon juice and some salt and blend thoroughly. Add this to the chicken mixture and toss together with a large spoon until totally combined.
Place the wraps on the counter and top with a generous portion of arugula and watercress, then scoop on a heaping mound of chicken salad. Fold in the sides, then wrap up tightly from the bottom. Cut in half and serve.