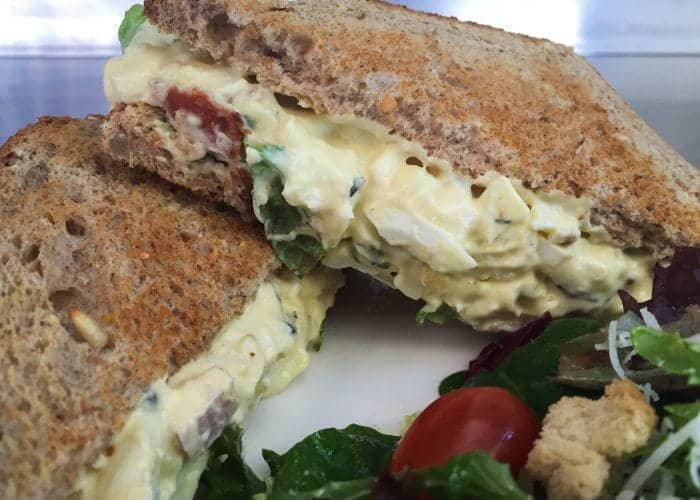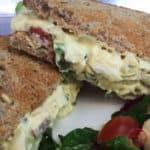 Egg salad sandwiches are a very typical summer food, but I was in the mood for one the other day so I decided to make one that was a bit more hearty and appropriate for these cold winter months.  White truffle oil seemed like the perfect accompaniment, and the tarragon and capers really help take this sandwich to the next level.
The flavors here really do combine flawlessly an make this some of the creamiest, zippiest most flavorful egg salad I have ever had – and it's rich enough to satisfy when it's cold outside.  I used toasted whole wheat bread in this recipe because it's what I had on hand – but i think a soft, toasted pretzel bun would be amazing as well.
(This recipe was originally published here on 01/22/2015)
Ingredients
how to
Put the eggs in a large bowl and use a pastry cutter to break them into small pieces. (If you don't have a pasty cutter, just chop them roughly with a knife before putting them in the bowl.)
Add the mayonnaise, Dijon, red onions, capers and tarragon and use a wooden spoon to mix it all together. Add the truffle oil, salt and pepper to taste and mix again to incorporate, then set aside.
Lay out four pieces of toasted bread and place a piece of lettuce and two slices of bacon on each one. Evenly distribute the egg salad on top of each piece of bread, then top with the remaining pieces of toast. Use a knife to quickly cut through each sandwich, halving them.