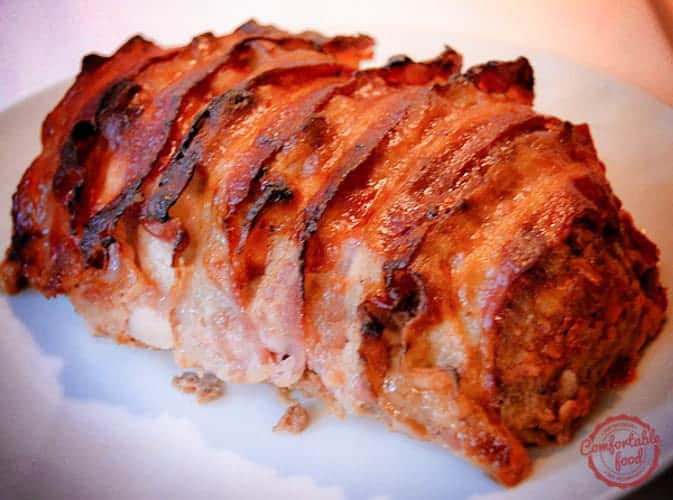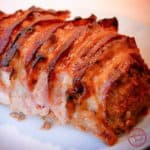 Wrapped in bacon and smothered in bbq sauce, this meatloaf is about as flavorful and moist as can be.  The bacon crisps up well while baking, and the drippings it creates makes the best gravy.
Ingredients
how to
Pre-heat the oven to 175° C (350°F), and lightly grease a baking pan.
Get a skillet hot over medium-high heat, and fry bacon for about 1 or 2 minutes on each side, just until it starts curling, and set it aside.
Drain most of the bacon grease, leaving maybe a tbsp, and sautee the onions and garlic until soft, about 6 – 7 minutes, then set aside.
Put the next 8 ingredients in a large bowl, adding the cooled onion and garlic, and mix well with your hands. Form the mixture into a meatloaf shape and put in the center of a greased 9×11 casserole dish.
Take each piece of partially cooked bacon and wrap over the top of the meatloaf, pushing the ends a bit under the meatloaf to hold the shape.
Bake for about 35 minutes, then remove from the oven and brush the remaining BBQ sauce over the bacon. (This is when I take most of the drippings out to make gravy.)
Return to the oven for about 10 more minutes (I have a fan assisted oven, and always turn it on now, it makes the bacon more crispy).
Let stand 10 minutes before serving.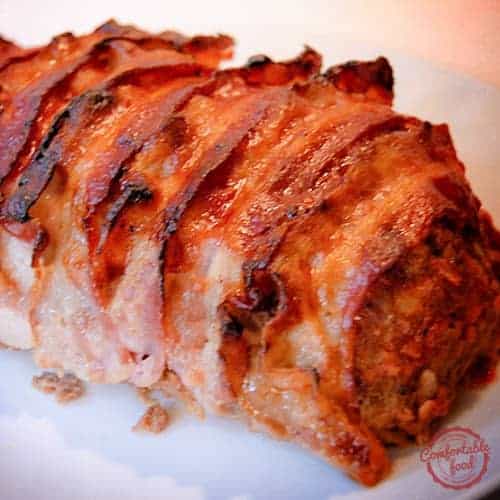 5

stars - based on

1

review(s)