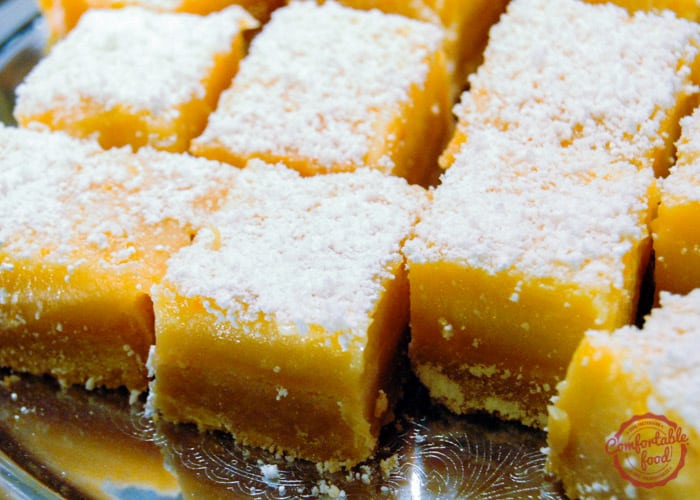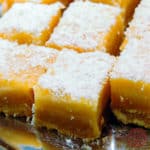 I absolutely love lemon desserts. There's something about the combination of sweet and tart that is the perfect finish for a great dinner. It's like a palate cleanser and dessert all rolled into one. (That's not to say that these lemon bars aren't great on their own as an afternoon snack.)
I was a bit conservative in the recipe with the lemon zest. I like my lemon treats zesty—so I usually use about double the amount of zest that any recipe might call for, including my own. So if you're like me, just add more. Trust me, these bars can handle it.  There's some flour in the topping on these bars. It gives the lemon custard a bit more substance. I really like the firmness it creates, and it makes these not your usual lemon bars.
(This recipe was originally published here on 01/30/2014)
Ingredients
how to
Preheat the oven to 350 F - grease a 9 x 13 baking pan, then line the bottom with baking paper and grease the paper.
In a large bowl, stir together the flour, sugar, cornstarch and salt. Add the cold butter and use a pastry cutter or your fingers to mix it in until it resembles coarse breadcrumbs.

 Pour this mixture into the prepared pan, and press into an even layer. Refrigerate for about 15 minutes, then bake for about 20 minutes - until golden brown.

While it's baking, make the filling.
In a mixing bowl, whisk together the eggs, sugar and flour, then stir in the lemon zest, lemon juice, milk and salt until combined.
Pour this mixture over the warm crust, then reduce the oven temperature to 325 F.
Bake for an about 20 minutes, or until the center of the filling is just firm. Cool to room temperature, then put in the fridge to chill completely.
Sprinkle with powdered sugar before slicing and serving.