These hearty vegetarian comfort food recipes will prove you that meat-free dishes can be satistying. Whether you're already vegetarian or simply wish to eat more plant-based meals, this collection has a variety of tasty recipes for you.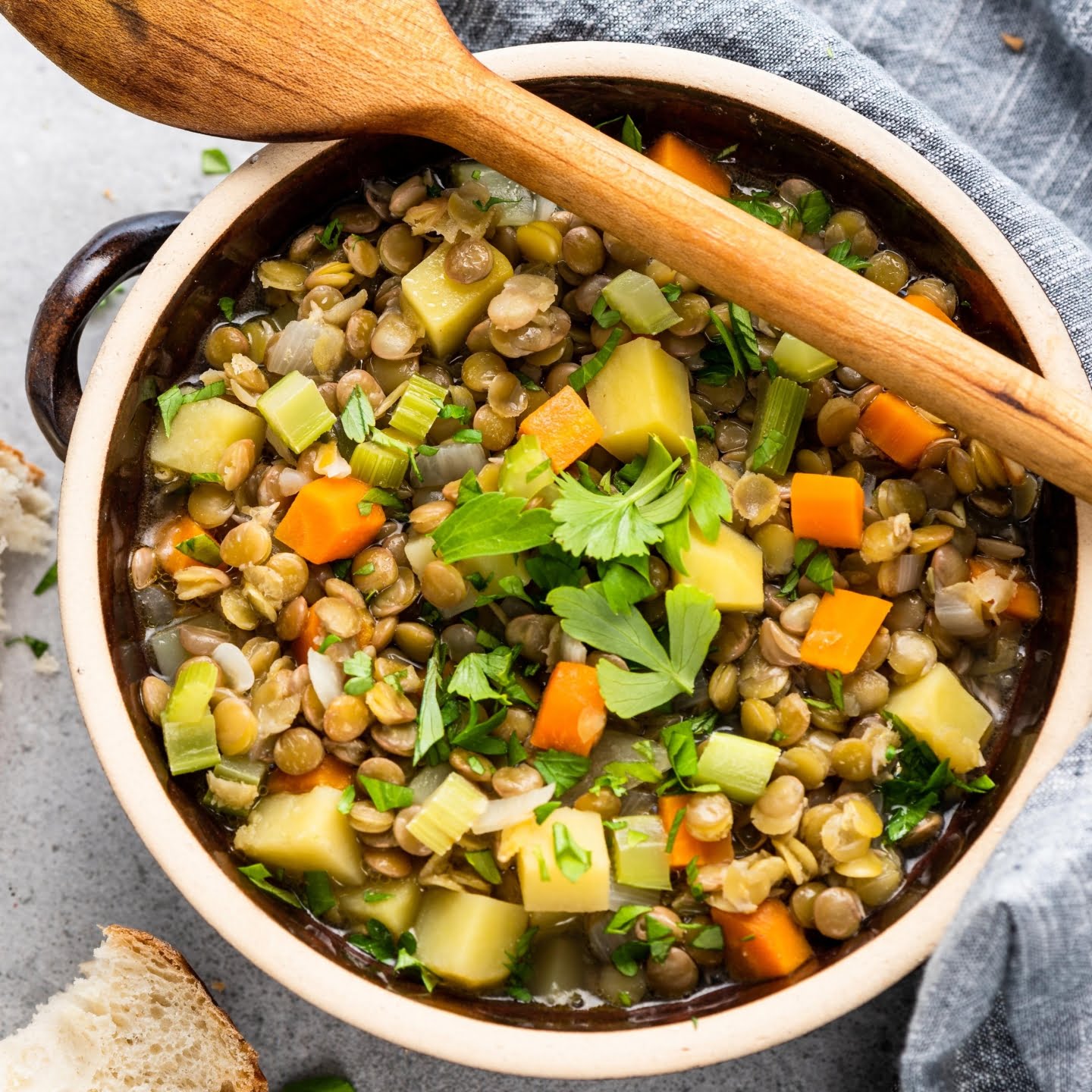 There's nothing quite like getting cozy and winding down with your favorite comfort food, especially on a chilly night, after a long day at work. It's a great source of joy in every sense of the word.
This vegetarian comfort food collection includes familiar favorites like grilled cheese and tomato soup, vegetarian versions of mac n cheese and shepherd's pie, and new vegetarian classics like sweet potato enchiladas and red lentil butternut squash soup.
You're sure to find one or more comfort food recipes that your entire family can enjoy any night of the week.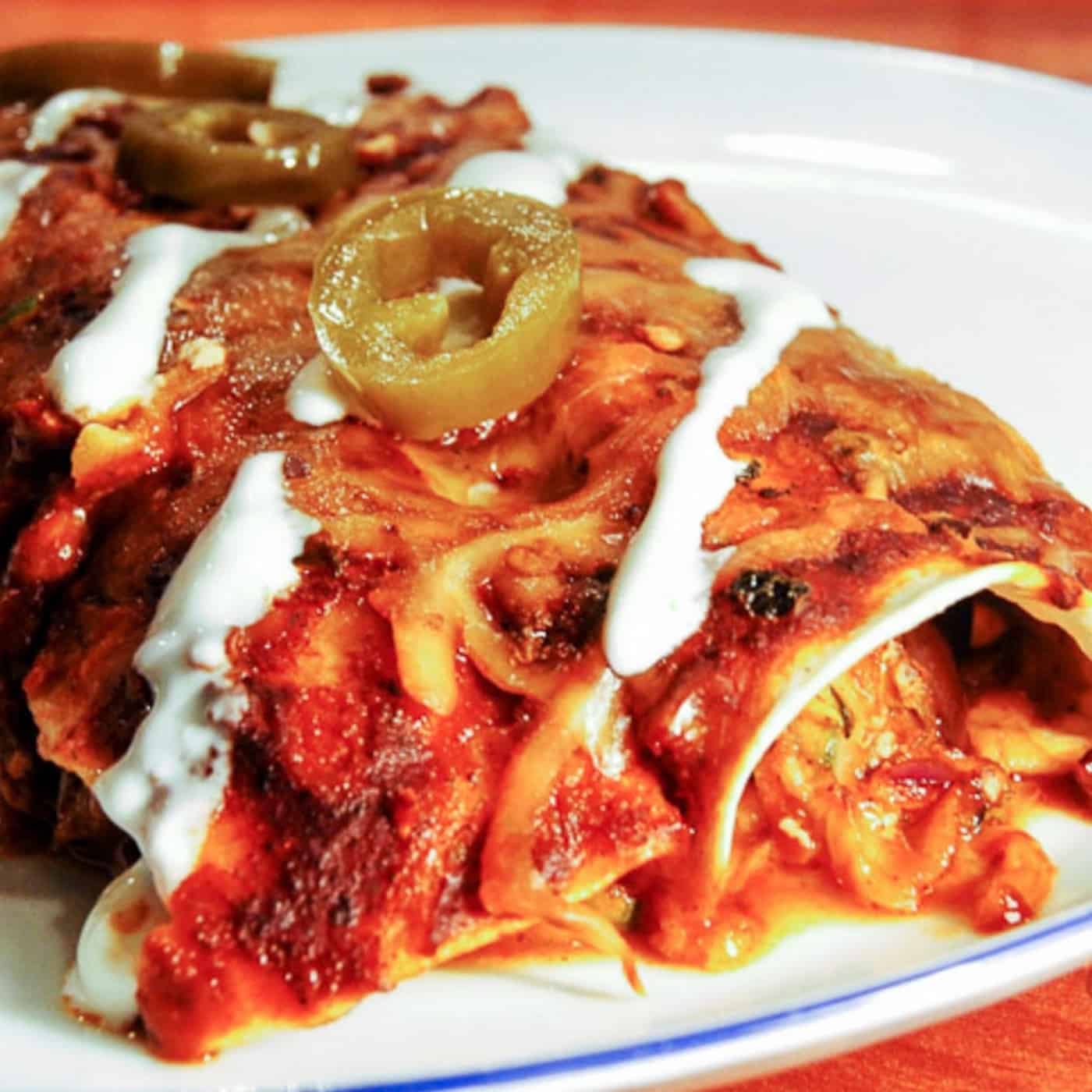 When it comes to the best vegetarian comfort food recipes, it's hard not to picture enchiladas in a casserole form.
It's delightfully layered with a savory blend of black beans, carrots, zucchini, enchilada sauce, and melty cheese. Kids and adults alike will love it.
This recipe is a serious winner, and it deserves a spot in your regular meal rotation.
Starring sweet-tangy caramelized balsamic onions, crispy apples, and gooey cheddar, this delicious twist on a classic may just become your next go-to vegetarian comfort food.
You can enjoy this grilled cheese any time of the day on its own or serve it with a side of your favorite tomato soup for a comforting, easy weeknight dinner for the fam.
Cozy up with a soothing roasted tomato soup bowl with gruyere toasts. It's deliciously creamy and packs a huge flavor with mellowed roasted tomatoes &garlic, fragrant basil, and velvety heavy cream.
A topper of cheesy gruyere toasts adds a nice crunch and extra savory umami to the soup.
Best of all, you can enjoy this creamy bowl of goodness in less than an hour.
Made with beans, corn, green chiles, bell pepper, veggie broth, cilantro and an array of aromatic spices, this instant pot vegetarian chili will satisfy your cravings and warm you up on cold nights.
This 30-minute meal comes together in one pot and tastes oh-so-good - the perfect dish for weeknight dinners or game days. You can also go the slow-cooked route if you want.
Finish off this hearty dish with cheddar cheese, a dollop of sour cream or Greek yogurt, and tortilla strips. Or, keep it dairy-free with a simple topping of jalapeno slices and scallions and a sprinkle of fresh herbs.
Take your parties and game night up a notch with this vegetarian bruschetta recipe.
Roasting the butternut squash and apples with warm spices brings out their natural sweetness and all the wonderful flavors of fall, making this recipe a winner!
It's deliciously served on toasted slices of bread with ricotta cheese, sautéed garlic, and sage leaves. It's finished with a sweet and tangy drizzle of balsamic glaze.
Indulge your sweet tooth with these melt-in-your-mouth brownies with a bit of melted chocolate drizzled on top.
They are dark, moist, fudgy, and chocolatey - nobody would ever guess they're vegan. My favorite part? You only need 7 simple ingredients and a blender!
These brownies are the perfect sweet treat to end your day.
This shepherd's pie, also known as cottage pie, stays true to the textures and flavors of the traditional dish without the ground meat.
It's filled with plant-based meat, spinach, carrots, onions, and topped with a creamy, cheesy root veggie mash for a delicious, satisfying dish that's sure to please even meat-eaters at your table.
If desired, you can go completely vegan and swap out the cheese and cream for dairy-free substitutes.
This is one of those vegetarian comfort food recipes you can never go wrong with. Pasta gets a flavorful twist from rich tomato sauce spiked with bay leaf and oregano.
It's topped with a blend of mozzarella and cheddar for an extra touch of decadence. It's oh-so-good; people will be asking for more.
Enjoy all the flavors of a vegan burrito spooned into spaghetti squash boats. Generously loaded with zucchini, bell pepper, black beans, corn, salsa, and topped with cheese, these burrito bowls are just as tasty as the real deal but healthier.
Plus, they're completely customizable. So feel free to pile high with your favorite toppings and mix-ins.
When you think of classic vegetarian comfort foods, mac and cheese are high up on the list.
Made with ultra-creamy and flavorful coconut-cashew sauce with a delicious crispy breadcrumb topping, this is the best vegan mac and cheese recipe you'll ever make.
It gets its cheese-like flair from the remarkable umami-packed nutritional yeast. Everyone in your household is going to love this.
Looking for a snack to satisfy your crunchy, creamy, and cheesy cravings? These spinach artichoke wonton cups are a sure and easy bet.
Packed with crowd-pleasing spinach artichoke dip flavor and baked to crisp perfection, you won't get enough of these bite-size appetizers.
They're perfect for parties or munching while watching the game.
A vegetarian take on one of our favorite Mexican recipes, these crispy pan-fried tacos are stuffed with creamy mashed potatoes and full of flavor refried beans then drizzled with hot sauce.
The tacos are delicious on their own, but pairing them with a spicy ranch dip will get your tastebuds tingling with every bite.
The combination of sweet caramelized onions, sautéed spinach and mushrooms with feta is simply divine.
Plus, the garlicky, creamy white sauce makes a tasty addition to the pizza. This is sure to satisfy even the most die-hard meat lovers.
Keep this veggie pizza recipe in your back pocket whenever you're feeling fancy.
This easy-to-make appetizer comes together in less than 30 minutes with a handful of ingredients, and the result is insanely delicious.
The spices will bring some Italian flair to your dish, which will bring you back for more.
Serve alongside crackers, crispy crostini, or toasted baguette bread. It's guaranteed to be a hit.
Try this vegetarian version of cashew chicken for a meatless Monday option. It has incredible flavor and texture - it's hard to find someone who will turn this comfort food down.
Golden and caramelized cauliflower florets are smothered in a luscious Asian-style sauce of soy sauce and ketchup and topped with crunchy cashews. Healthy never tasted this good!
This side dish is quick and easy to make, too. Serve over a bed of rice or quinoa to round out the meal.
This is one of my favorite vegetarian comfort food recipes. With tender sweet potatoes and well-seasoned black beans wrapped in flour tortillas and topped with melted cheese and flavorful sauce, these sweet potato enchiladas will not fail to excite your taste buds.
What I love most about this sweet potato recipe is that you can make them a day ahead and just bake when you're ready to serve without any effort.
Plus, the leftovers freeze beautifully. So you can make a big batch and indulge whenever you need some cozy comfort food.
Make the most of your garden bounty with this mouthwatering and finger-licking good lasagna recipe.
It's full of delicious layers of noodles, vegetables, herby ricotta, rich marinara, and melty cheese. This is vegetarian comfort food at its finest and guaranteed to be a new family favorite.
It's also a great way to sneak veggies for picky eaters.
This is hands down the best vegetarian quesadillas recipe ever! A blend of rich, creamy Mexican cheese sauce and full-flavored buffalo chickpea create a sinfully delicious and satisfying quesadilla that's sure to feature in your dinner rotation frequently.
Save yourself some time and use canned chickpeas in this recipe for a quick weeknight meal.
Serve with sour cream, salsa, and guacamole.
Creamy and decadent, this crave-worthy cake will become a topic of conversation at your dinner table. To say it's elegant would be an understatement.
Each bite features almonds, oats, vanilla, strawberry, chocolate, and bananas. The chocolatey goodness drizzled on top makes this beauty a show-stopping dessert.
Guests will be surprised to learn it's vegan and gluten free!
If you're looking for easy, no-fuss dinner ideas filling and packing a flavor punch; this comfort food recipe ticks all the boxes.
Red lentils combine with butternut squash in a deeply flavorful vegetable broth. The Greek yogurt gives it a nice creamy texture and ties everything together.
Garnish with cilantro, almonds, and an extra sprinkle of smoked paprika.
If you love everything chocolatey, you'll go crazy over this fun pudding recipe.
It's so impressive and comforting, yet extremely easy to prepare. All you need is 7 ingredients and 10 minutes of your time.
This recipe is a sweet way to finish up a meal and a worthy addition to a party plate, too
This eggplant parmesan bake is one of those vegetarian comfort food recipes that you will make repeatedly.
It's ridiculously cheesy and bursting with delicious Italian flavors. Best of all, it uses a handful of ingredients you most likely have in your kitchen right now.
This recipe makes a great holiday side dish everyone will love, yet it's quick and easy enough for any night of the week!
Related Vegetarian Recipes
Try one of my comfort recipes for your next family meal! And if you have any questions, I'm here to help!