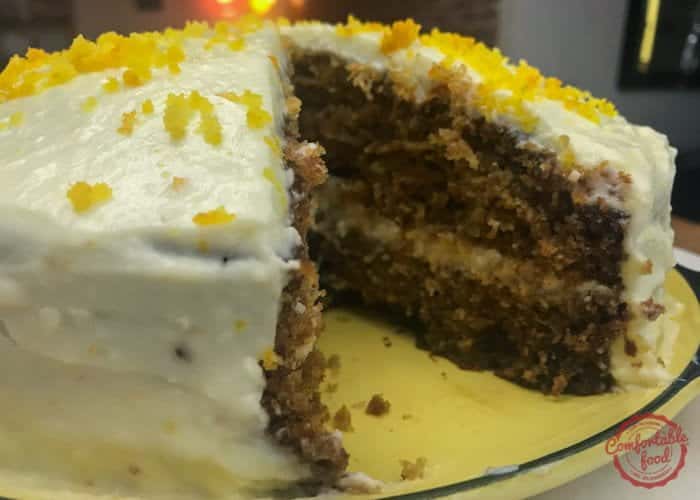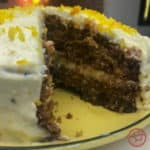 The spices in this carrot cake blend together perfectly and the orange adds a depth to the flavor and an interesting element of sweetness that just works.  All of this combines to make this the best carrot cake ever.
Check out these kitchen essentials helpful in making this recipe:
here's a video showing how to make it:
Ingredients
how to
for the cake:
Preheat oven to 325 F (160 C) and grease a 13x9x2-inch baking pan.  Line the bottom of the pan with baking paper, then grease the paper.  (I prefer a large round spring-form pan, but be aware the cooking time increases by about 20 minutes)
Use an electric mixer to beat the oil and both sugars in large bowl until well blended.
Add the eggs 1 at a time, beating well after each addition then beat in orange juice and peel.
In a separate bowl, sift flour, baking soda, baking powder, cinnamon, ginger, nutmeg and salt together, then add to sugar mixture and beat to blend.
Stir in carrots and raisins. (toss the raisins in a little bit of flour before adding them, this will prevent them from sinking to the bottom of the cake)
Pour the batter into the prepared pan and bake about 55 minutes, or until a toothpick test comes back clean.
Transfer to a rack and let cool for about 15 minutes before turning the cake out onto the rack – remove the waxed paper and let cool completely. (the cake can be prepared 1 day ahead -wrap tightly in plastic wrap and store at room temperature)
for the icing:
Use an electric mixer to beat the cream cheese and butter together in large bowl until light.
Beat in orange juice and the orange zest, then add the sugar and beat until smooth.
Let the icing rest in the refrigerator until thick enough to spread, about 20 minutes.
Use a large serrated knife to cut the cake in half horizontally, into two equal sized layers.  Place the bottom layer on a platter and spread with about 1/3 of the icing, then carefully place the top layer on it and decoratively spread the remaining icing on the sides and top.
To ensure that your icing is perfectly smooth and has enough body to create nice swirls make sure that you:
Do not overbeat the cream cheese - it will break it down and makes it appear grainy, and too soft to hold it's shape.
Use cold cream cheese - it gives the best texture.  Have your butter at room temperature however - and make sure to sift the powdered sugar before mixing it in.