This homemade cabbage roll casserole recipe has all the sweetness and the rich flavor of the traditional cabbage rolls but with less prep time. This recipe is super easy for those busy chefs and moms who don't have enough time to prepare dinner for the crowd.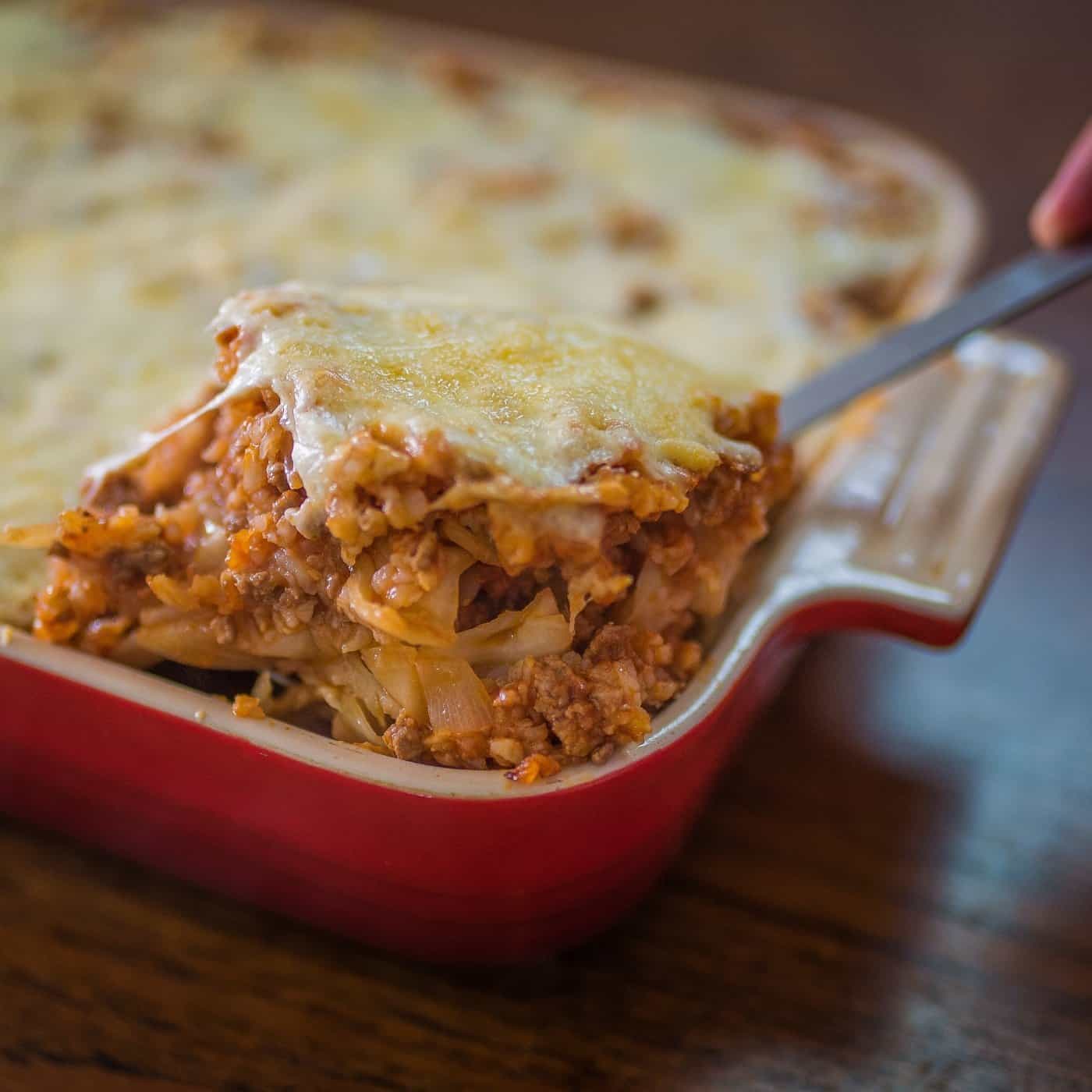 Contents
⭐ Easy cabbage roll casserole
This recipe has the same taste and flavor as traditional cabbage rolls but with much less work. It contains a layer of rice, tomatoes, meat, tomato sauce, and cabbage leaves, meticulously cooked and baked to create a mouth-watering, luscious, and gently flavored cabbage roll casserole. All this is made from simple ingredients and easy-to-follow procedures. It is the ideal meal to prepare, particularly for the people who love cabbage rolls but don't have the time to prepare them.
If you are a fan of cabbage rolls, but you're often discouraged by the amount of work involved in preparing it, then this easy-to-prepare casserole recipe is for you. It is one of my favorite recipes, and it is the perfect choice for a simple dinner. My passion for making cabbage roll casserole is inspired by my childhood memories, specifically the Friday nights cooking time with my mom and grandma.
I can say with confidence, I love cabbage rolls. However, I've always felt they require to much work to make. I mean, there is the making of filling, boiling of cabbage, and then wrapping the whole thing up before baking it. Sometimes it can take the entire day. However, it's one of the simplest meals to prepare when the cabbage roll casserole is assembled. You get to solve/soothe your cravings but with little work.
🍽 What you need
Before preparing a cabbage roll casserole, ensure that you have the right tools and ingredients close to the cooking area, as this will make your work easier and faster. Also, note that measurements are everything if you are to get that uniquely delicious cabbage roll taste.
Ingredients
Olive oil - 4 tbsp, separated
Onion - 1 medium, chopped
Garlic cloves -3, minced
Ground beef - 1 pound (500 g)
Salt and pepper - to taste
Thyme - 1 tsp, dried
Paprika - 2 tsp
Worcestershire sauce - 1 tbsp
Brown sugar - 2 tbsp
White vinegar - 1 tbsp
Diced tomatoes - 1 14 oz (400g) can, with juices
Tomato sauce - 1.15 oz (480 g) jar
Brown rice - 2 cups, cooked
Green cabbage - 1 large head, wooden spoon, coarsely chopped
Parmesan - ½ cup, grated
Mozzarella - 1 cup, shredded
Equipment
When preparing a cabbage roll casserole, the tools needed are the everyday kitchen tools, and they include:
a skillet or pot
one cup
one pan
a spoon
casserole dish
aluminum foil.
🔪 How to make
Making this meal is simple and straightforward, and it takes roughly 45 minutes to one hour to get everything up and ready. The procedures highlighted below gives you a detailed step-by-step process that will guide you in creating and assembling this easy cabbage roll casserole.
Instructions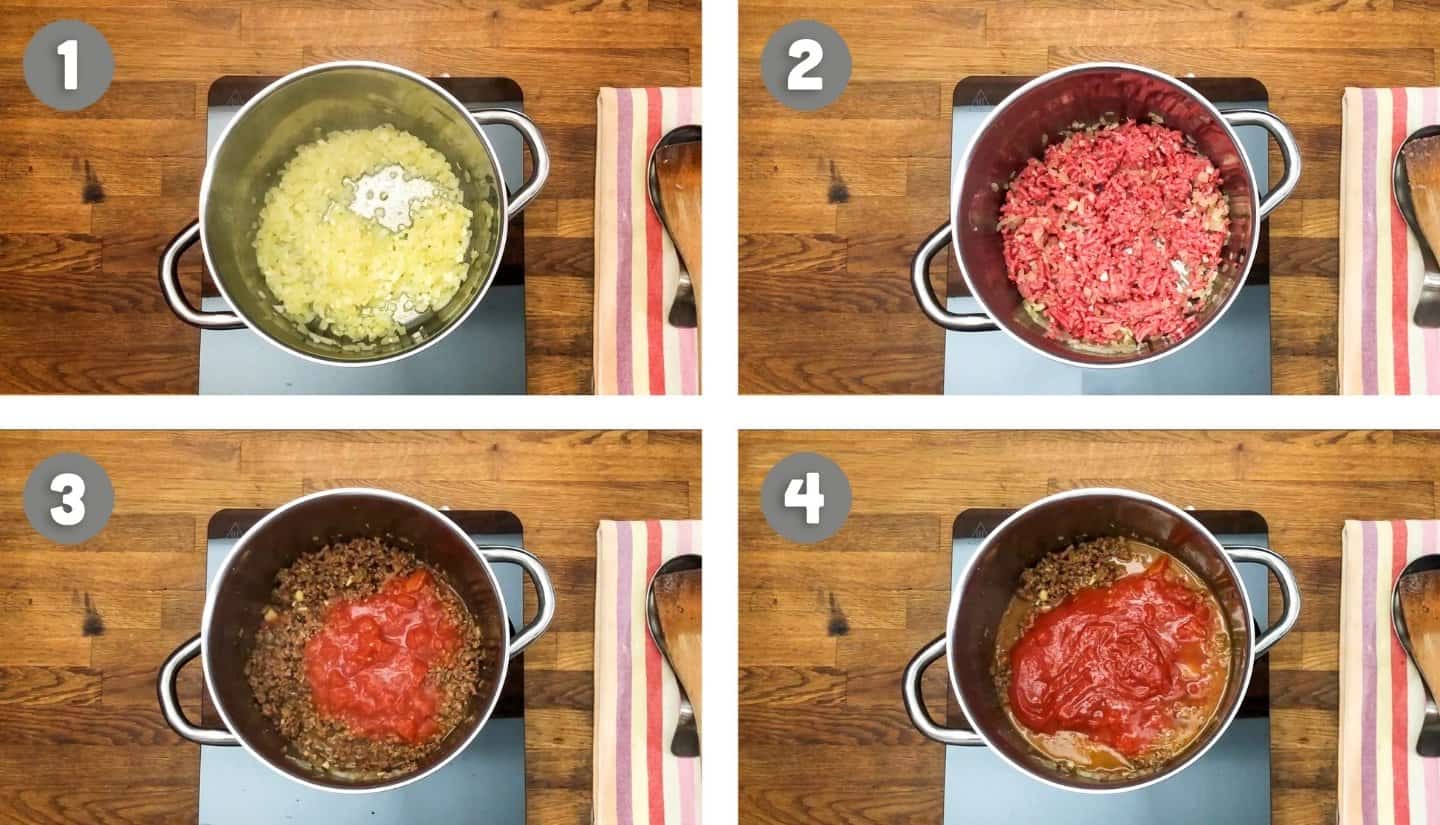 Step 1
Begin by heating two tablespoonfuls of olive oil in a pot or a deep skillet on medium heat, stir-fry the onions for approximately 3 to 4 minutes until it softens, then add cloves garlic and let it cook for two more minutes.
Step 2
Now, adjust the heat a notch higher, then add the ground beef. Sprinkle some pepper and salt to taste. Allow it to cook until it turns brown and fully drumbled
Step 3
Once done, add and stir paprika, thyme, brown sugar, Worcestershire sauce, and vinegar and leave it to cook for a few more minutes before adding the tomatoes and tomato sauce.
Step 4
Pour about a quarter cup of water into the empty tomato sauce jar, swirl, and add it to the mixture.

Step 5
Allow it to simmer for around 15 minutes, then add and stir cooked rice and remove from heat.
Step 6
In a separate deep pan or large skillet, heat another two tablespoonfuls of oil on medium heat and add the sliced cabbages. Stir, turn, and lift using a pair of thongs until it's fully wilted and tender. Add enough black pepper and salt as it cooks and removes it from heat. This step normally takes around 10 to 12 minutes.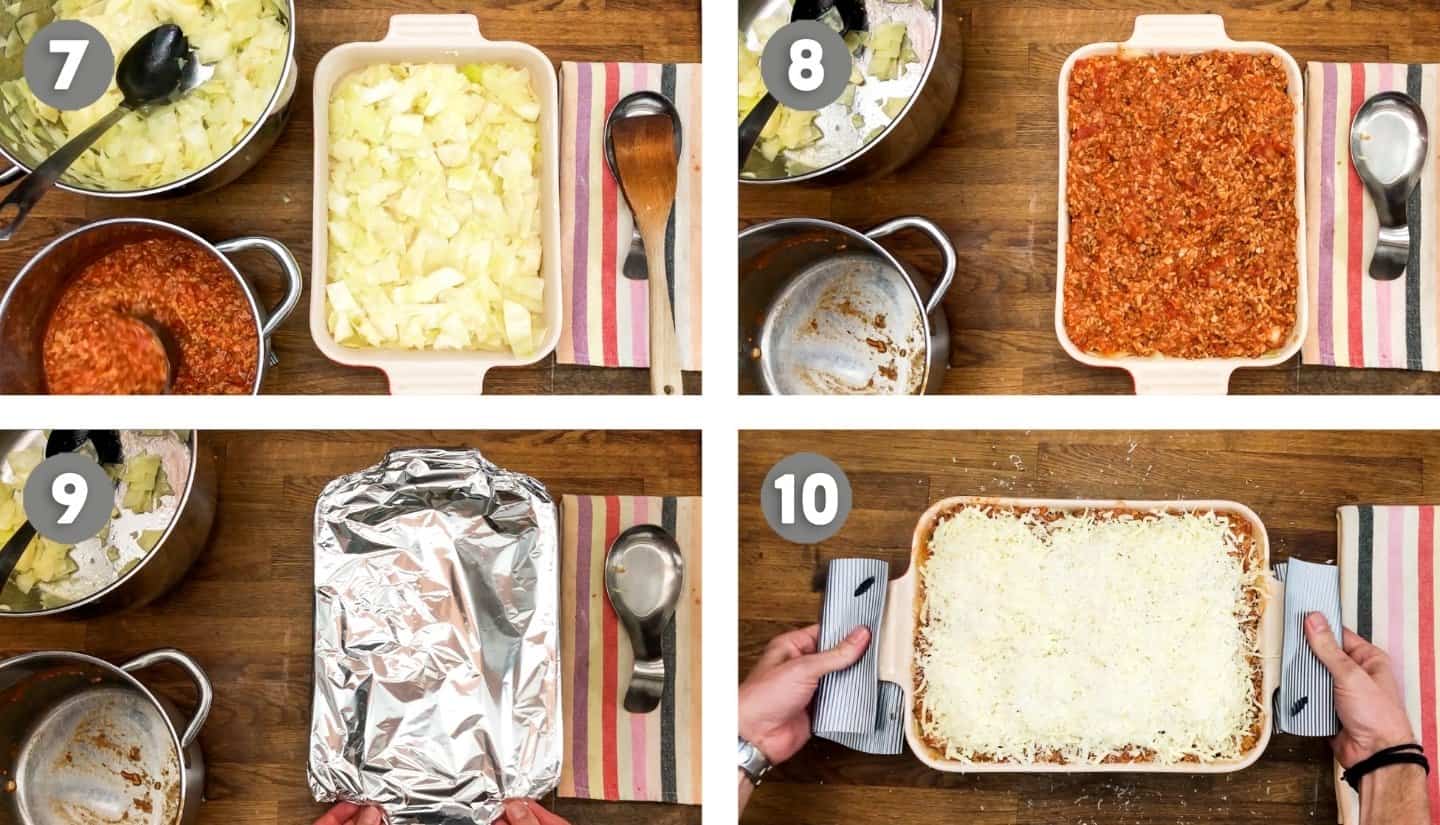 Preheat the oven to a temperature of 350°F (176°C). Grease a large (9 inch) casserole glass dish by spraying it lightly with canola oil spray.
Step 7
Lay half the cabbage on the bottom of the dish and press it down using a spoon
Step 8
Layer cabbage with half of the beef mixture, then lay the other half and spread the remaining meat/sauce/rice mixture.
Step 9
Carefully smooth-en the surface and cover the baking dish tightly with foil, and bake.
Step 10
Bake for around 45 minutes in the preheated oven, remove the aluminum foil and delicately sprinkle the cheese on top.
Return the uncovered casserole from the oven and bake for ten minutes until the cheese is fully melted. Then transfer the dish to the top of the oven and leave it for two minutes until the cheese turns golden brown.
The time needed to prepare this meal is roughly 1 hour 30 minutes, but the cooking time reduces significantly to around 25 mins total if you've prepared the rice and meat mixture.
⏲️ Make ahead
You can prepare the beef mixture, rice, and sauce beforehand as well as parboiling the rice. You can also blench the leaves three days early. Wrap and chill in separate dishes. Assemble casserole right before you begin baking.
Like most foods, the taste becomes more pronounced the more it sits. Preparing cabbage roll casseroles early gives the ingredients the time to soak up all the flavors and good things, resulting in the ultimate comfort food. If you intend to prepare it way earlier before dinner time, you should stop after assembling. Leave baking for later when you are about to serve. This prevents the casserole from drying out.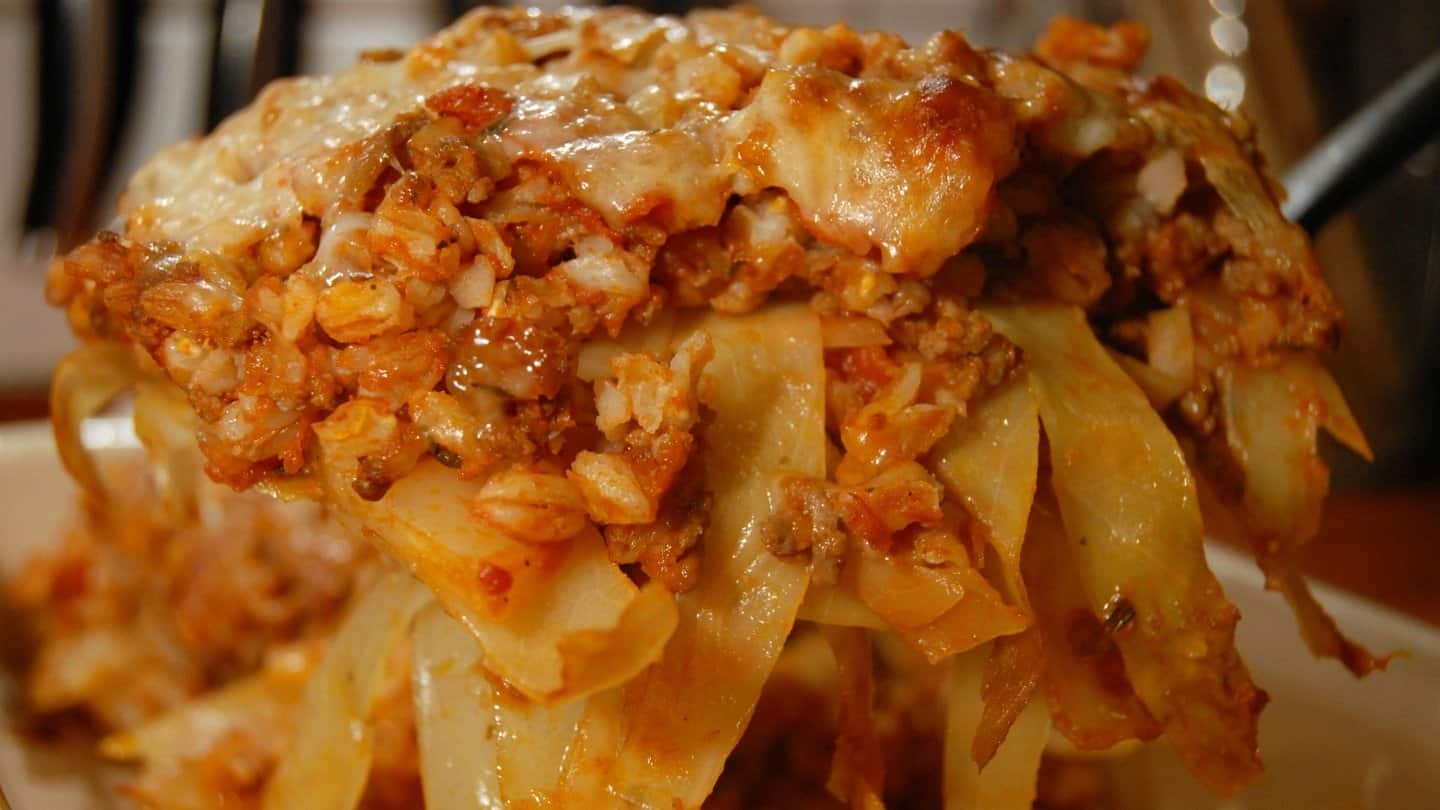 💭 Top tips
You can add shredded mozzarella cheese to give it a new twist, though you can still use any other type of shredded cheese such as Colby jack, provolone, or swiss cheese. The secret is to add the cheese as you place it in the oven. Additionally, for this specific type of casserole, you should use instant rice.
Save cooking time by buying shredded cabbage.
If most of your family members are fans of cabbage rolls like mine are, you can make a double batch and freeze the extra dish. If you are a lazy cook, this will simplify your work as you will have something to eat the entire week.
Lastly, the beauty of cabbage roll casseroles is that you can add extra ingredients depending on your preference. For instance, you can add corn, peas, green onion, bell pepper, broccoli or cauliflower, canned beans, chicken peas, mushrooms, or asparagus.
🥗 Side dishes
There are several things that you can serve with a Cabbage roll casserole. To give you an idea, think about the main ingredients that went into creating the dish. Since the main star ingredients are ground meat and cabbage, you may want to keep it simple by serving a tasty green salad or crusty bread. You can even opt to serve it with some steamed vegetables such as cauliflower or broccoli. Apart from the options mentioned above, you can also serve it with sauteed green beans and a dollop of sour cream (though it's not a darling of many).
🥫 Storage
Cabbage roll casserole, just like any other food, can be stored for use later. The best way to keep cabbage roll casserole is by chilling it in temperatures ranging between 2 to 4 degrees Celsius (for temporary storage) or freezing it to -18 degrees Celsius or below.
Fridge
Place your cabbage roll leftovers in an airtight container and refrigerate. Properly stored your cabbage rolls will last 3-4 days if not already consumed by hungry family members.
Freeze
Freezing helps to preserve cabbage roll casserole for up to 3 months. When preparing the cabbage roll casserole for future use, you should skip the baking part. All you need to do is to cover the casserole dish tightly with both foil and plastic wrap. Whenever you want to use it, remove it from the freezer and leave it in the fridge's bottom compartment for 1 -2 days for it to thaw. Bake for around 50 to 55 minutes before introducing the cheese.
📖 Types of cabbage
The best cabbage for making cabbage roll casserole is the Savoy Cabbage. The Savoy cabbage leaves are known to have a magnificent, waffle-knit, and relatively smooth texture that makes them noticeable. In addition, its texture and physical structure make it slightly elastic, making it a suitable cabbage to make traditional cabbage rolls and cabbage roll casserole. You can also use green cabbage as it is sturdier than all the other cabbage types. Moreover, its ribs (the thick parts around the core) are hefty and solid, making it ideal for aggressive cooking.
If you have extra cabbage do no hesitate to make my delicious fried cabbage with bacon recipe. Super delicious to pair with any meal!
Related Comfort Recipes
👪 Serving size
This recipe serves 8 people, and it takes 90 minutes total time to get it ready. However, it is worth mentioning I've witnessed 4 people devour this on occasion. Similar to my texas chicken spaguetti recipe which is absolutely mouth-watering!
Love this recipe? Please leave a 5-star 🌟rating in the recipe card below and/or a review in the comments section further down the page.

Try one of my comfort dinner recipes for your next family meal! And if you have any questions, I'm here to help!
📋 Recipe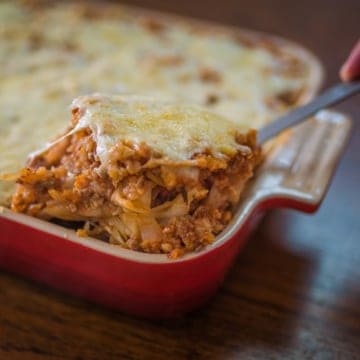 Cabbage Roll Casserole
This easy homemade cabbage roll casserole has all the sweetness and the rich flavor of the traditional cabbage rolls but with less prep time. For those busy chefs and moms who don't have enough time to prepare dinner for the crowd, this recipe is perfect for you!
Print
Pin
Rate
Share
Ingredients
4

tablespoon

olive oil

-

separated

1

medium

onion

-

chopped

3

cloves

garlic

-

minced

1

pound

ground beef

1

teaspoon

dried thyme

2

teaspoon

paprika

1

tablespoon

worcestershire sauce

2

tablespoon

brown sugar

1

tablespoon

white vinegar

1

can

tomatoes

-

14 oz with juices diced

1

jar

tomato sauce

-

15 oz

2

cups

brown rice

-

cooked

1

large head

green cabbage

-

coarsely chopped

½

cup

parmesan

-

grated

1

cup

mozzarella

-

shredded

salt and pepper

-

to taste
Instructions
Heat 2 tablespoon of the olive oil in a deep skillet or pot over medium heat and saute the onion for about 3 - 4 minutes, until softened, then add the garlic and cook for another minute or two.

Increase the heat to high and add the ground beef and season well with salt and pepper.  Cook until browned, crumbling it up as it cooks.

Stir in the thyme, paprika, worcestershire sauce, brown sugar and vinegar and cook for a couple more minutes before adding the tomatoes and tomato sauce.  Swirl about ¼ cup of water in the bottom of the tomato sauce jar and add that as well.

Let this simmer for about 15 minutes, then stir in the cooked rice and remove from heat.

In another large, deep, pan heat 2 more tablespoon of olive oil over medium high heat and add the chopped cabbage.  Cook, stirring almost constantly until the cabbage is about half cooked - add salt and pepper generously as it cooks, then remove from heat.

Heat your oven to 350 F (175 C) and grease a large casserole dish.

Spread about ½ the cabbage onto the bottom, pressing it down a bit with the back of a spoon.

Spoon half the beef mixture over the cabbage, then add the other half of the cabbage and finish with the rest of the meat mixture.

Cover tightly with foil and bake for about 45 minutes, then remove the foil and sprinkle the cheeses on top.

Bake uncovered for about 10 more minutes, until the cheese melts, then move the dish to the top of the oven - turn the broiler on for a minute or two until the cheese begins to brown.
Nutrition
Calories:
525
kcal
|
Carbohydrates:
55
g
|
Protein:
22
g
|
Fat:
25
g
|
Saturated Fat:
9
g
|
Trans Fat:
1
g
|
Cholesterol:
56
mg
|
Sodium:
724
mg
|
Potassium:
893
mg
|
Fiber:
7
g
|
Sugar:
13
g
|
Vitamin A:
711
IU
|
Vitamin C:
66
mg
|
Calcium:
257
mg
|
Iron:
4
mg
What do you think?
If you try this recipe, please let me know what you think. And if you're browsing recipes, check out my casserole recipes for more great dinner ideas.