Good morning! Try this easy breakfast casserole recipe loaded with crispy bacon and shredded cheddar cheese. Nothing beats a NO-WORK-INVOLVED overnight breakfast casserole. Pop it in the oven, enjoy your morning coffee, and settle in for a fantastic family breakfast.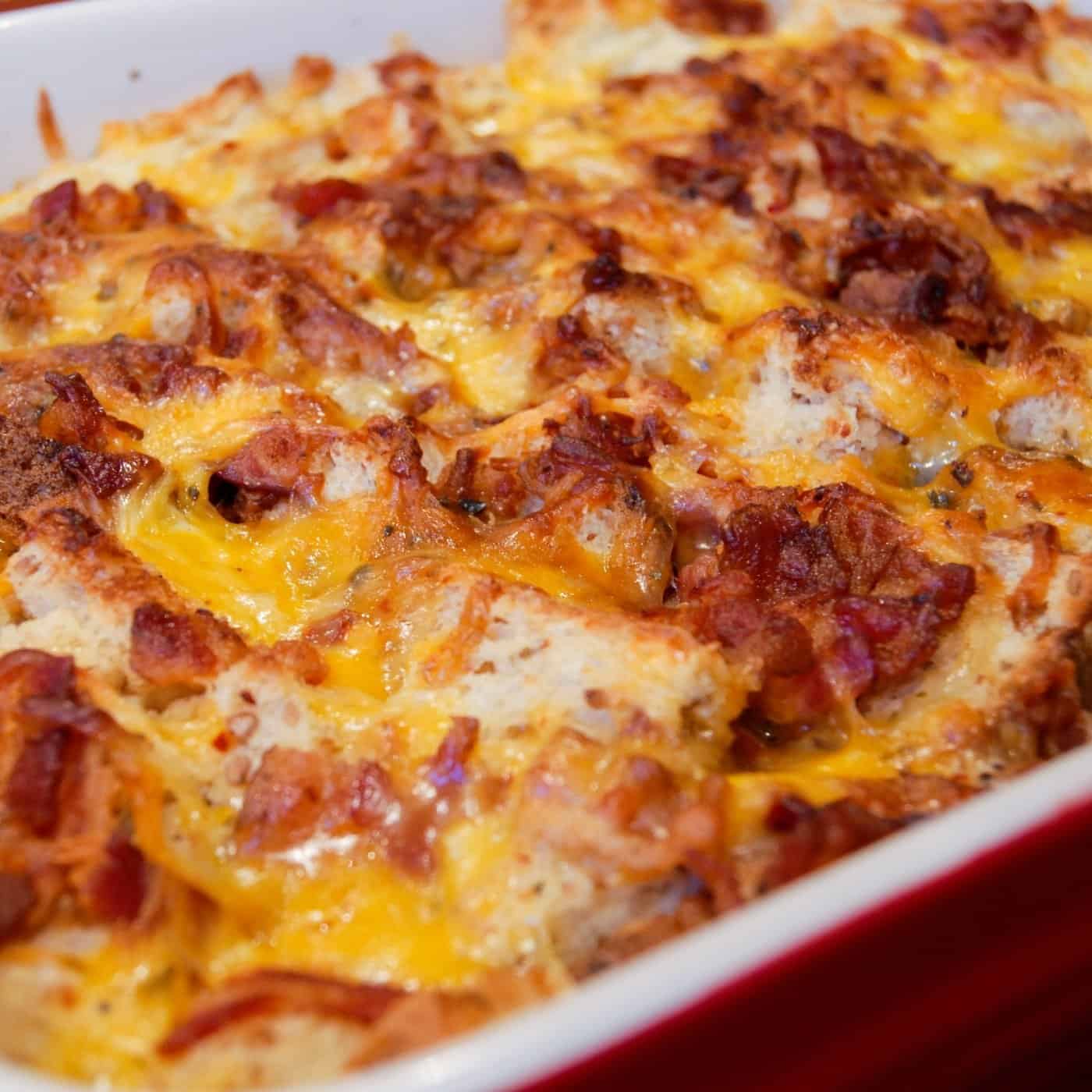 Contents
⭐Why this Recipe is the Best
It's perfect for exhausted parents, just put it in the oven and enjoy your morning coffee and take it easy. And making it ahead is a real life saver when your feeding a house full of people.
Loved by kids and adults and super flexible when it comes to ingredients. You can make this breakfast casserole with bacon, hash browns, sausage, green onions, or whatever you have in your fridge and cupboard, you can use for this great recipe.
This overnight recipe takes about 10 minutes to prepare (super easy) and 60 minutes to bake. Storing your breakfast casserole in the fridge overnight allows the egg mixture to soak into the bread, almost like French toast but better.
Like any casserole recipe, you can tweak it to your liking. The most common options are hash browns, tater tots, and sausage. Check out my easy turkey kielbasa pasta bake recipe.
Otherwise, just follow my breakfast casserole with bacon and cheddar cheese. I'm confident you'll have an excellent breakfast.
This bacon breakfast casserole and more you can learn how to make in my collection of best breakfast casserole recipes that also includes my easy french toast casserole, sausage breakfast casserole, and my easy hashbrown casserole that you can have it on the table in just 40 minutes!
🍽 Ingredient Notes
For this breakfast egg casserole with bacon, you need 6 eggs (fresh if possible), cooked bacon, and cheese. I am using cheddar for this recipe, as it gives breakfast casseroles a richer flavor, but you can use another type if desired
Use what you have on hand! I love bacon, however I've made this with sausage and even meat combinations are fantastic.
You can use any kind of bread. My instructions are a guideline as bread loafs come in various sizes, thicknesses, and types. You may only need 7 slices, while I'm using 9 slices. Just be mindful!
Ingredient Swaps
Swap bread for hash browns or potatoes! In my recipe the bread soaks up the milk and egg mixture, while the hash browns and potatoes won't. For this reason, reduce the milk to 1 cup if you make this swap.
🔪 How to make
With a 13-inch baking dish, you can make 12 breakfast-sized squares that can be eaten straight away or frozen for another day. This recipe is straightforward, with only 10 minutes of prep work required and a handful of ingredients needed.
It is better to leave the dish overnight for best results, but if you need it pronto, then a minimum of 4 hours will be enough.
Instructions
Preheat the oven to 350°F (177°C).
Grease your 9x13 baking dish with a small piece of butter or cooking spray.
Step 1
Get a large bowl, whisk the eggs, and milk salt mustard together.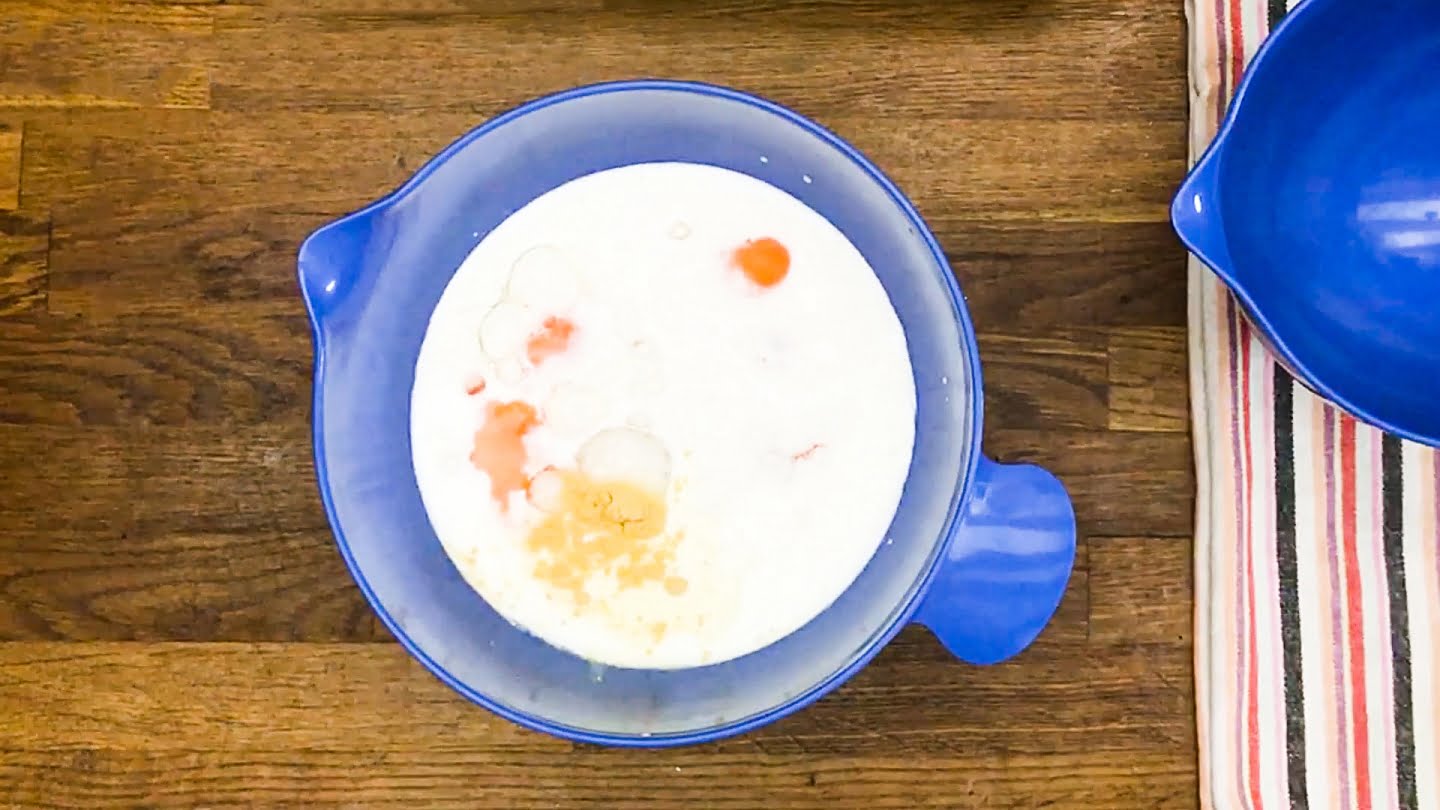 Step 2
Cook the bacon over medium heat in a skillet and stir it intermittently.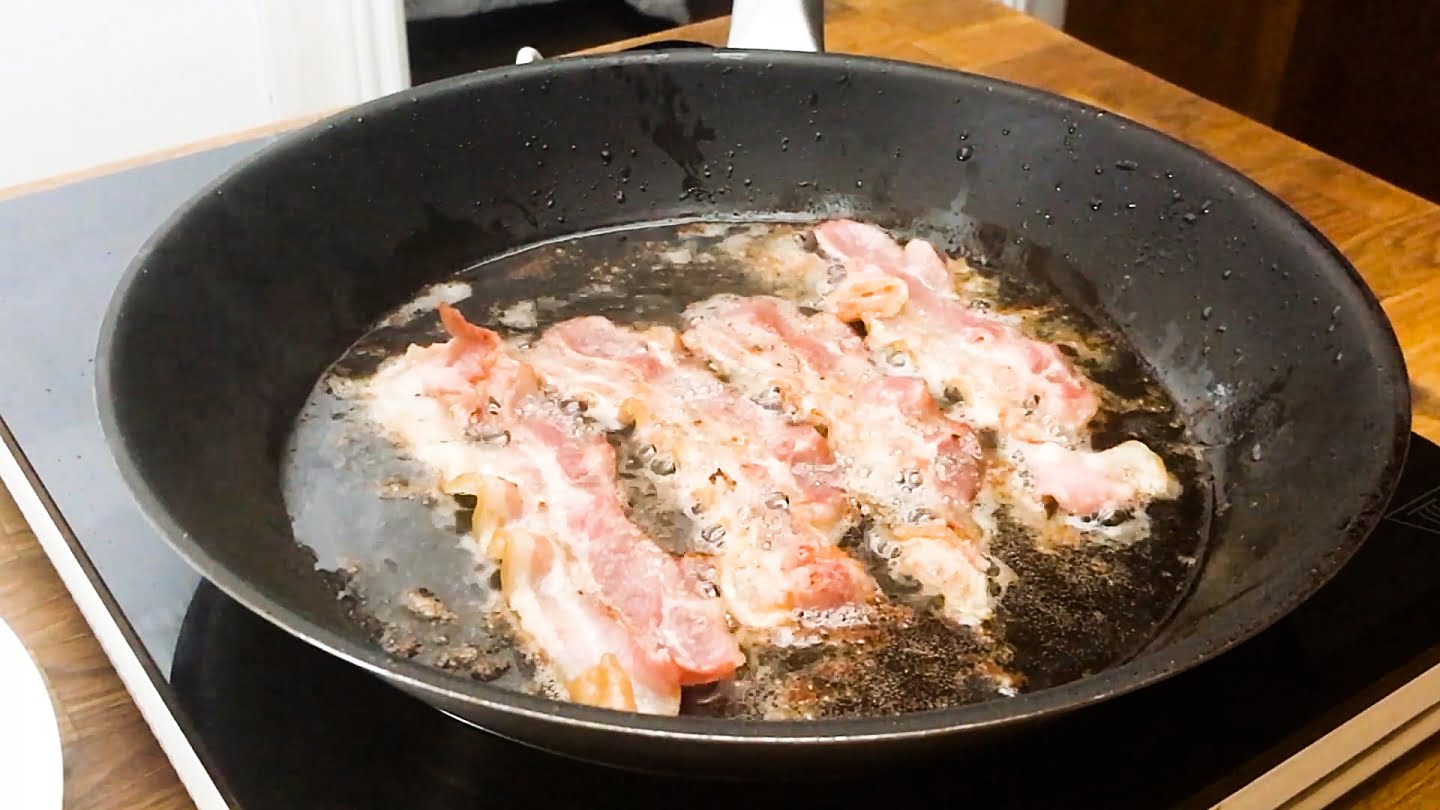 Step 3
Proceed to chop the bread and bacon into cubes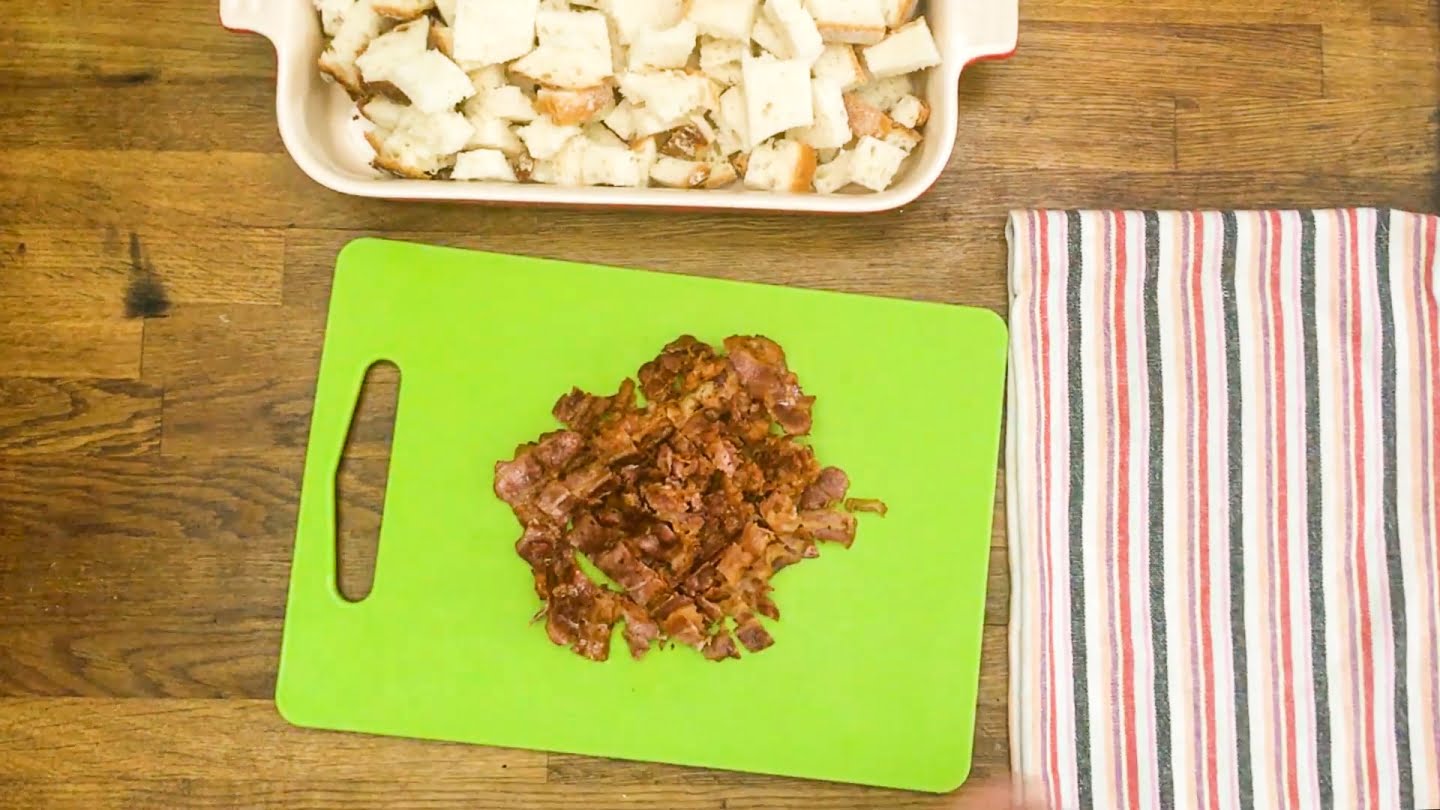 Step 4
Spread the bread cubes in the bottom of the dish.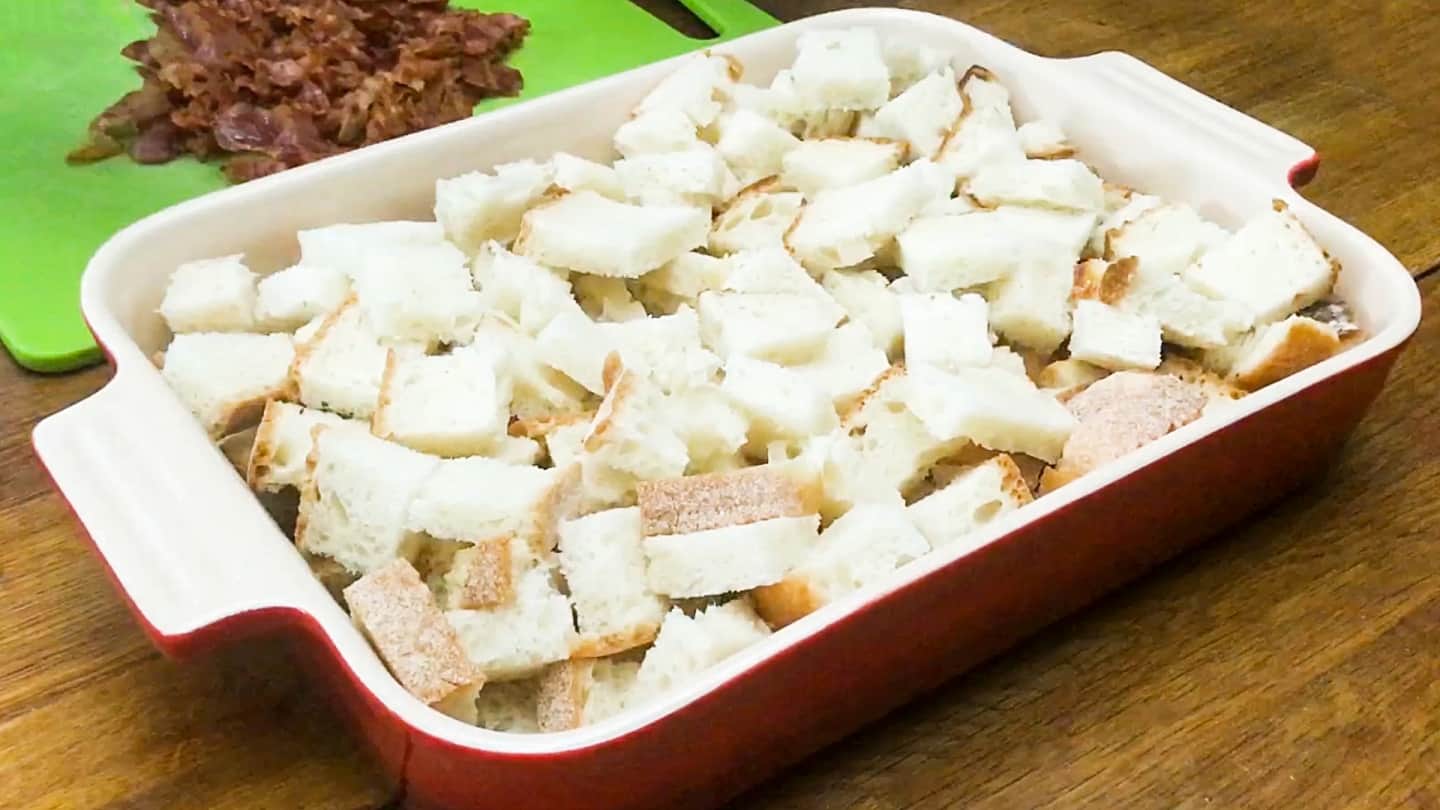 Step 5
Sprinkle over the bacon.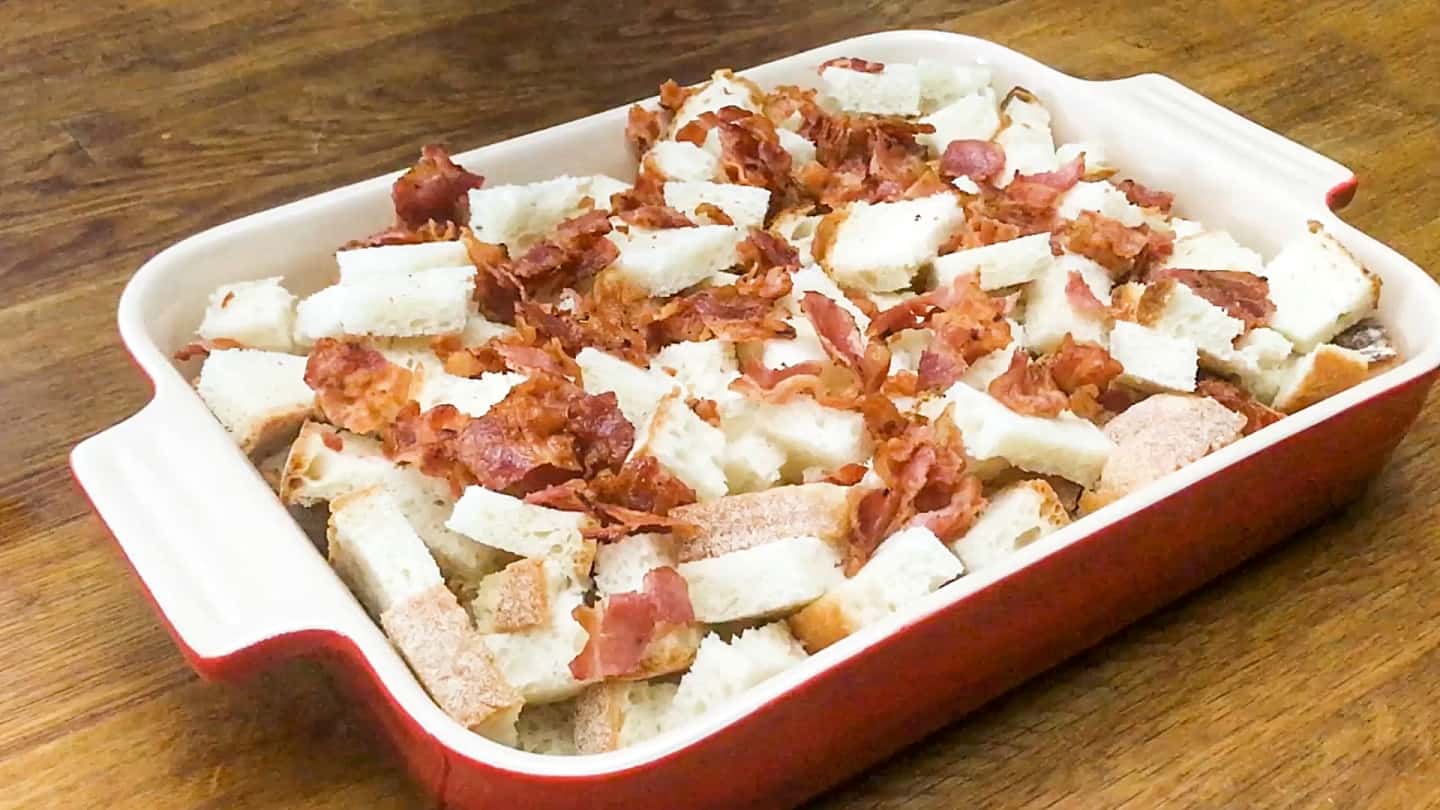 Step 6
Add cheddar cheese on top.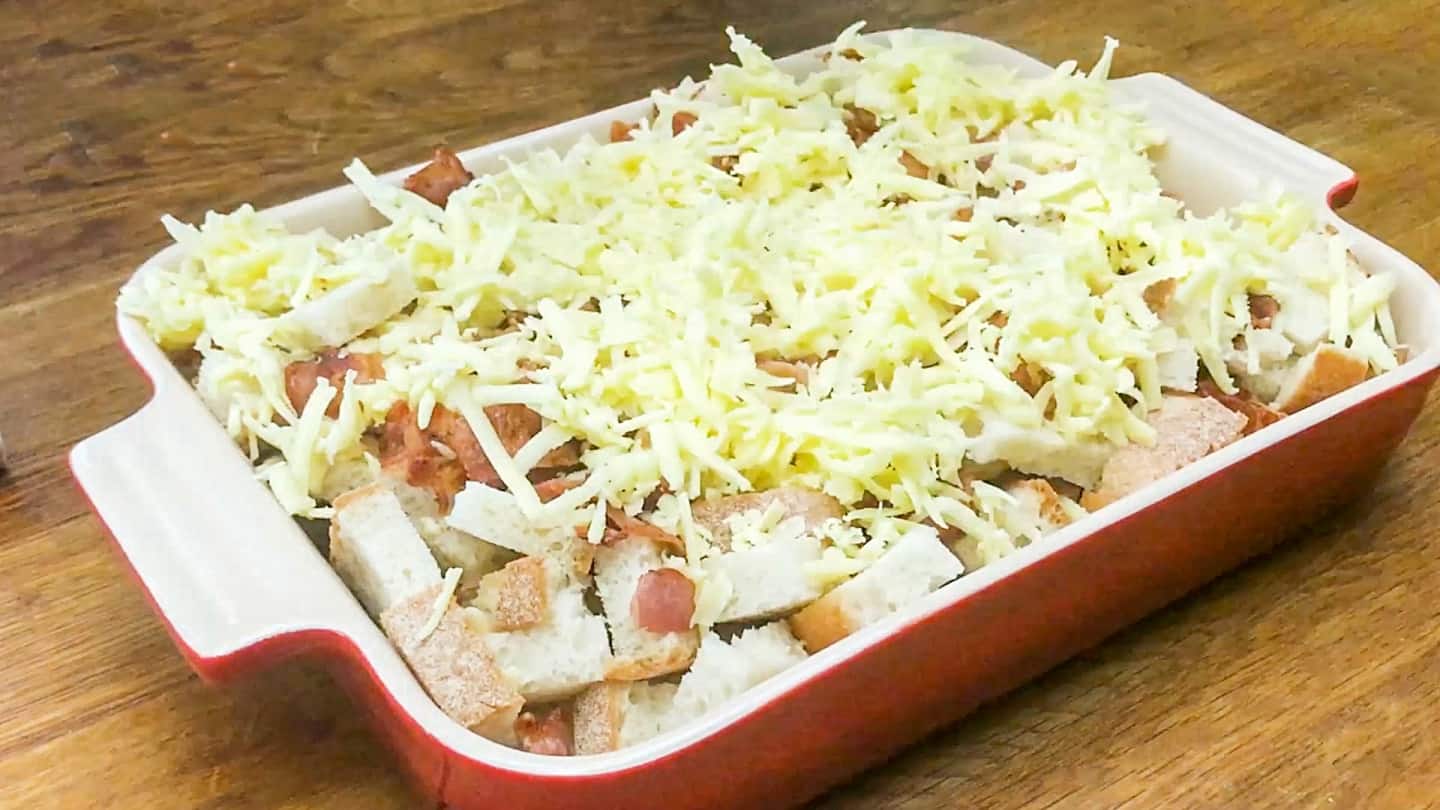 Step 7
Pour the egg mixture over the top.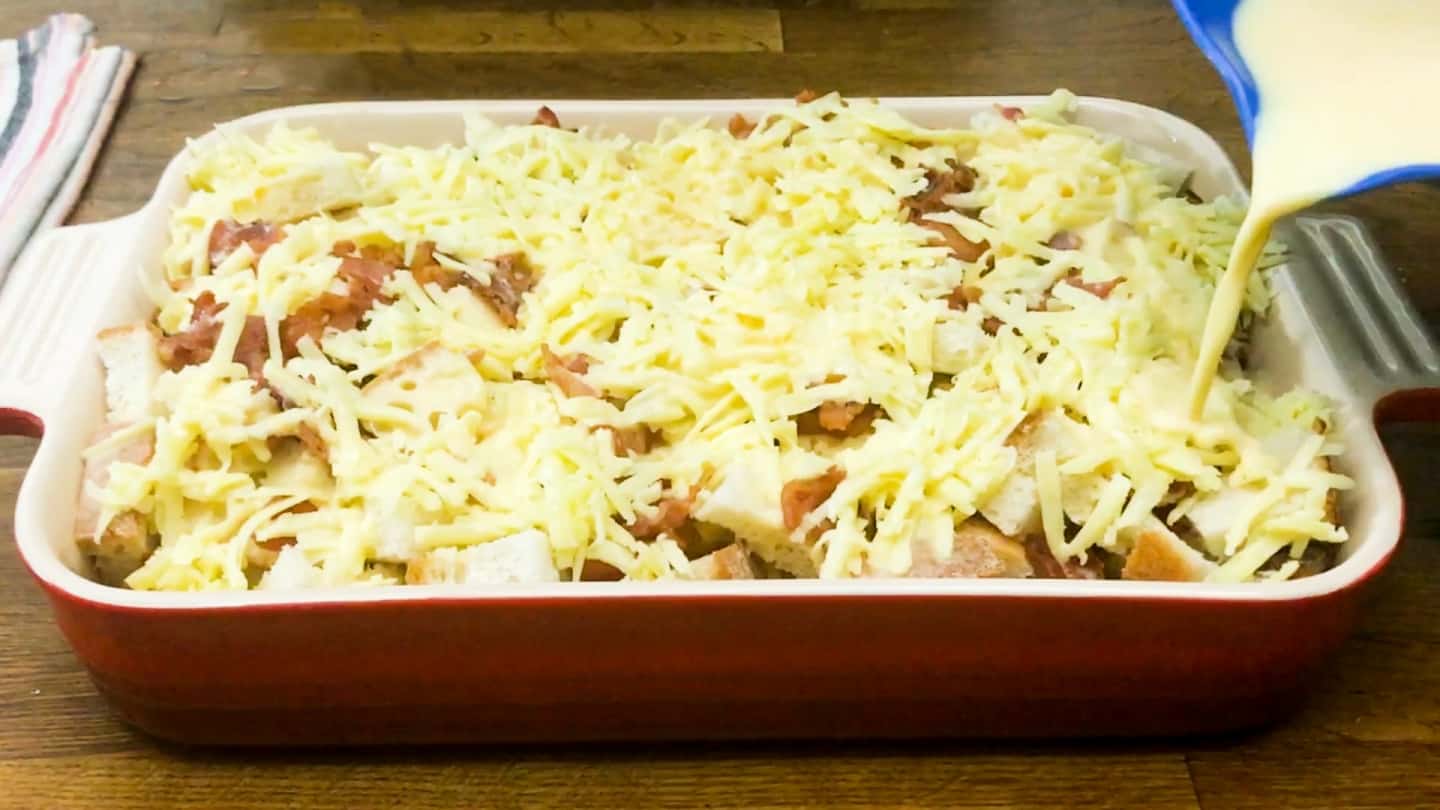 Step 8
Cover with plastic wrap and refrigerate overnight.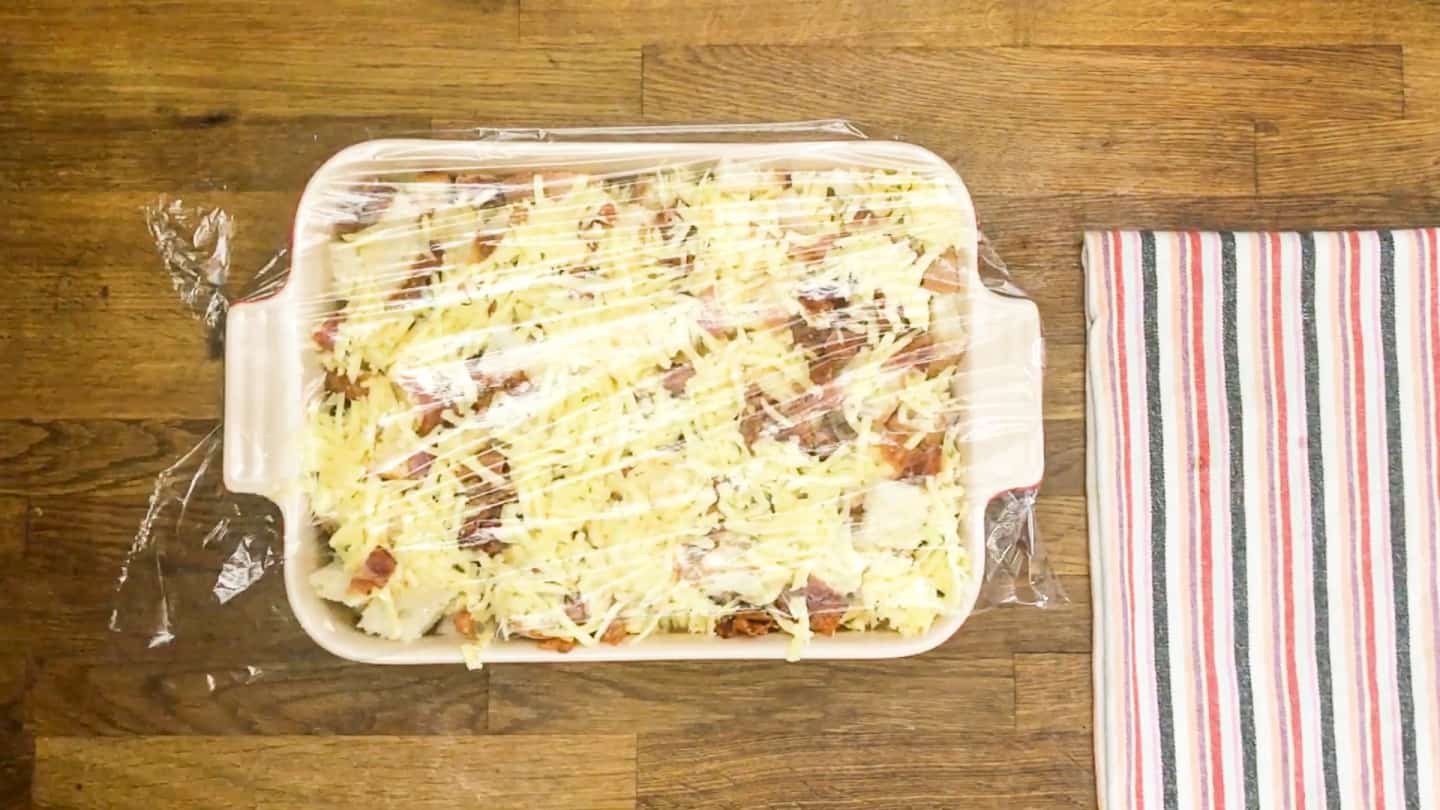 Step 9
In the morning, remove the plastic wrap and bake for 45 - 60 minutes.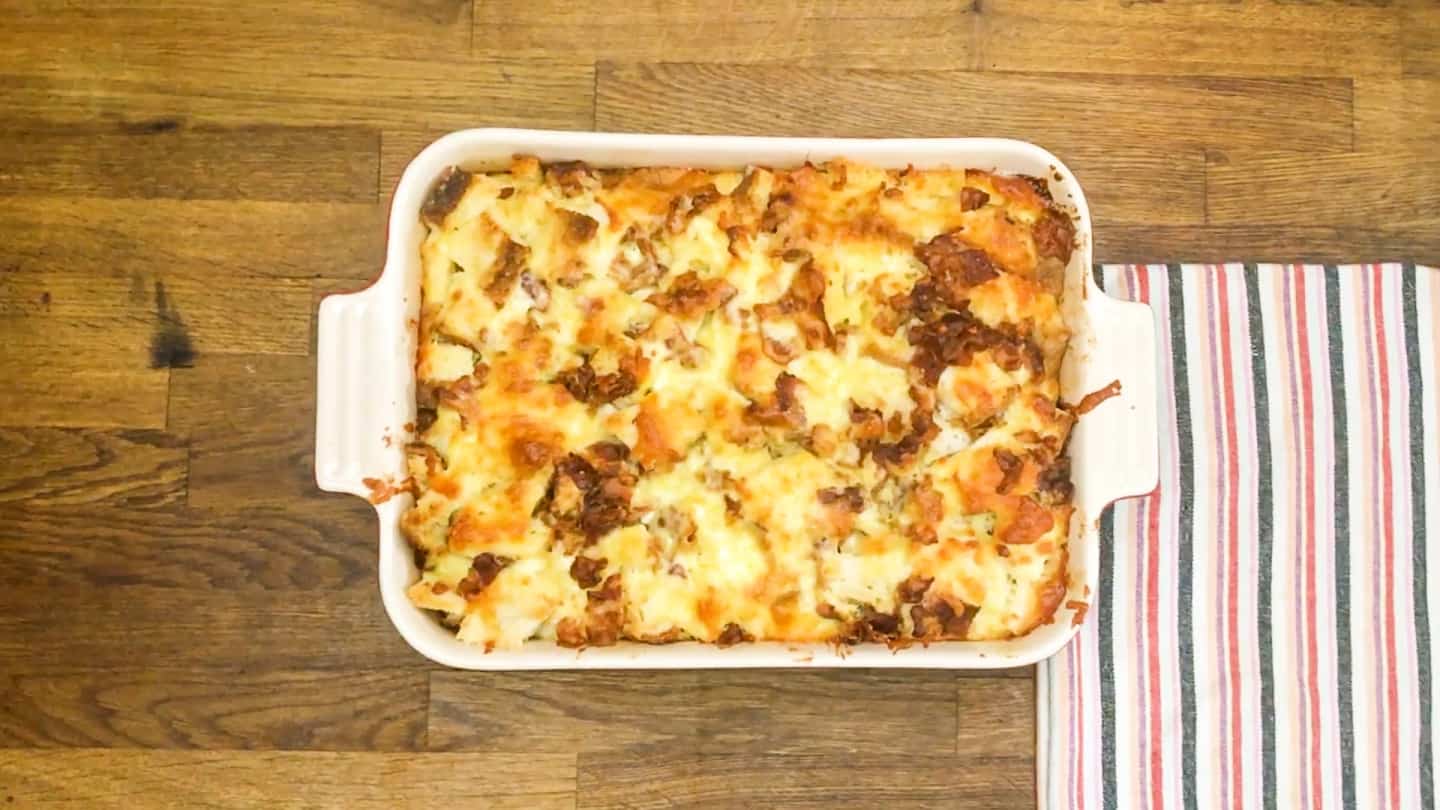 Step 10
Cut into slices and serve warm or save it for meal prep.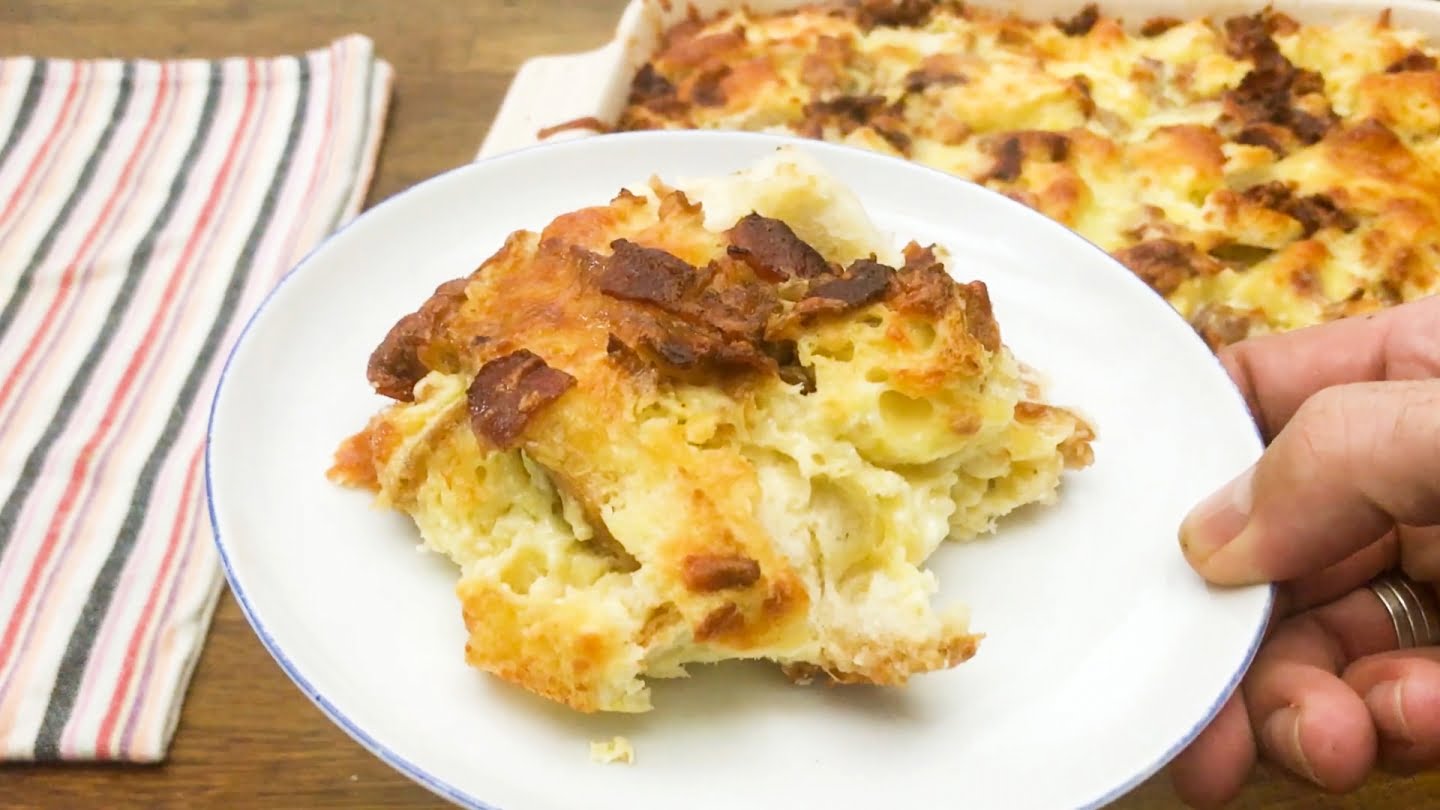 💭 Cooking Tips
For a creamier egg mixture, use 1 cup of whole milk and 1 cup of cream.
If you like bacon fat and want to utilize it in this recipe, save the fat from the cooked sliced bacon and soak the bread cubes.
Let the breakfast casserole rest for 30 minutes at room temperature before baking it.
To give the egg mixture a bit more added flavor, add half a teaspoon of garlic powder, onion powder, and cracked black pepper.
While you can cook bacon in a skillet, check out my no hassle how to bake bacon in the oven for amazing results and easy clean up. I also find the bacon cooks more evenly in the oven.
📖 Easy Variations
If you don't fancy the bacon & egg casserole recipe, try mixing it with your favorite ingredients like avocado, bell peppers, fresh potatoes, salami, tomatoes, green onion, or even frozen hash browns. Try some of these variations below for mixing up your next breakfast casserole.
Breakfast sausage, salami, fresh mushrooms - Pizza ingredients in a breakfast egg casserole sound delicious. Well, it is, and all you need to do is cook the sausage, salami, and mushrooms in a large skillet, place them on top of the bread cubes, and top with cheddar. Add the eggs and milk mixture, then refrigerate overnight. For more sausage inspiration check my collection of best kielbasa sausages recipes.
Tater tots or hash browns - You can substitute the bread for hash browns or tater tots (either frozen or homemade). Place them on the bottom of the dish, add the bacon and cheese and pour the eggs mixture over. Also, consider my tater tot casserole for a tasty meal kids love.
Green pepper & red pepper - Bell pepper is an excellent addition to omelets and also with this breakfast casserole. I usually chop 2 bell peppers into slices and add them with the bacon and cheese.
Three kinds of cheese and bacon - If you like more cheese, then this variation is for you! I like to use cheddar, mozzarella, and Monterey jack cheese for my casserole, but you can use any cheeses you like. Just add the cheeses to the bread cubes with the remaining bacon and top with the eggs mixture.
Looking for more breakfast ideas? Check out my chorizo recipes collection. I also recommend you to try my easy and quick aunt jemima pancake recipe.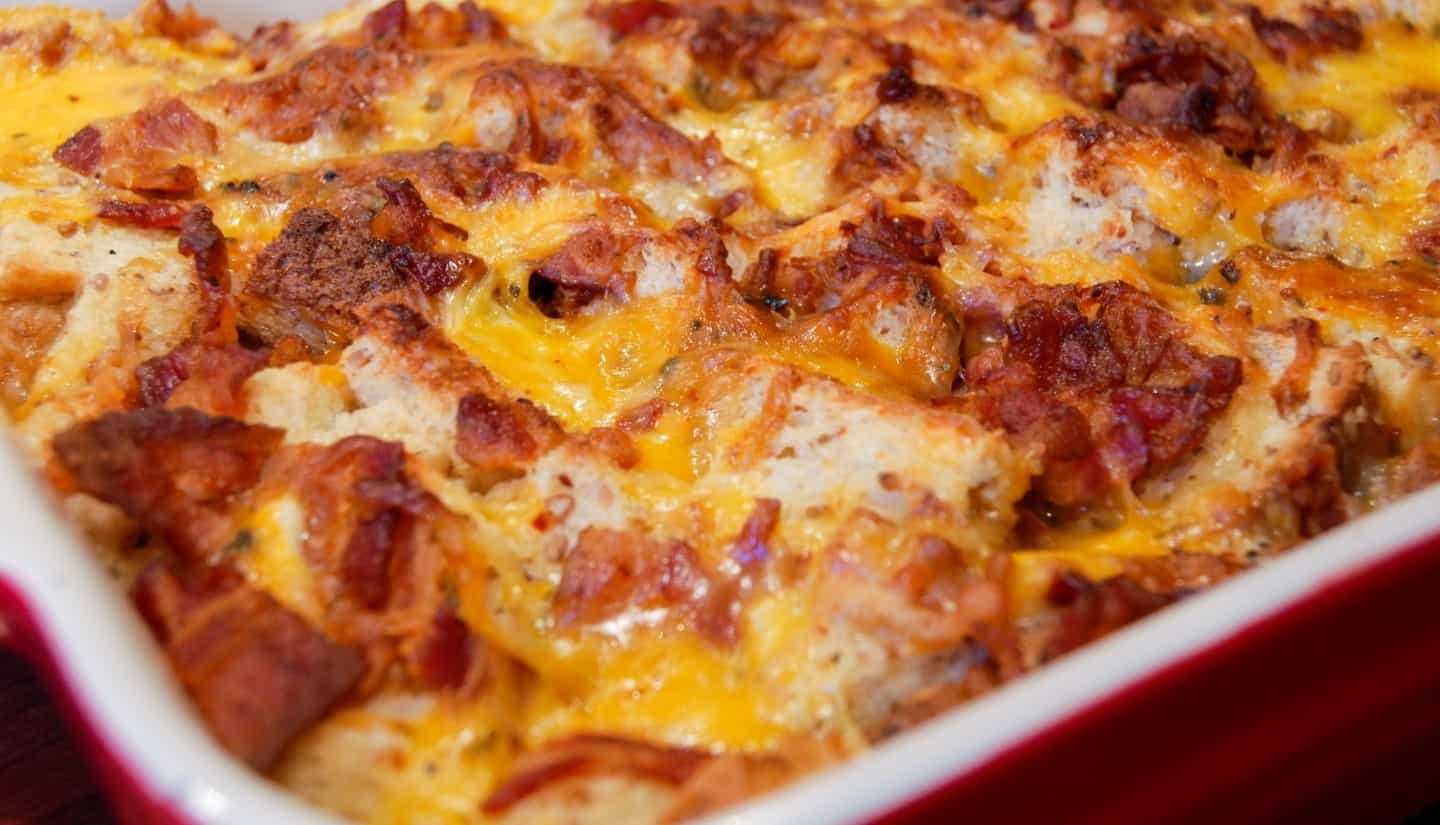 🙋 Frequently Asked Questions
How do you know when breakfast casserole is done?
The easiest way, use an instant-read thermometer. Insert it into the center of your breakfast casserole. When the internal temperature reads 160 degrees Fahrenheit your breakfast casserole is done. Otherwise, use a toothpick, insert it into the center and remove. If it comes out clean, it's done!
How long can a breakfast casserole be refrigerated before baking?
Within 24 hours or the day after preparing your breakfast casserole. If you'd like to store it longer, the best option is to cook it and then transfer it to the fridge (safe for up to 5 days) or freezer (safe for months).
Can I make a breakfast casserole without refrigerating overnight?
Yes, but allow at least 30 minutes for the egg and milk to soak into the bread. The longer you allow the break to absorb the liquid, the better. If you only have 30 minutes, don't worry about it, an hour even better, and overnight the best.
🍳 Related casserole recipes
If you love my bacon breakfast casserole recipe. Try one of these fanstastic casserole recipes for your next meal. Including my fluffy and easy sour cream pancakes with homemade blueberry sauce!
Also check it out my easy brioche french toast recipe which is part of my collection of sweet breakfast ideas.
🧊 Storing and ♨️ Reheating
For a quick breakfast, this breakfast casserole is ideal for making enough squares to last 4 or 5 days, and even more when you freeze them.
Note, you can refrigerate or freeze this recipe uncooked in the prepared baking dish. Still, I have found it makes life easier when the egg casserole is already cooked, cut into squares, then transferred to separate airtight bags ready for reheating individually.
In the Fridge
To refrigerate the egg casserole, cut it in squares once it has baked and cooled down, transfer each square to a zip lock bag, or wrap the casserole pan in plastic wrap and refrigerate for up to 5 days. An airtight seal will ensure your breakfast casserole stays fresh.
In the Freezer
To freeze the casserole squares, I recommend transferring each square to a freezer bag and freezing them inside an airtight container.
How to Reheat a Breakfast Casserole
To reheat the breakfast casserole squares from the fridge, preheat an oven to medium heat and bake for 20 minutes until hot, then serve. Alternatively, you can reheat them in the microwave or electric grill if you have one.
When reheating frozen breakfast casserole squares, let them sit at room temperature for 10 minutes while an oven is getting hot, then bake for 30 minutes until piping hot.
👪 Serving size
For a quick and tasty breakfast recipe that serves 6, you can't get better than a breakfast casserole with bacon! I would even say it is better than French toast or pancakes, and everyone loves pancakes for breakfast.
I eat breakfast bacon, egg casserole for lunch, and even dinner on some occasions. It is a hearty meal with lots of protein, vegetables (if you include them), gluten-free, sugar-free, and delicious!
🎥 Video
Love this breakfast recipe? Please leave a 5-star 🌟rating in the recipe card below and/or a review in the comments section further down the page.

Try one of my comfort breakfast recipes for your next family meal! And if you have any questions, I'm here to help!
📋 Recipe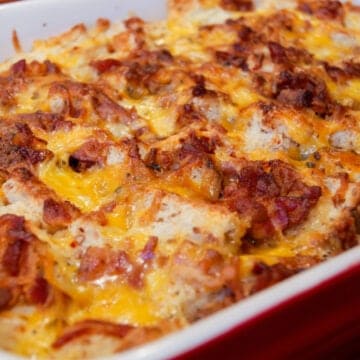 Breakfast Casserole with Bacon
This easy delicious breakfast casserole recipe is loaded with crispy bacon and shredded cheddar cheese is what we all need in the morning! The perfect way to start the day with an all-in-one breakfast that tastes delicious and great for midweek meal prep on busy mornings!
Print
Pin
Rate
Share
Equipment
1 13" x 9" casserole or baking dish
Ingredients
6

large

eggs

2

cups

milk

1

teaspoon

salt

½

teaspoon

dry mustard

9

slices

bread

-

cubed

12

slices

bacon

-

cooked and chopped

1

cup

cheddar cheese

-

grated
Instructions
Preheat the oven to 350°F (177°C)

Get a large bowl, whisk the eggs, and milk salt mustard together

Cook the bacon over medium heat in a skillet and stir it intermittently

Proceed to chop the bread and bacon into cubes

Spread the bread cubes in the bottom of the dish

Add cheddar cheese on top

Pour the egg mixture over the top

Cover with plastic wrap and refrigerate overnight

Bake it for 45 - 60 mins and serve
Nutrition
Calories:
329
kcal
|
Carbohydrates:
25
g
|
Protein:
18
g
|
Fat:
17
g
|
Saturated Fat:
8
g
|
Trans Fat:
1
g
|
Cholesterol:
216
mg
|
Sodium:
832
mg
|
Potassium:
273
mg
|
Fiber:
2
g
|
Sugar:
7
g
|
Vitamin A:
591
IU
|
Vitamin C:
1
mg
|
Calcium:
314
mg
|
Iron:
3
mg
What do you think?
Let me know what you think of my breakfast casserole recipe in the comments. If you enjoyed this recipe, please share it, pin it or tag me. And if you find a delicious combination that works well, please share it in the comments.