A warm bowl of homemade soup is the ultimate comfort food. Try one or all of these creamy, savory, and hearty soup recipes with 7 ingredients or less.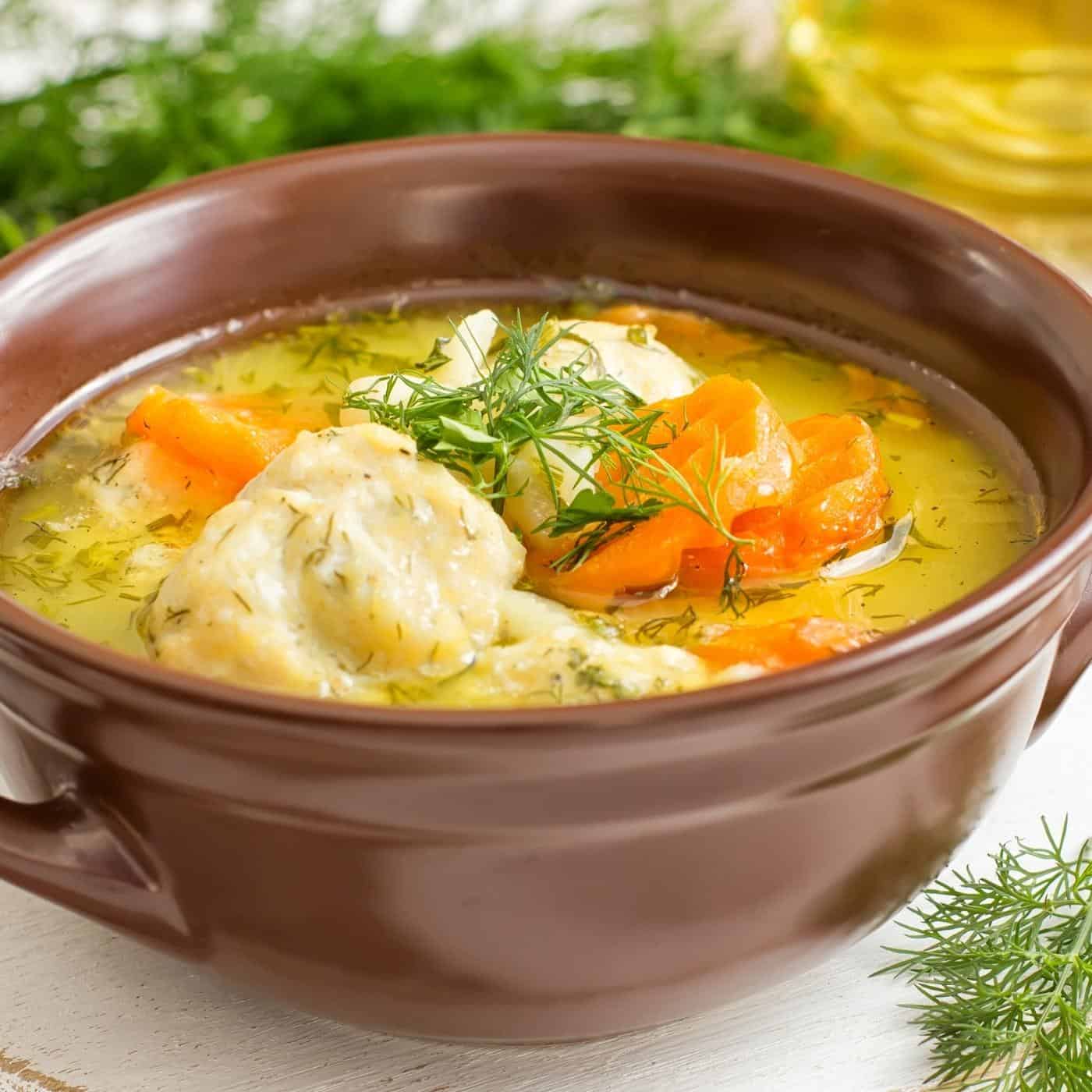 Since most soup recipes are quick and easy, they're ideal when you're just not in the mood to cook.
I could eat soup all year long if not for the summer heat. But as soon as the cold weather hits, I indulge in a steaming bowl of hearty soup for lunch and even dinner. Best part? I love adding delicious soup toppings that enhance the flavor of my soups.
Because of my love for soup, I'll be sharing 35 of my favorite soup recipes that not only taste fantastic but are easy to make and healthy.
There are a few classics like butternut squash, chicken noodle soup, tomato soup, and a few you've probably never heard before, miso soup, tortellini soup. Still, they're all unified by their big flavor and simplicity. You'll love them all, trust me.
And the best part is that each recipe comes together with only 7 ingredients or less. Plus, there are a couple quick and easy 3 ingredient soups.
For disclosure: salt, pepper, water, and cooking oil don't count. These are just basics, and I'm guessing you already have them on hand. What I mean is primary ingredients like chicken, vegetables, sour cream etc. For chicken soup recipes check out my collection with easy recipes.
For more comforting and hearty recipes check our my 50 best american comfort food recipes. Also I highly recommend to explore my list of easy potato soup recipes with few ingredients for busy days.
From crockpot soups to 15-minute meals, these easy soup recipes with few ingredients list got you covered.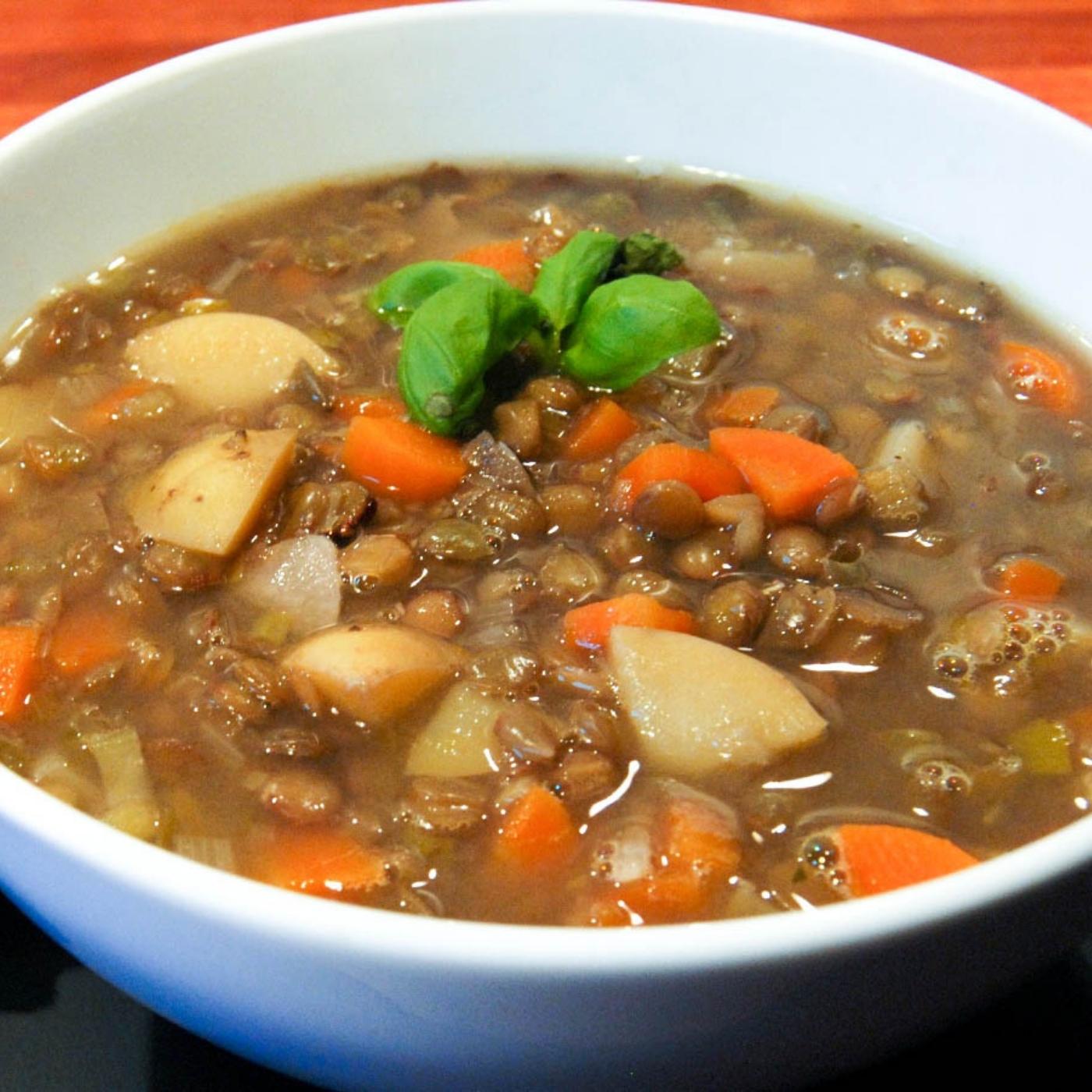 Looking for a healthy meal to throw down this fall? How about this lentil soup that packs a nutritious and flavorful punch? The flavors from butter, garlic, and chicken stock take this soup to a whole other level.
You'll want to make this all year round!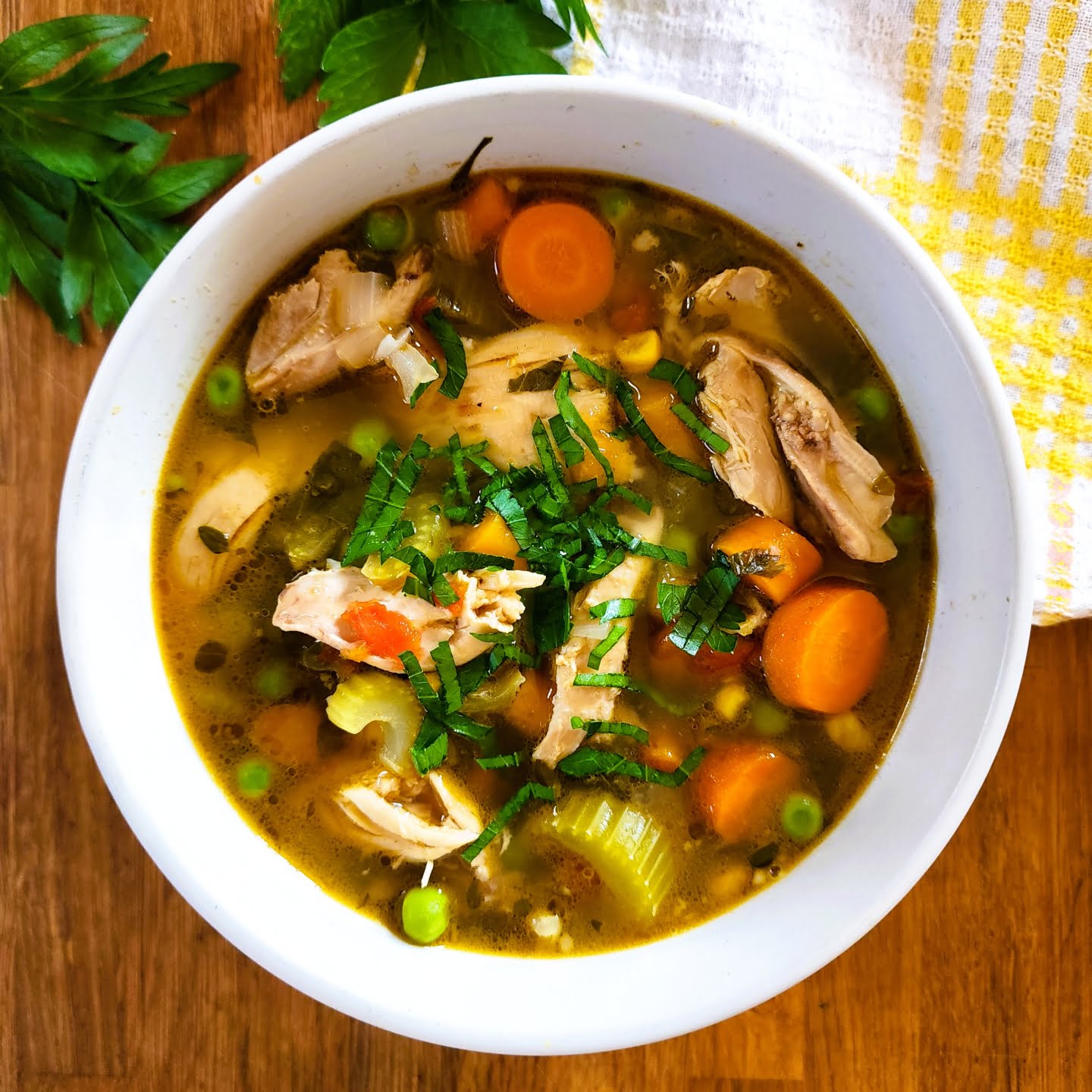 Whip up this rich and comforting soup as lunch or dinner to treat yourself. This recipe only calls for a few fresh ingredients - chicken, fresh herbs, vegetables, and frozen corn and peas.
Finish this easy recipe fresh parsley and a squeeze of lemon. Yum!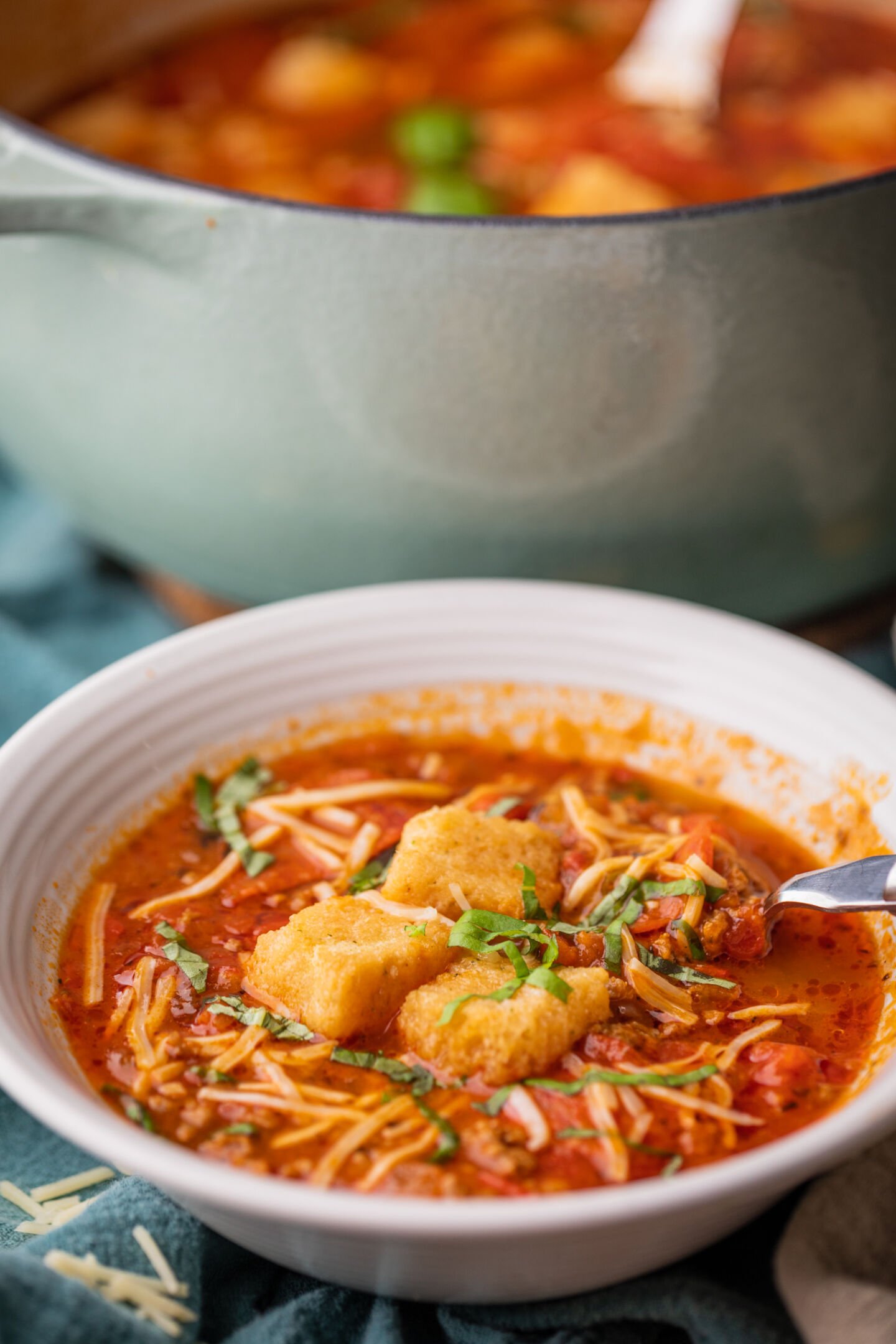 Soup recipes that require very few ingredients are a true lifesaver for nights when you're short on time. This hearty pizza soup is a perfect option.
Pizza soup is a lighter way to enjoy the flavors of pizza in one hearty bowl! It's an easy and comforting meal that will please the whole family.
It's incredibly delicious served with croutons and fresh basil leaves.
Tender chunks of chicken, flavorful broth, protein-rich chili beans topped with tortilla chips - what's not to like? This has to be one of the most soothing and comforting soup recipes out there.
It comes together in just 20 minutes, making it a great backup plan for any dinner.
This is not your typical broccoli soup recipe. It is a healthy low-fat soup that gets its creamy, melty kick from evaporated skim milk. It's vegan-friendly and bursting with flavor from the broth, hot sauce, and garlic.
You can add cheddar at the end of cooking for a more silky mouthfeel - yummy!
Who needs Chinese take-out while you can make this delicious homemade soup in a matter of minutes with just 5 ingredients? This is one of those quick and easy soup recipes that you should have in your back pocket when you have no idea what to make at dinner.
Craving for some Japanese food? There's no need to visit your favorite Japanese restaurant for a warm bowl of miso soup. You can make this soup at home in just 15 minutes, and it would taste just like it does at any authentic Japanese restaurant.
You're going to want to make a big batch of this Japanese soup.
If you're in the mood for a low-fat soup, give this soothing and comforting easy soup recipe a try. This yummy crockpot soup simmers in beef broth for hours, creating a richer and more flavorful meal.
Lighten it up with parsley, guacamole or salsa.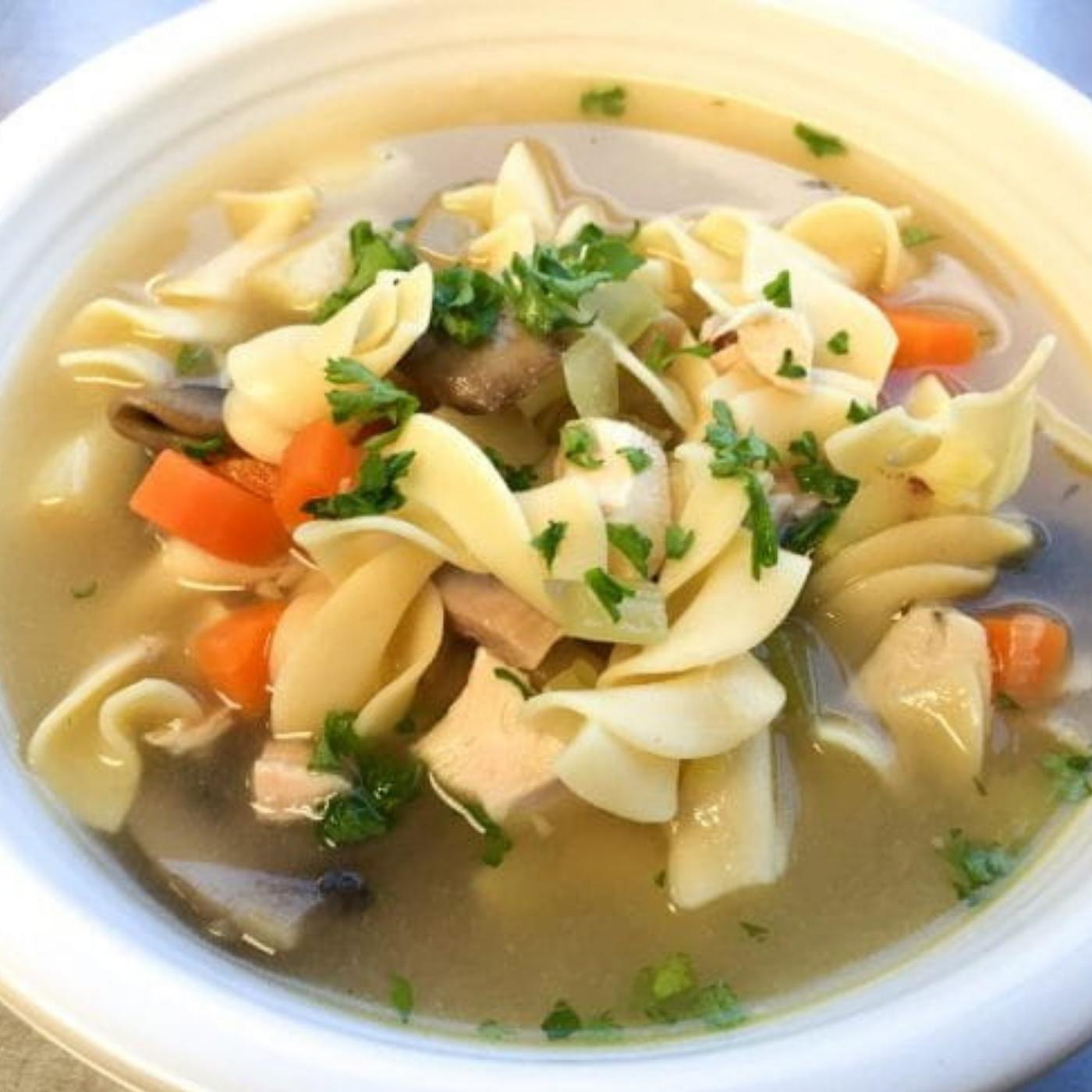 Curling up on a cold winter night with a hot bowl of a classic old-fashioned chicken soup has never been a bad idea. The deeply flavorful chicken broth will warm your body and soothe your spirit.
It's especially great if you're feeling a bit under the weather - very healing!
Loaded with beans, bacon, and vegetables, this hearty soup will fill your tummy and soothe your soul.
It takes about two hours to make this soup recipe, but trust me it's all worth it. Alternatively, you can cook the beans ahead of time and store them to reduce your time in the kitchen.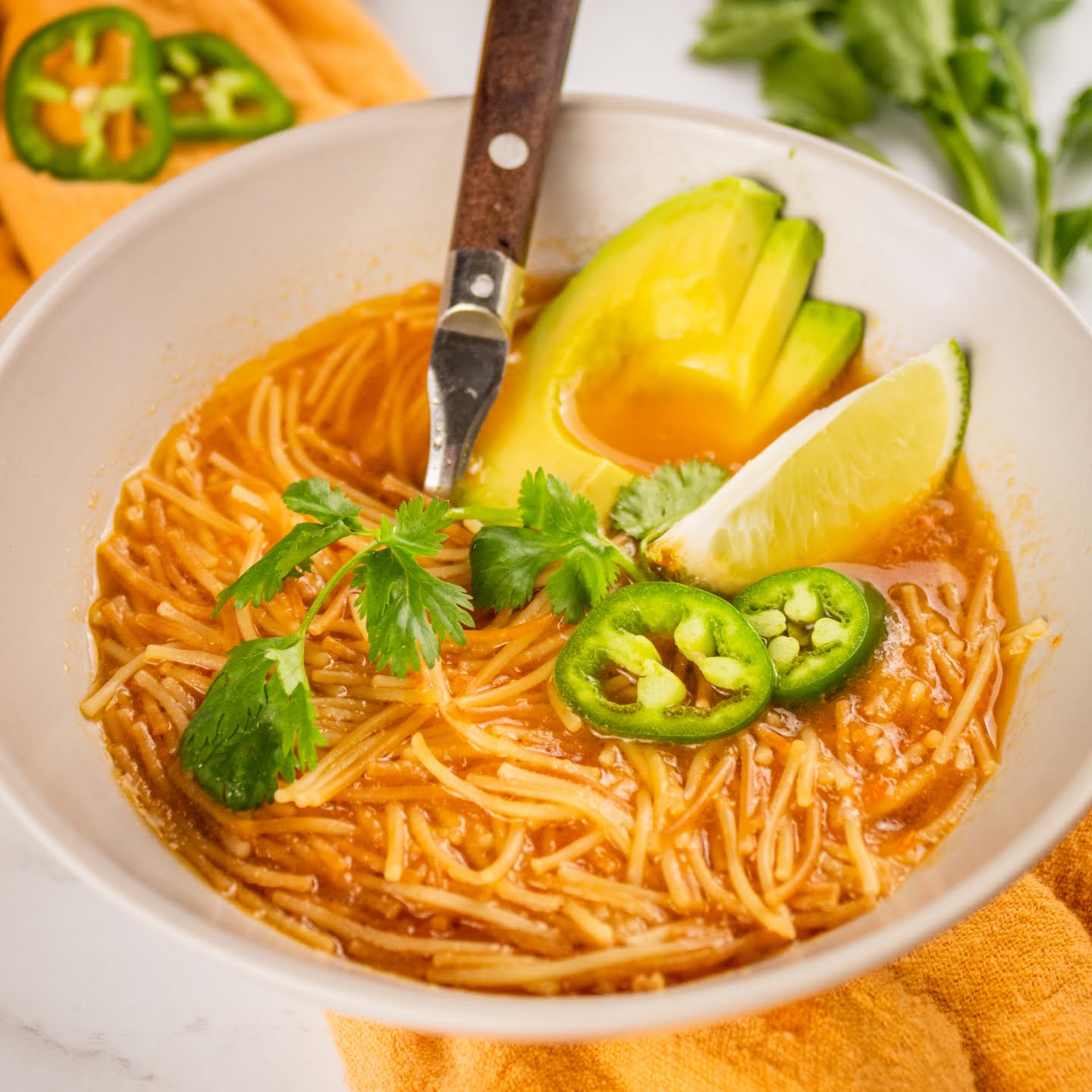 This is my go-to wintry vegetarian soup. It's incredibly comforting and richly satisfying.
Whether you're a vegetarian or meat lover, you'll definitely enjoy this recipe loaded with fideo pasta and lots of veggies.
Feel free to add vegetable stock instead of chicken stock to make it 100% vegetarian.
Looking for a simple yet full-flavored soup recipe that won't break your budget? This vegetable and meat soup is your best bet. Feel free to jazz it up with any veggies your heart desires.
Is there anything more comforting than a yummy bowl of broccoli cheese soup in a cold night? It's creamy, cheesy, satisfying, and healthy - it will warm you up in no time.
The beauty of this recipe is that you can prepare it in three different ways. I like soups thick, so I usually puree them in an immersion blender after cooking. Oh, so yummy and cozy. This fantastic soup deserves a spot in your meal rotation.
Whip up a big batch of this hearty, satisfying soup to keep you and your family warm and toasty for days! It's quick, incredibly easy to make, and not to mention tasty!
Simple soups are a true lifesaver. This basic recipe uses pantry staples, so you don't have to make a trip to the grocery store. Just throw a few ingredients in the pot, and lunch is ready!
It's simple, alright, but this 3-ingredient alphabet soup doesn't sacrifice flavor - it's sure to delight.
It's no secret, this is the epitome of comfort food. There's nothing a bowl of this winter classic with a twist soup can't fix!
Double or triple the recipe to enjoy for dinner throughout the week on its own, served with roasted cauliflower, parmesan breadsticks, or fried rice.
What's not love about this rich beefy soup? Made with ground beef, macaroni, frozen vegetables in flavorful onion soup mix -pure comfort.
Once you taste this recipe, you'll want to make it all season long! Turn your warm soup into a meal by pairing it with a green salad or grilled cheese.
Looking for soup recipes with lots of flavor and spice? These soups will tickle your taste buds:
Thai red chicken soup - this 5-ingredient soup packs a spicy punch that you'll love.
This Spicy pumpkin soup is a golden bowl of spicy goodness that is sure to impress.
If you love sweet potatoes as much as I do, this is a definite must-try recipe. It's so easy to whip up and totally nourishing.
This makes it a perfect remedy for cold and flu season. It will warm you up and get you feeling better in no time.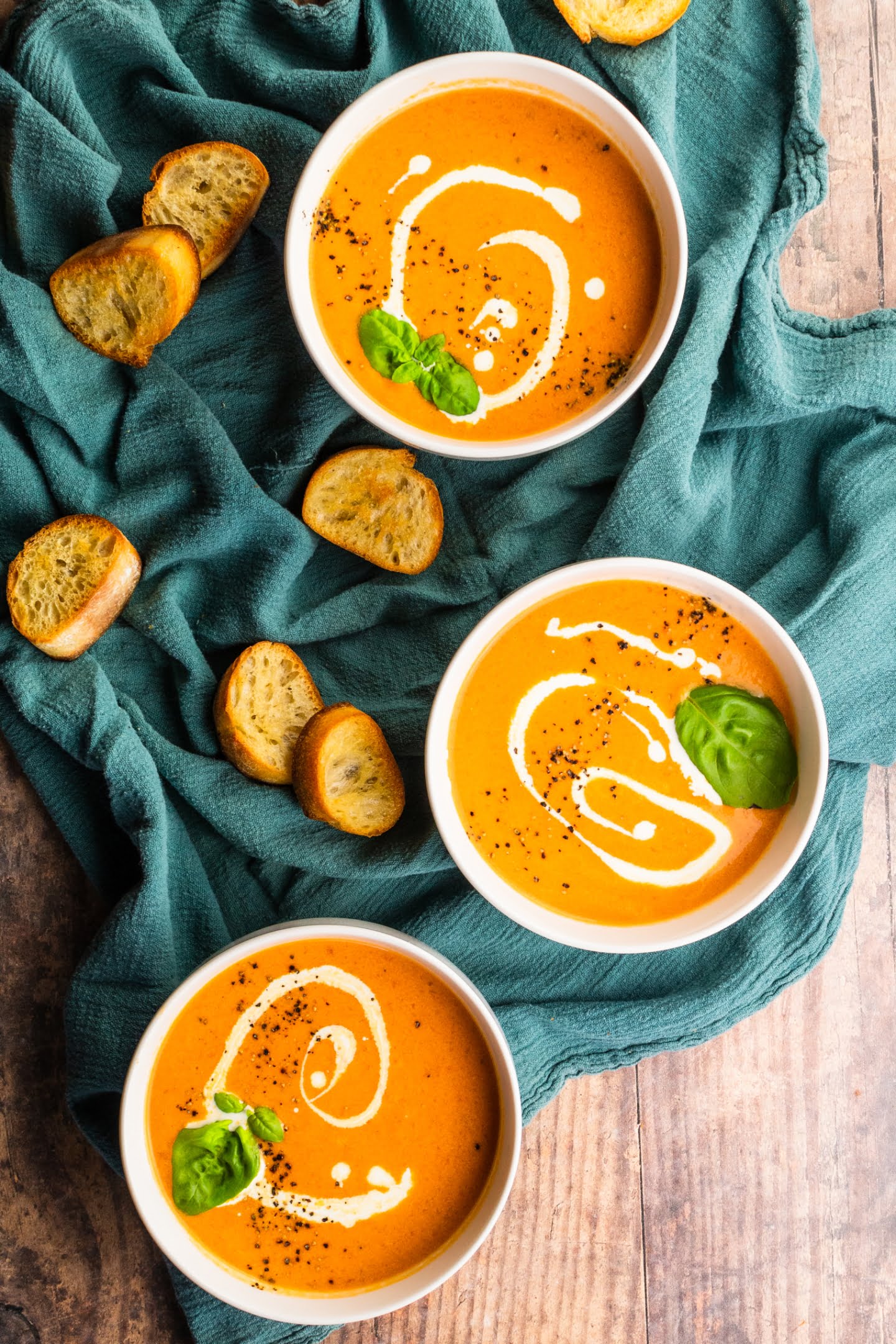 This homemade tomato bisque soup is not only insanely delicious and satisfying but offers plenty of health benefits.
Best part? You can have this bisque tomato soup recipe ready in less than an hour and it serves a crowd. Especially if you want to serve it as an appetizer. It's a win-win!
Make yourself a batch and enjoy these benefits!
This black bean chili makes a lovely comforting dinner that I can never get enough of. It's not only soul-warming but packs tons of flavor.
You're going to want to add this easy soup recipe to your new repertoire.
I've made this old-fashioned vegetable soup recipe nearly a dozen times since I discovered it last winter. This veggie-packed soup is made with frozen veggies and russet potatoes of, simmered into water.
It's so darn good you'll want to eat again and again.
Looking to switch things up? Try this fix-it-and-forget-it slow cooker tortellini soup. This flavorsome recipe gets its kick from the cheese tortellini and plenty of flavor from the marinara sauce, chicken broth, and cream cheese.
Finish it off with parmesan cheese for extra flavor.
You'll never be short of dinner ideas if you have potatoes in the house. Try this delectably creamy and satisfying potato soup recipe loaded with diced potatoes, ham, sweet onions, cheddar, and heavy cream is sure to please.
Garnish with parsley, cilantro, chives, or your favorite herbs if you wish.
Looking to switch things up? This coconut curry seafood recipe has a beautiful depth of flavor that will impress even the fuzzy of eaters. It's a family favorite for a reason.
Give it a try, and who knows, it can also be your family favorite.
This 5-ingredient recipe is warm and filling, laced with black beans, salsa, chili powder, and cumin undertones. While it's delightful as it is, you can adjust the ingredients to suit your taste buds or jazz it up with whatever you have on hand.
While it sounds fancy, this Tuscan-style chicken soup is the very definition of simplicity. It uses very few common ingredients like olive oil, black pepper, Italian seasoning, veggies, and cannellini beans but is very comforting and delicious.
Serve it with indulgent garlic bread or flaky biscuits-but it's also perfect on its own.
If you're craving something creamy and sweet, this recipe with a touch of maple and a little spice is a fantastic option. If I'm being honest, it's one of the creamiest, heartiest soups I've ever tasted.
It nourishes both stomach and soul; what more could you ask for?
Tired of the same old potato soup? Spice things up with this potato soup with melty cheddar, crispy bacon, and green parts of green onions. This cheesy soup is guaranteed to be a hit with everyone- even your little picky eaters!
Experience the best of both worlds with this lip-smacking recipe. Pack your large pot with this hearty and plant-based recipe full of potatoes, carrots, onions, lentils, bacon, and chicken/veggie stock or whatever you have on hand.
Better yet, it cooks really fast, making it an excellent option for weeknight dinners or hectic weekends.
Easy soup recipes don't come any easier than this. It only takes three ingredients and a few minutes to make this deliciously creamy potato soup recipe.
Serve with a side of buttery rolls or garlic bread for a hearty, filling meal.
If you're looking for a comforting soup packed with vegetables, consider this 6-ingredient cabbage soup. All you need to do is simmer a few cups of chopped cabbage, carrots, onions, tomatoes, celery, and chicken/beef broth.
The result is a healthy, rich-texture delicious soup that everyone will love. I am sure you will also love my homemade Texas cowboy stew recipe.
Love Mexican food? You'll definitely enjoy this vibrant soup with its authentic flavor. It's beefy, spicy, and insanely good.
While it's super satisfying on its own, you can turn it into a Mexican feast by pairing it with some tortilla chips, Mexican rice or, corn. Yum!
For more mexican recipes, check my collection of best mexican soup recipes including my chicken taco soup recipe.
Soothing and healthy, this recipe is loaded with all the warm and comforting vibes. It's a guarantee to warm you up right up!
The beauty of this recipe is that it uses a few cheap ingredients that blend beautifully together to create an over-the-top tasty meal.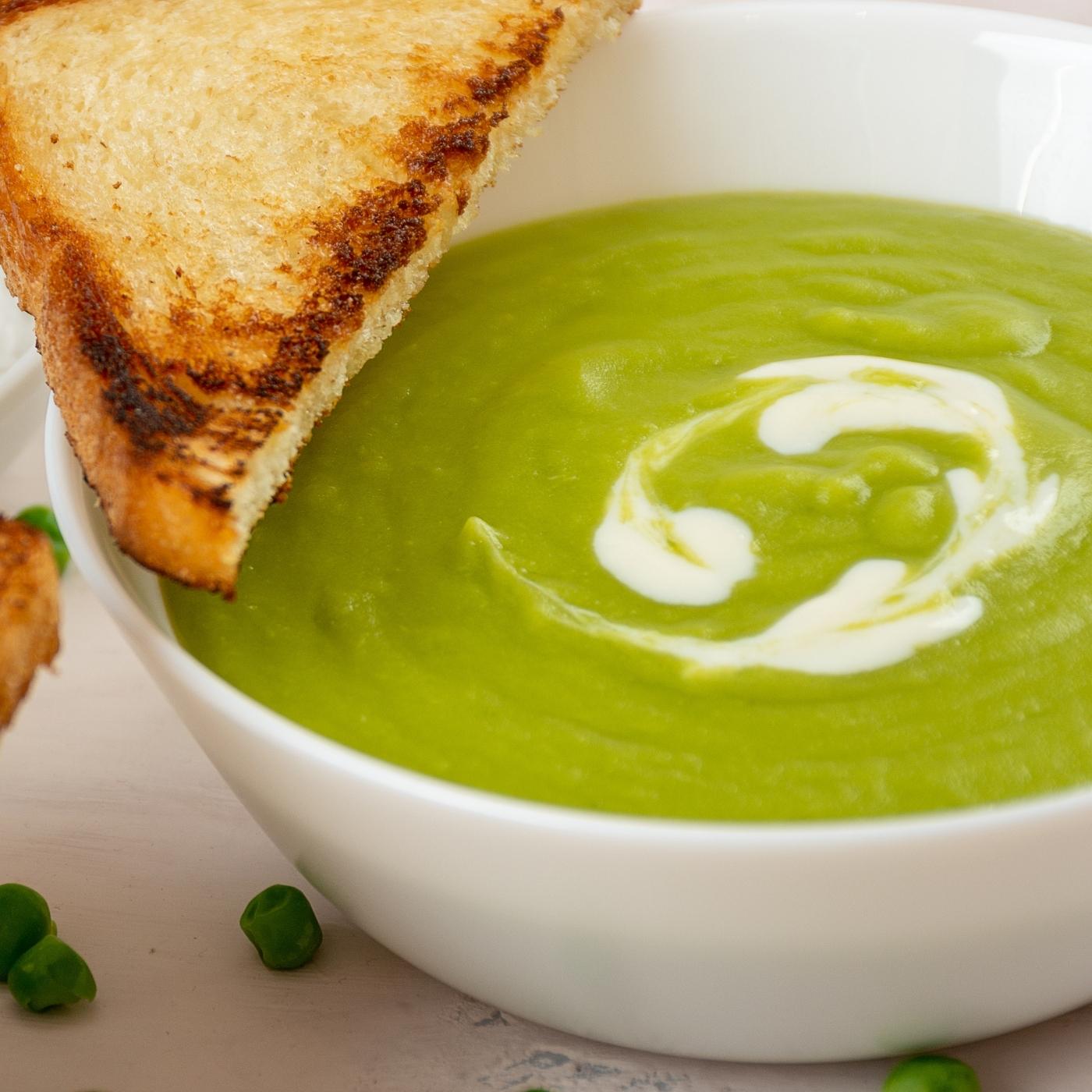 Related Soup Recipes
Try one of these fantastic comfort food recipes in your next meal. Including my collection on best crock pot recipes and slow cooker meals.
For more comfort food inspiration check out my collection of best southern comfort food recipes.
If you are traveling across the country and looking what to eat in a specific state, then check out my list of best american comfort food per state.
Try one of my comfort recipes for your next family meal! And if you have any questions, I'm here to help!
📋 Recipe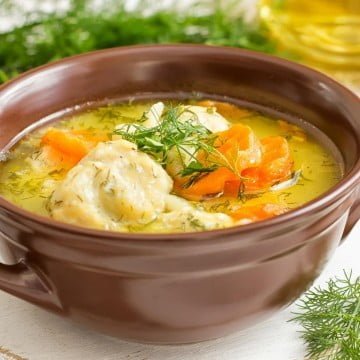 Instructions
Select your favorite recipe.

Organize all the required ingredients.

Prep a soup recipe in 30 minutes or less!
Notes
Looking for soup recipe ideas? I have diverse collection of delicious and easy to make soup recipes your whole family will love.