Bacon has to be one of the most delicious meats out there. Whether it's a traditional cooked breakfast, a good sandwich, or even a rich and creamy pasta sauce, bacon seems to make every single meal better.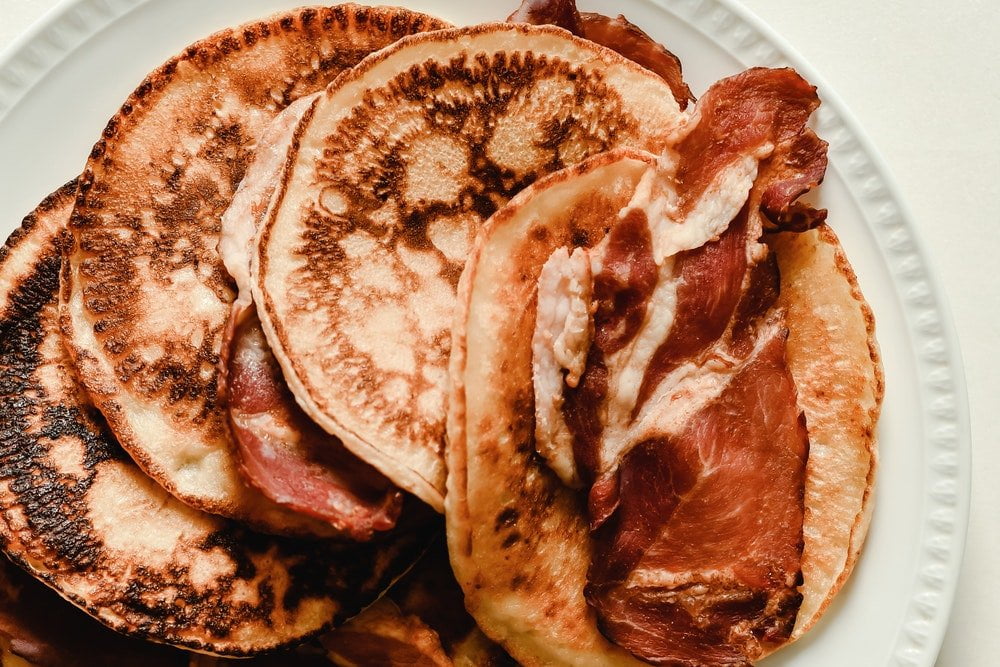 Contents
However, cooking it can be a bit of a nightmare. In particular, pan-frying bacon, though perhaps the most popular cooking method, can be tricky. Thanks to the high-fat content in bacon, it can even feel a little scary (our fear of grease splatters is very real, ok?).
In the pursuit of an easy, stress-free, less greasy way to cook bacon, we conducted extensive research. After consuming an ungodly amount of the meat, we arrived at a solid conclusion. Baking bacon is the best method.
It is healthier and easier than any other method we have tried, and it also produces super crispy and delicious bacon strips. Not convinced? Check out the information below and make sure you try out our recipe!
Is It Healthier To Bake Bacon?
In short, yes!
On average, a piece of pan-fried bacon is roughly equivalent to 77 calories. However, when baked, the same slice of bacon is equivalent to about 44 calories.
One of the reasons for this discrepancy in calories is the fact that baking bacon also tends to reduce the amount of grease you consume.
When frying, bacon grease has nowhere to go. Although, when baking bacon on a rack, the grease can drip away. As such, you tend to consume less grease when you bake bacon.
To make baked bacon even healthier you can go further, and pat off any residual grease with a paper towel. It also makes the bacon crispier, which is a great bonus!
However, it is important to remember that, even though it is healthier than fried bacon, baked bacon is still bacon. Even if you purchase low-fat bacon, cook it in the oven, and pat away excess grease, it still needs to be consumed in moderation.
Benefits Of Cooking Bacon In The Oven
In addition to being healthier, there are a number of other benefits of cooking bacon in the oven.
First, we're sure that you've experienced the stress of cooking breakfast for a big group of people. Due to the sheer number of different ingredients you might be working with, timing is a nightmare at the best of times, let alone when you have a lot of mouths to feed!
However, if this is something you struggle with, we suggest you try baking your bacon instead. Rather than trying to squeeze a lot of bacon into one grease-filled, boiling hot pan, and thus ending up with some kind of injury, you can simply put the bacon slices in the oven!
Secondly, as alluded to above, pan-frying bacon can be a greasy nightmare. Regardless of how prepared you are, grease splatters all over the stovetop are just inevitable. Although, if you put the bacon in the oven, this is completely avoided!
Finally, putting bacon in the oven allows you to multitask. Taking roughly 15 minutes, baking bacon means that you have time to cook the other elements of your dish, without being distracted by grease splatters or burnt smells.
How To Cook Bacon In The Oven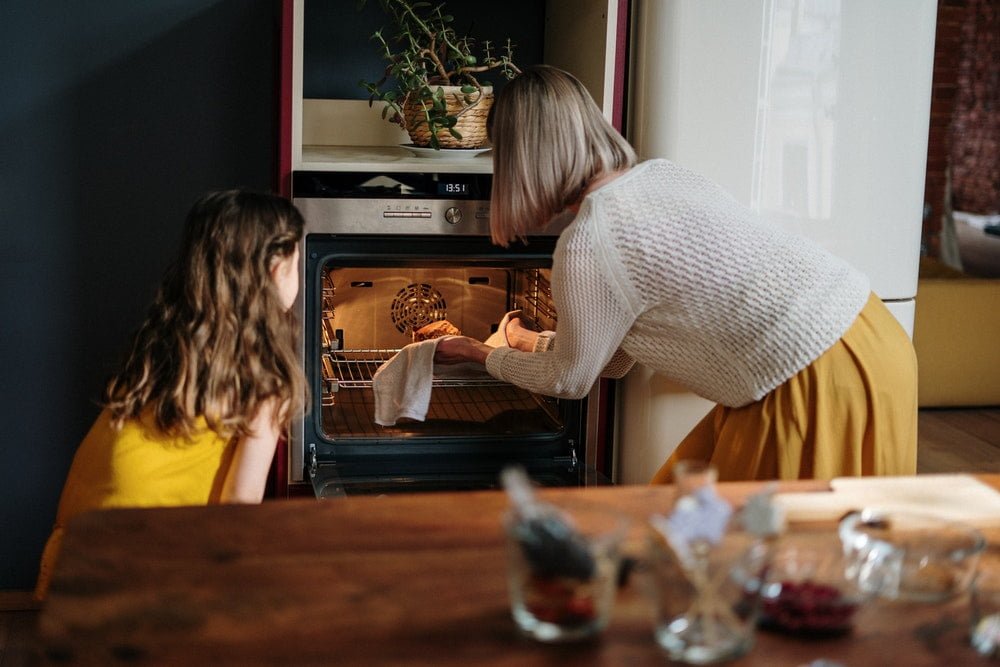 Now we've covered the benefits of cooking bacon in the oven, let's take a look at how to do it!
Ingredients
The only thing you'll need for this recipe is bacon. However, when baking bacon, the quality is all the more important.
The better quality bacon you buy, the more delicious it will be! If you have the time and resources, try buying it from a local butcher, or even the butcher counter at a grocery store.
You will also have to decide what thickness of bacon to buy. If you want a healthier dish, opt for bacon that is more thinly sliced and has less fat.
Step-By-Step Instructions
Preheat the oven to about 400 degrees Fahrenheit.
If you want an easy clean-up, line a large baking sheet with foil. Then, place an oven rack on top of that tray.
Put the bacon on the rack. Be sure not to overlap the slices, as this will affect how long those slices will take to cook.
When the oven has preheated, place the tray into the oven.
When your bacon looks just how you like it, remove the tray from the oven. For thinly cut bacon, it usually takes roughly 12 minutes to reach a golden and crispy level. For thickly cut bacon, it might take up to 20 minutes to reach your desired level of crispiness.
If you want to remove excess grease and keep the bacon crisper for longer, pat it down with a paper towel.
Serve it up, or let it cool and store it.
How To Store And Reheat Baked Bacon
As discussed previously, one of the many benefits of baking bacon is being able to make a lot of it at once. In addition to cooking for overcrowded family meals, making a lot of bacon can also be useful if you want to start meal prepping!
If this is something you're interested in, it's important to know how to store and reheat baked bacon safely. The last thing you want is to realize mid-week that your planned BLT sandwich is missing the B because of a storage error!
Storing Cooked Bacon
Cooked bacon can be stored in the fridge for roughly 3 to 5 days. However, if you notice a change in smell or appearance, it's important to throw it out.
To be safe, if you're cooking bacon for meal prep, we suggest you only cook enough for the following three days. This will ensure there is little-to-no waste.
Although, if you do accidentally cook way too much bacon, there is a solution! Cooked bacon can actually be stored in the freezer for a maximum of three months. Just make sure to thaw properly when you want to use it.
Reheating Cooked Bacon
If you have kept your bacon in the fridge, all you have to do is re-crisp them. To do this, simply place the bacon on a tray and put it in a 350-degree Fahrenheit oven. Take them out when they have reached your desired level of crispiness.
If you have frozen your cooked bacon, you need to thaw it before you re-crisp. To do this, you can either place it in the fridge overnight, or you can defrost it in the microwave. Following, you can chuck it in a sandwich or use it in whatever recipe you're working on!
Related Bacon Recipes
Try one of my comfort recipes for your next family meal! And if you have any questions, I'm here to help!
Final Thoughts
There you have it! Baking bacon is much easier, healthier, and cleaner than pan-frying it. We hope our recipe has convinced you that baked bacon can also be just as delicious as pan-fried, if not more!