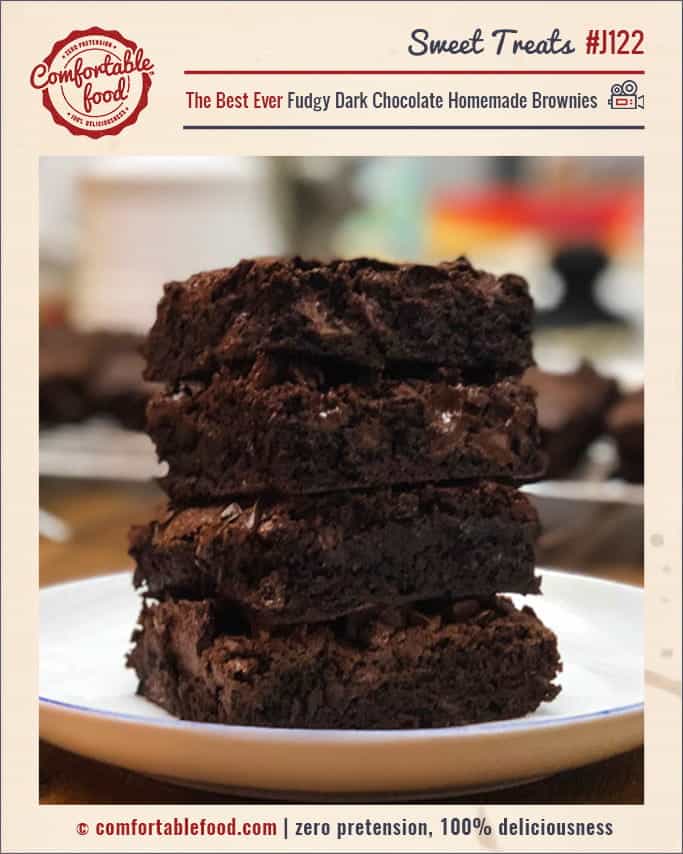 These really are The Best Dark Chocolate Brownies!!  Is there really anything better?  The best thing about these is that they take into account both types of brownie lovers.  They're just ooey and gooey enough, but not so much to turn away those that prefer a more cakey brownie.  They really are exactly in the middle.
Nothing beats homemade brownies, I know the mix is super convenient and easy, but just check out this video – you can see that it doesn't take that much more effort to just do it yourself, and the result is truly worth the effort involved.  Be sure you use a good quality cocoa powder and chocolate bar – it really does make all the difference and gives a much more rich flavor to these heavenly bars!
Prep time on these Brownies is minimal – about 20 minutes and they're in the oven for about 45 so you can have them in your hands in just over an hour! Ok, maybe a bit longer 'cause you should let them cool down for a bit if you can wait. The recipe makes about a dozen bars – depending on how big you cut the slices. 😉
sweet treats on your mind?  check out this deliciousness:
here's a video of me making these dark chocolate brownies:
Best Ever Fudgy Dark Chocolate Homemade Brownies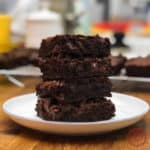 Print
Nutrition facts

(per portion)
Nutrition facts
(per portion)
Calories: 360
Carbohydrate Content: 44.3g
Cholesterol Content: 78mg
Fat Content: 19.9g
Fiber Content: 2.7g
Protein Content: 5g
Saturated Fat Content: 11.7g
Serving Size: 16
Sodium Content: 184mg
Sugar Content: 29.6g
Ingredients
how to
Preheat the oven to 350 F and line a 9x13" baking dish with aluminum foil, making sure that the foil comes up over the sides.  Grease and flour the foil, then set aside.
Mix the flour, cocoa powder, espresso powder, baking soda and salt together, then set aside.
In another bowl, combine the butter, vegetable oil, both sugars, the eggs + yolk and vanilla - whisking together well.
Add the dry ingredients to the wet and stir together with a wooden spoon until just combined, being careful to not overmix.  Gently fold in half of the chocolate chunks.
Pour the batter into your prepared baking dish, smoothing out the top.  Sprinkle the remaining chocolate chunks on top and bake for about 40 - 45 minutes or until the brownies are just set to the touch.
Remove from the oven and allow to cool before picking up the foil on both side to lift out of the baking dish.
Allow to cool to room temperature before slicing and serving.  Yum!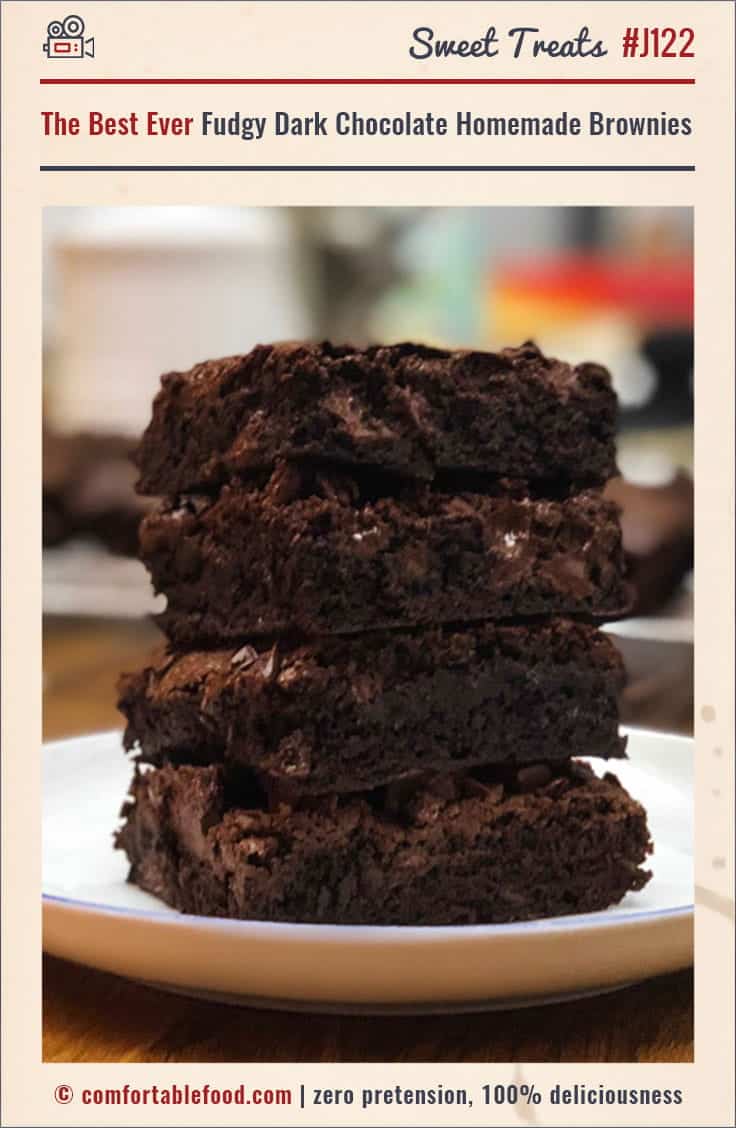 this post contains affiliate links