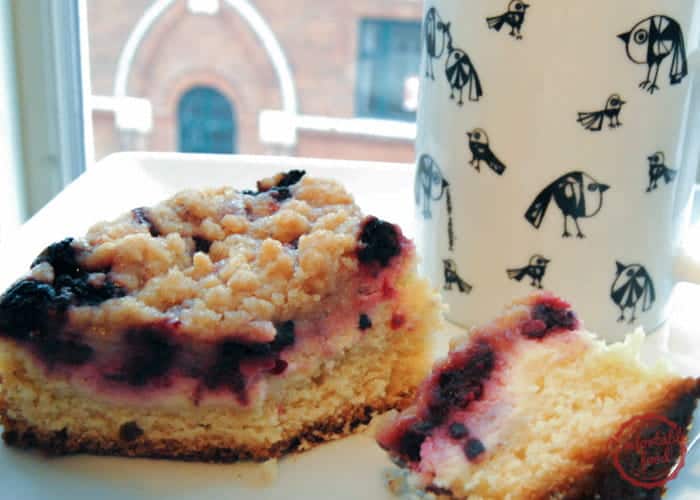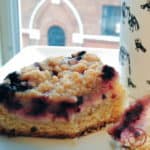 This blackberry coffee cake is moist - the cream cheese is rich, and the streusel topping is perfectly sweet and crunchy.  The main star however were the blackberries, the other elements complemented them perfectly, but did not overpower.  This cake is the perfect addition to any weekend brunch menu.
Ingredients
how to
Pre heat the oven to 350 F (175 C) and butter a 9" (23 cm) spring-form pan.  Line the bottom of the pan with baking paper, and butter the paper.
for the topping:
In a large bowl, mix the flour, sugar and cinnamon together.
Add the cold butter pieces, and use a fork or your fingers to mix it in, until the mixture comes together into coarse crumbs, then set aside.
for the filling:
Using an electric mixer, beat the cream cheese until very creamy, then add the remaining ingredients and mix together until completely combined and smooth, then set aside.
for the cake:
Whisk together the flour, baking powder and salt, then set aside.
In a separate bowl, using an electric mixer, beat the butter until smooth and creamy.
Add the sugar, and continue to beat until fluffy, then add the egg and vanilla, and mix well.
Add the flour, alternating with the milk, and mix until combined.
Spread the batter onto the bottom of the spring form pan, then spread the cream cheese filling over the batter.
Scatter the berries over the top, then crumble the streusel over the berries.
Bake in the oven for about an hour, or 70 minutes - until the streusel is golden and a toothpick test comes out clean, then remove to a wire rack to cool.
 Serve warm or at room temperature.