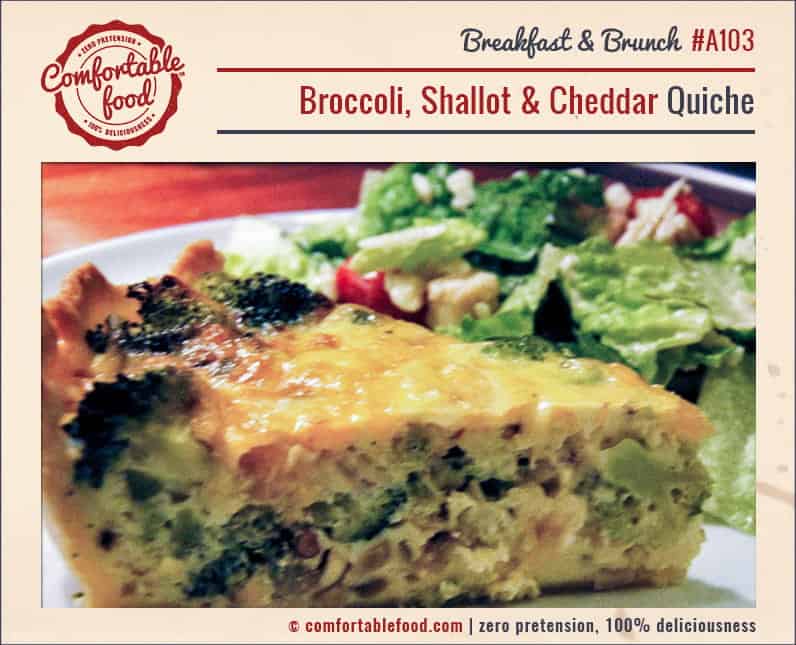 There's something about the added shallots that really make this Broccoli Cheddar Quiche spectacular.  I never ever put onions or garlic in my quiche, I just find them too overpowering flavor wise.  Shallots are so much less potent, but they still provide this great smooth flavor that goes so perfectly with cooked eggs.
As with any quiche you can add whatever ingredients you want.  I had some broccoli in the fridge so I added that with tons of cheddar and boy was this quiche delicious.  The perfect way to get those green veggies in ya.  Yum.  🙂 Another great tip I always use when making a quiche is Dijon mustard. I always spread about a tbsp on the base of a proofed crust. It helps keep the liquid from seeping into the crust, and it really does pull flavors together without being obvious flavor wise. I read that tip a few years ago and have been doing it ever since.
You can have this Broccoli Cheddar Quiche on the table in about an hour. There's 20 minutes of prep time (give or take) and it bakes for about 40/45 minutes. It yields a large quiche, enough for 6 people or it can stretch to 8 if you're gonna use smaller slices. Perfect side dish for a brunch buffet.



check out these other eggy breakfast bake options:
Broccoli Shallot Cheddar Quiche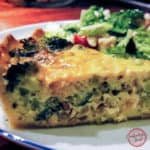 Print
Nutrition facts

(per portion)
Nutrition facts
(per portion)
Calories: 430
Carbohydrate Content: 30.8g
Cholesterol Content: 201mg
Fat Content: 12.4g
Fiber Content: 1.5g
Protein Content: 13.9g
Saturated Fat Content: 12.4g
Serving Size: 6
Sodium Content: 863mg
Sugar Content: 16.3g
Ingredients
how to
Pre-heat oven to 400 F (200 C).
Make and roll out your crust and place it in a greased pie tin.
Poke holes in the base of the crust; line it with aluminum foil and pastry weights (dried beans or rice work just fine) and bake in your pre-heated oven for about 15 minutes. (be sure to cover all the crust with aluminum foil so none of it burns)
While the crust is baking, prepare the shallots and broccoli.
Steam the broccoli in a colander above boiling water until it just softens, and turns bright green.
Melt the butter in a sauté pan, and cook the shallots over medium high heat, until they begin to caramelize, about 5 minutes.
Beat the eggs together with the sour cream, generously salt and pepper and set aside.
Remove the crust from the oven, and take off the aluminum foil and weight.
Using a spoon, spread the Dijon mustard across the base of the crust.
Evenly spread the cooked shallots over the mustard; add the broccoli and cheese, then pour the egg mixture over the top.
Return the pie to the oven and cook until beginning to brown and set, about 20 – 25 minutes.
this post contains affiliate links