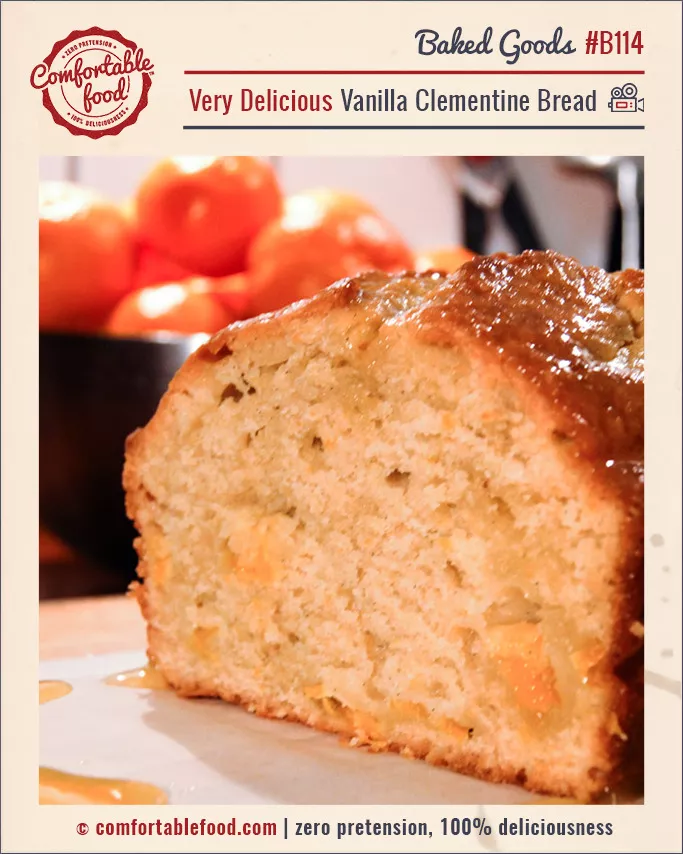 Clementines are quite possibly my favorite citrus fruit and this Clementine Bread is the perfect use of them.   I had a particularly good batch the other week and decided to bake something with them.  I found a recipe on Martha Stewart that I modified to post on this site.  It came out awesome, it is definitely more of a bread than a cake, but can easily be served for dessert, and goes great with coffee.
Both the citrus and vanilla flavors really come through, and play perfectly together.  The texture is great – it's just firm enough without being too heavy.  The recipe reads like it's a bit complicated, but it's really pretty straightforward – although it is a bit long.  Give it a chance, if you are a fan of citrus flavors, you'll love this bread!
Prep time for this Clementine Bread is only about 15 minutes and it's in the oven for an hour. It yields one normal size loaf, so you might want to double the recipe cause I can guarantee you it's not gonna be around long.
here are a couple more delightful breakfast breads:
watch a video of me making this Clementine Bread:
Very Delicious Vanilla Clementine Bread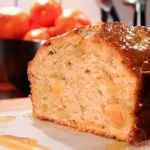 Prep Time: 15 minutes
Cook Time: 60 minutes
Serving: 1 loaf
Print
Nutrition facts

(per portion)
Nutrition facts
(per portion)
Calories: 280
Carbohydrate Content: 42.1g
Cholesterol Content: 58mg
Fat Content: 11.4g
Fiber Content: 0.7g
Protein Content: 3.4g
Saturated Fat Content: 6.8g
Serving Size: 12
Sodium Content: 96mg
Sugar Content: 25.9g
Ingredients
how to
Preheat the oven to 350 F (175 C) and grease a regular sized loaf pan.
Remove most of the zest from about 4 clementines, so you have about 1 tbsp of zest.
In a large bowl, beat the zest, butter, 1 cup of the sugar and the vanilla seeds until well combined, about 2 - 3 minutes, then beat in the eggs, one at a time and set aside..
Juice the zested clementines, and about 4 others, enough to make 3/4 cup of juice, and set aside, reserving 2 clementines.
In a small bowl, mix 1/4 cup of the juice, the cream and vanilla extract together, and set aside.
In a third bowl, whisk together the flour, baking powder, baking soda and salt, and set aside.
Use your mixer, and beat the flour mixture into the butter mixture, alternating with the cream/juice mixture, starting and ending with the flour.
Peel your remaining two clementines, remove all the pith, slice each segment down it's back to halve it, then across it's middle, so each slice is in quarters - discard any seeds.
Gently fold the clementine pieces in the batter, and then pour it into the prepared pan.
Cook for about 1 hour, or until a toothpick test comes out clean.
While the bread is cooking, prepare the glaze by bringing the remaining 1/2 cup of juice and 1/2 cup of sugar to a boil in a small pan, stirring constantly.  When the mixture boils, reduce the heat and simmer for about 5 minutes, then remove from heat.
When the bread is done, remove it from the oven, poke the surface all over with a skewer and brush generously with the glaze.
Allow the cake to cool for about 20 minutes in the pan, then remove it and put it on a rack to cool completely before glazing the bread again, this time including the sides.
Serve at room temperature with tea or coffee.  🙂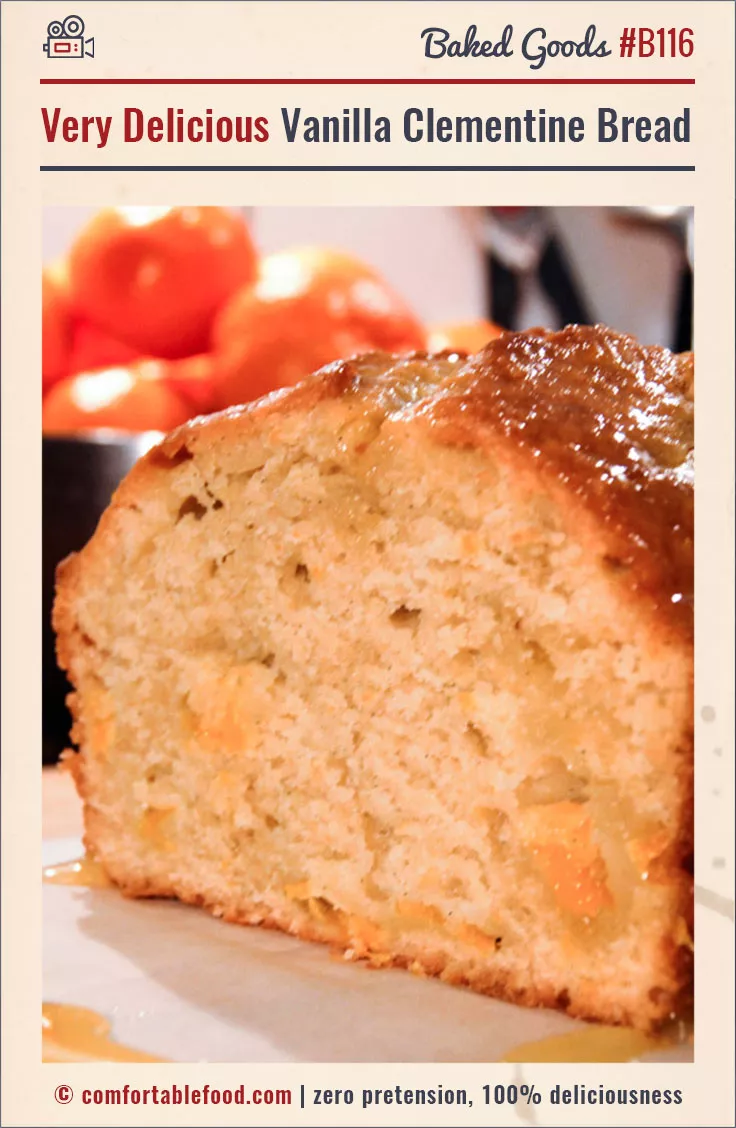 this post contains affiliate links