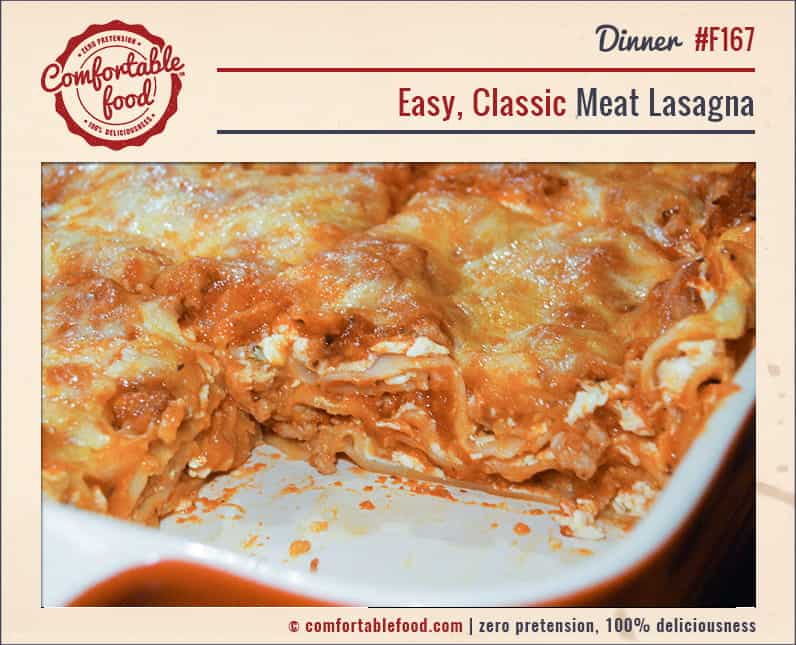 Sometimes simple is better, and this Classic Meat Lasagna is just that.  It's super easy to throw together quickly and it's super flavorful, hearty and delicious.  I'm pretty sure I could live on lasagna alone – call me Garfield I don't mind – and if you're anything like me be sure to check out my other lasagna links below.
This is one of my favorite pasta dinners in that the prep is super quick and easy and everyone that's had it absolutely loves it.  This recipe is a classic for your collection, try it out and let me know what you think of it.  🙂
Prep time is only about 25 minutes and the lasagna is in the oven about 40 so this deliciousness can be on the table in just about an hour. It makes a traditional lasagna pan worth, enough for about 6 people.



here are a couple more great lasagna recipes:
Easy, Classic Meat Lasagna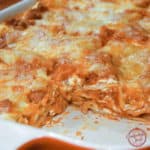 Print
Nutrition facts

(per portion)
Nutrition facts
(per portion)
Calories: 486
Carbohydrate Content: 35.2g
Cholesterol Content: 136mg
Fat Content: 22.8g
Fiber Content: 2.6g
Protein Content: 35.5g
Saturated Fat Content: 9.8g
Serving Size: 8
Sodium Content: 1119mg
Sugar Content: 7.5g
Ingredients
how to
Heat the oil in a large skillet over medium heat then add the onion and garlic and cook until beginning to soften.
Add the beef and sausage and cook until browned then stir in the basil, salt, tomato sauce and tomato paste - simmer together for about 30 minutes.
If the lasagna noodles need to be pre cooked, do this now - according to package directions.  Preheat the oven to 375 F (190 C).
In a large bowl, mix together the ricotta, parmesan, parsley, eggs, salt and pepper.
Lightly grease a 9"x13" baking dish and spread a small amount of the tomato sauce in the bottom.  Spread 1/3 of the ricotta mixture on some lasagna sheets, then lay them ricotta side up in the bottom of the pan.  Spoon on about 1/3 of the meat sauce then sprinkle on 1/3 of the mozzarella.  Repeat this process two more times, ending with the mozzarella.
Bake at 375 for 30 minutes; let stand 10 minutes before slicing and serving.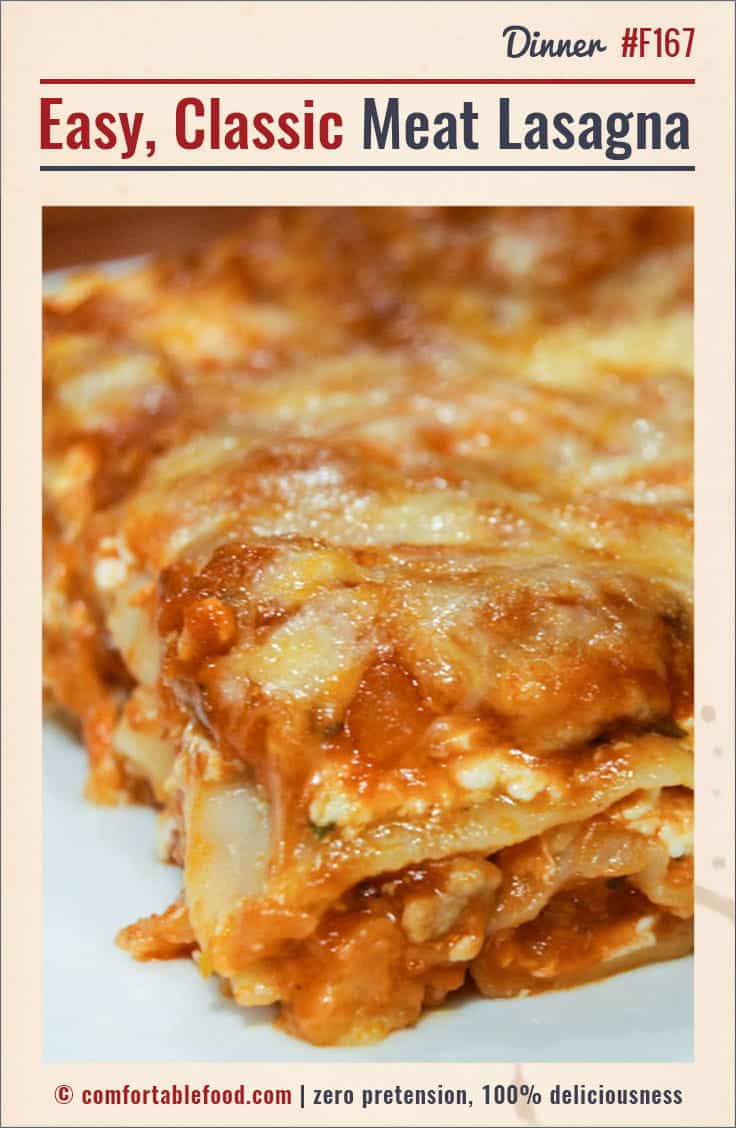 this post contains affiliate links