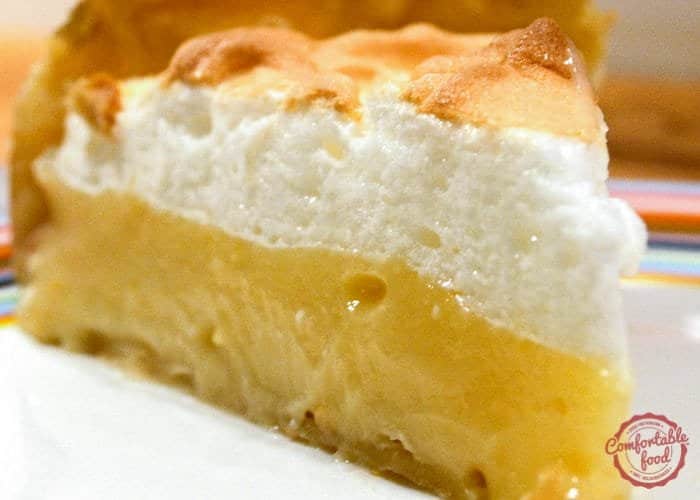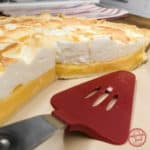 Prep Time: 30 minutes
Cook Time: 60 (not including chill time) minutes
Serving: 6 - 8 servings
Print

The lemon zest and orange juice in this super tart lemon meringue pie play together to create the perfect balance between sweet and tart.  Not too rich, this dessert is the perfect light finish to a great dinner.
here's a video showing how to make it:
Ingredients
how to
to make the lemon filling:
Preheat the oven to 400 F (200 C).
Put your pie crust (if uncooked) in a pie pan, poke holes in the bottom with a fork and bake 'blind' (lined with aluminium foil and weighted with pastry weights, or beans) for 15 minutes, then remove the foil and weights and bake for an additional 5 - 8 minutes, until cooked and golden.  Set aside.
In a medium saucepan, mix the cornstarch, flour, sugar, salt and lemon zest.
In a separate bowl, strain the lemon and clementine juice into the water, then whisk this liquid into the saucepan with the sugar mixture.
Cook over medium heat, stirring constantly, until it is thickened, smooth and begins to bubble.
Remove from heat and whisk in the butter until melted.
Add the egg yolks one at a time, whisking constantly so they don't scramble and return the pan to medium heat.
Cook and stir for a few minutes, until the mixture thickens then remove from heat and set aside while making the meringue.
to make the meringue:
Put the egg whites in a large bowl and whisk until soft peaks form, then add about half of the sugar, a little at a time - whisking after each addition, but not over beating.
Whisk in the cornstarch, then the rest of the sugar, a little at a time as before until the meringue is smooth and thick.
Reheat the filling,  pour it into the cooked dough and begin to immediately spoon the meringue around the edge of the pie, making sure it touches the crust.  Spoon the rest into the center of the filling, and spread it around in a decorative pattern.
Bake in lower third of the oven for about 20 minutes, or until the meringue crisps and begins to color.
Let cool completely before serving.