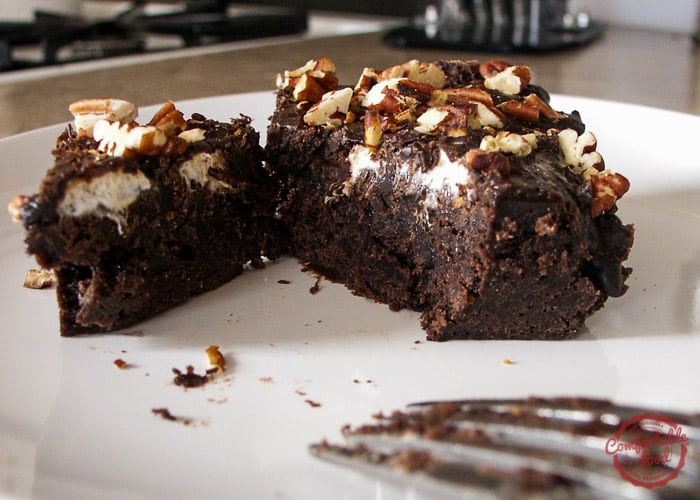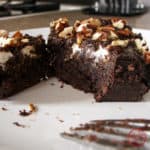 Okay: this is absolutely, no contest, the best chocolate cake I've ever had. Mud cake is a perfect name for this cake—it is totally rich and decadent. The layer of melted marshmallow and the rich chocolate icing really take it over the top. The cake itself is the perfect density—it's almost like a brownie, but still cake-like.
I haven't had this cake since my mother made it for me when I was a kid, but after having it the other night, it is definitely going to be my go-to chocolate cake from now on. If you love rich, decadent chocolate desserts—make this cake, it's a no-brainer.
(This recipe was originally published here on 03/06/2014)
Ingredients
how to
for the cake:
Place the pecans in a single layer on a baking sheet and bake at 350 F for about 8 minutes, or until toasted.
Grease a 9 x 9" baking dish.
Melt the butter and chocolate in a glass bowl in the microwave, stirring every 30 seconds until it's melted and smooth.
In a separate bowl, whisk together the sugar, flour and cocoa powder, then whisk in the melted chocolate then whisk in the eggs, vanilla and salt.
Pour the batter into the prepared baking dish and bake for about 20 minutes. Remove from the oven and sprinkle on the marshmallows, then return to the oven for about 10 more minutes, until the marshmallows have puffed up and turned golden brown.
Drizzle the cake with the icing and sprinkle with the pecans.
for the icing:
Stir the butter, cocoa powder and milk together in a medium saucepan over medium heat until the butter is melted. Cook, stirring often, for about 2 - 3 minutes, or until slightly thickened, then remove from heat.
Use an electric mixer to gradually beat in the powdered sugar and vanilla until smooth.