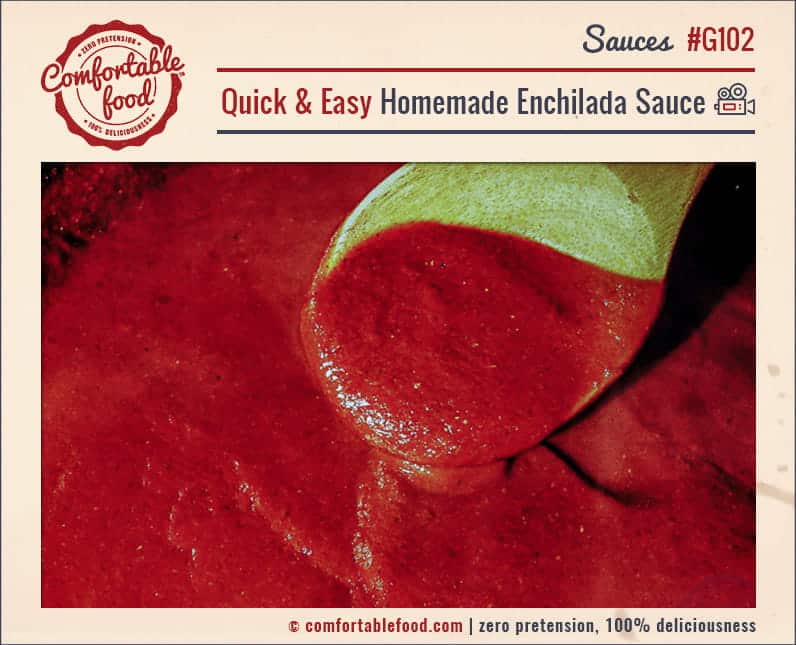 Homemade Enchilada Sauce is so much better than buying canned or jarred in the supermarket.   It's the easiest thing in the world to make, and you can vary the flavors greatly by playing around with different chili powders.   You can use chipotle, ancho, pasilla or for a milder flavor a more standard New Mexico chili powder.  You can also add as much cayenne as you want if you want a spicier sauce.
I know it's much more traditional to grind your own chilies to make your sauce, but in this day and age with the spice shops that we have I have found that you can get GREAT quality powdered chilies and that's why I'm calling for them in this recipe.  The whole idea here is that you can have delicious, flavorful sauce in about 10/15 minutes.  It's really yummy – just be sure to use high quality chili powder.
It's no lie that I call this Enchilada Sauce quick and easy – you can make it in about 10 minutes. It makes about two cups worth of sauce.
this sauce is perfect for these enchilada dishes:
here's a video showing how to make this Enchilada Sauce:
Quick & Easy Homemade Enchilada Sauce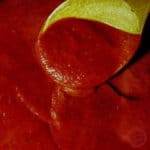 Prep Time: 5 minutes
Cook Time: 10 minutes
Serving: 2 cups
Print
Nutrition facts

(per portion)
Nutrition facts
(per portion)
Calories: 93
Carbohydrate Content: 11.5g
Cholesterol Content: 0mg
Fat Content: 5.3g
Fiber Content: 2.7g
Protein Content: 2.4g
Saturated Fat Content: 1g
Serving Size: 6
Sodium Content: 63mg
Sugar Content: 5.1g
Ingredients
how to
Heat the oil in a skillet over medium high heat.
Stir in the flour and the chili powder, then reduce the heat slightly, and stir constantly until starting to brown.
Stir in the water, tomato paste, oregano, cumin, cayenne, garlic and onion powders and salt, and mix until smooth.
Simmer over medium heat until thickened, about 5 - 10 minutes.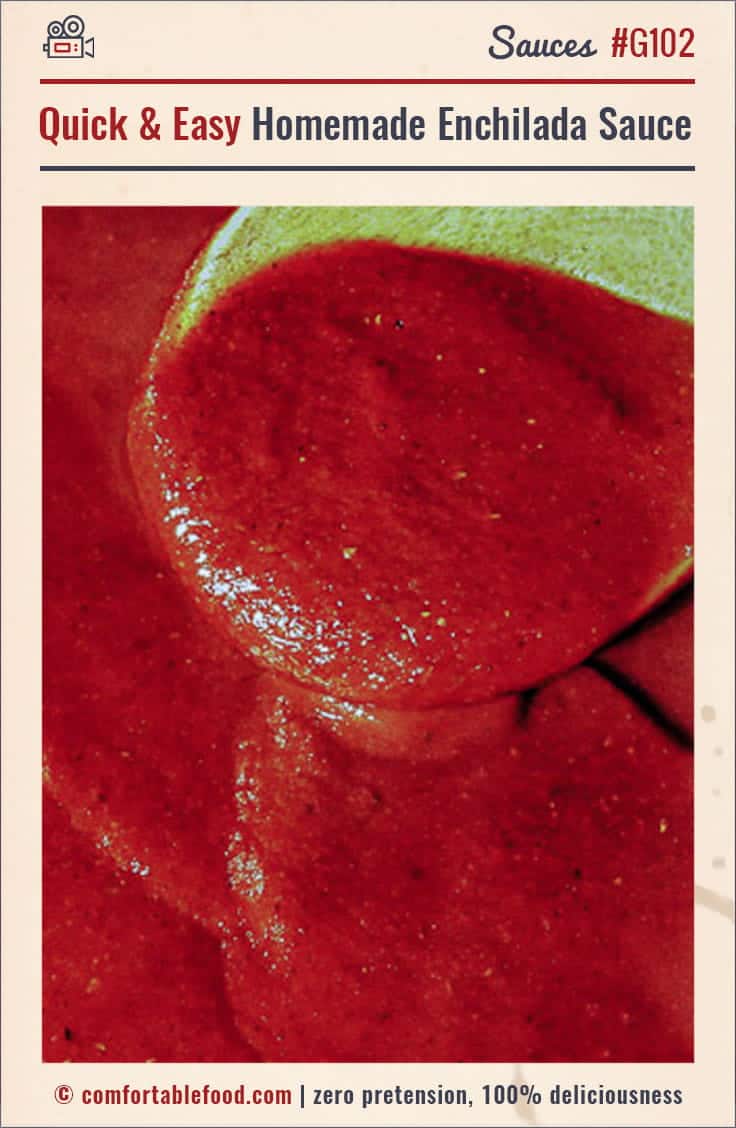 this post contains affiliate links