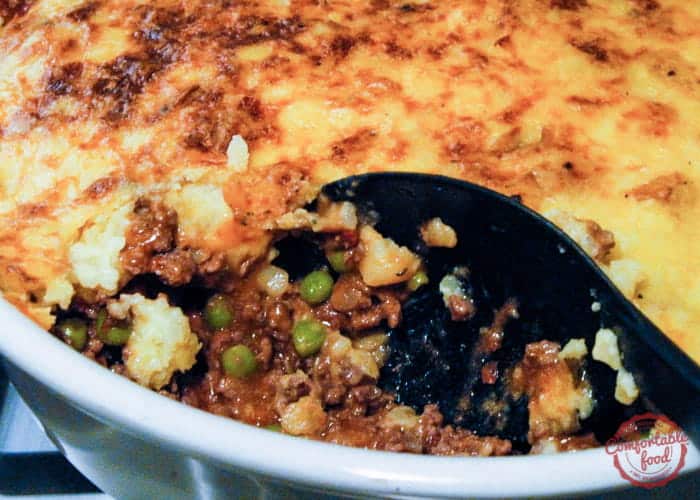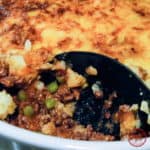 I know this is actually more of a cottage pie, and not a shepherd's pie, but I grew up knowing it as a shepherd's pie, so I am keeping the name here.   This recipe is deceiving in that it has few ingredients, but they blend together so well and give so much flavor it tastes much more complex than it is.  Pair it with a nice glass of red wine, maybe a roaring fireplace and you're good to go.

Check out these kitchen essentials helpful in making this recipe:
Ingredients
for the potatoes:
potatoes - 2 pounds (1 kilo), peeled and quartered
butter - 4 tbsp
sour cream - 1/4 cup
cheddar cheese - 1/4 cup, shredded
salt and pepper - use very generously
for the filling:
olive oil - 2 tbsp
onion - 1 large, chopped
carrots - 2 large, peeled and chopped
garlic - 2 cloves, minced
ground beef - 1 pound (450 g)
ground lamb - 1 pound (450 g) any gamey meat will work - I used venison this time
all purpose flour - 2 tbsp
diced tomatoes - 1 cup, canned, drained
beef broth - 1 cup
tomato paste - 2 tbsp
rosemary - 1 tbsp, fresh, chopped
parsley - 1 tbsp, fresh, chopped
frozen peas - 1 cup
how to
to make the potatoes:
In a large pot, bring the potatoes to boil in salted water, and boil until tender, about 20 minutes.
When the potatoes are tender, drain them and mash them together with the butter, sour cream, cheese, salt and pepper.
while the potatoes are boiling you can:
Preheat the oven to 375 F (190 C)
Heat the oil in a large, heavy bottomed skillet over medium-high heat, add the onion and carrot, and cook until onion begins to soften, about 3 - 5 minutes, then add the garlic and cook for another minute or so.
Add the beef and the lamb, generously salt and pepper, and cook until browned - about 10 minutes.
Drain the fat from the pan, then sprinkle the flour over the meat and stir in the tomatoes, broth, tomato paste and herbs - simmer for about 5 - 10 minutes before adding the peas - then pour the mixture into a deep casserole dish.
Spread the mashed potatoes evenly over the meat with a spatula, making sure to create a tight seal around the edges, and bake in the oven until golden brown, about 35 - 40 minutes.