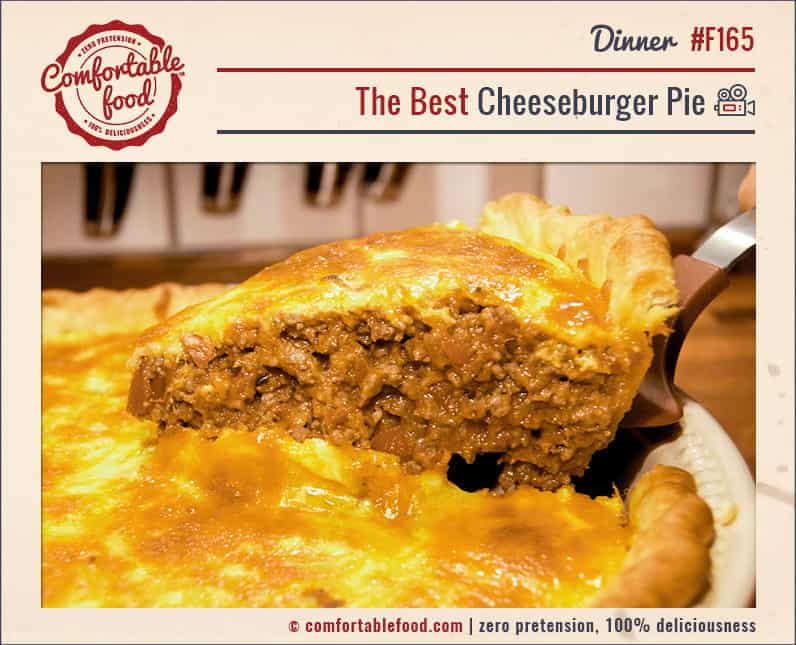 When I first moved to Europe, I was very excited about the new culinary experiences I was going to have. But after a few years of grazing my way across the continent, I began to really crave the foods of my homeland—classic American comfort foods. I began to look up recipes for things I could make, things I'd never made before but had taken a sudden interest in. I called my mother to get recipes I remembered from my childhood, and I tweaked them to adapt to the ingredients I was able to get.
I've come up with many recipes in the last few years, but this one maybe captures most the essence of the foods I had come to crave. This pie is beefy and cheesy and really, really delicious. It makes me think of a housewife in the '50s, calling her family to the table for a big slice of cheeseburger pie. Pie that—if this imaginary family is anything like mine—won't be around for long.
Prep time on this Cheeseburger Pie is only about 20 minutes, and it's in the oven for about the same time, so you can have this deliciousness on the table in under an hour. It's a traditional pie pan size and can serve 4 – 6 people for dinner if you pair it with something like steamed broccoli on the side it can be a well rounded meal any night of the week.
where's the beef?  here's more:
here's a video of me making this cheeseburger pie:
The Best Cheeseburger Pie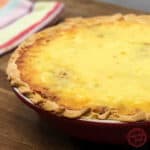 Print
Nutrition facts

(per portion)
Nutrition facts
(per portion)
Calories: 587
Carbohydrate Content: 39.5g
Cholesterol Content: 135mg
Fat Content: 31.1g
Fiber Content: 2.5g
Protein Content: 37.5g
Saturated Fat Content: 12.6g
Serving Size: 6
Sodium Content: 1200mg
Sugar Content: 20.1g
Ingredients
how to
Preheat the oven to 425 F (220 C).
Line a 9" pie pan with the crust and prick all over with a fork. Cover with aluminum foil and pastry weights and bake for about 15 minutes. Remove the foil and weights, then bake for about 5 to 10 more minutes, until browned.

 While the crust is baking you can prepare the filling.

Heat the oil in a heavy bottomed skillet, then cook the onion and pepper until they begin to soften--about 4 minutes. Add the garlic and cook for another minute or two, then add the ground beef and cook until browned, breaking it up often.
Stir in the tomato sauce, the oregano, salt, pepper, and bread crumbs, and remove from heat.
In a small bowl, beat together the egg and milk then whisk in the salt, mustard, and cheese, and set aside.
Spoon the beef evenly into the pie crust, then spread the egg/cheese mixture over the top, all the way to the edges.
Bake for about 20 - 25 minutes, or until the cheese topping is golden brown. (Keep an eye on the edges of the crust--if they begin to get too browned, make a foil ring and cover them up for the last 10 minutes of baking.)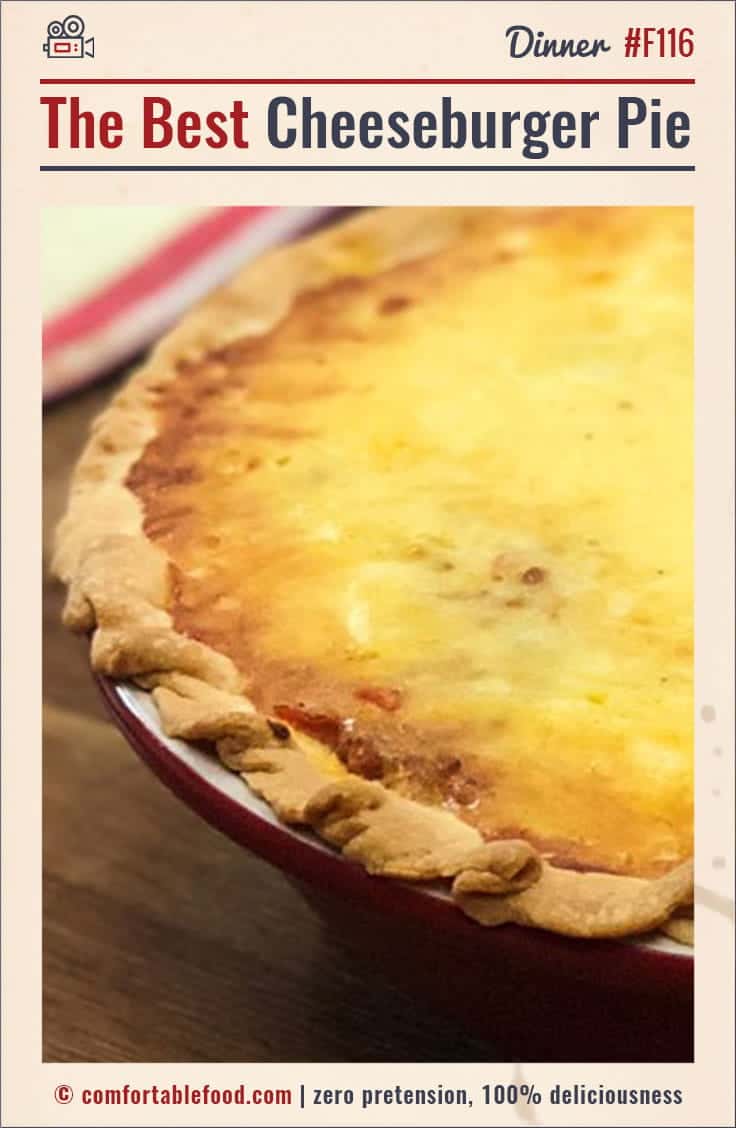 this post contains affiliate links
(This recipe was originally published here on 11/21/2013)
5

stars - based on

1

review(s)