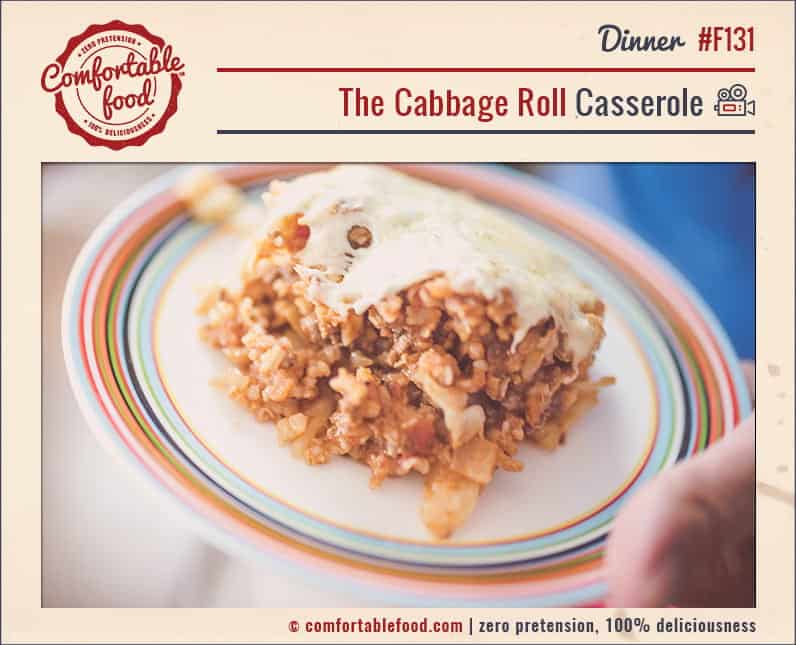 This Cabbage Roll Casserole is probably the most popular recipe on this site – and for good reason, it's ridiculously delicious!  I've yet to try my hand at making traditional cabbage rolls, I have to admit I'm a little apprehensive.  I do love to order them in restaurants however, and my inspiration for this dish was making them a bit more accessible and easy.  While this casserole is certainly not directly related to a traditional cabbage roll, all that flavor is still there.
I get a lot of feedback about the cheese not being necessary as it is not present ever in a traditional roll, but I absolutely love what it adds to this casserole.  All that zesty tangy deliciousness combined with that ooey gooey cheese really does make this one of my favorite things to eat.  🙂
There isn't too much prep time involved – about 30 minutes, and it's in the oven for about 45 minutes. It makes a large casserole dish worth – so it's enough food for about 6 – 8 people.
casseroles are the best thing ever!
check out these other popular ones:
here's a video of me making this Cabbage Roll Casserole:
The Cabbage Roll Casserole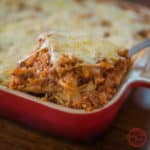 Print
Nutrition facts

(per portion)
Nutrition facts
(per portion)
Calories: 450
Carbohydrate Content: 51.4g
Cholesterol Content: 63mg
Fat Content: 15.1g
Fiber Content: 5.8g
Protein Content: 28.9g
Saturated Fat Content: 4.9g
Serving Size: 8
Sodium Content: 510mg
Sugar Content: 9.6g
Ingredients
how to
Heat 2 tbsp of the olive oil in a deep skillet or pot over medium heat and saute the onion for about 3 - 4 minutes, until softened, then add the garlic and cook for another minute or two.
Increase the heat to high and add the ground beef and season well with salt and pepper.  Cook until browned, crumbling it up as it cooks.
Stir in the thyme, paprika, worcestershire sauce, brown sugar and vinegar and cook for a couple more minutes before adding the tomatoes and tomato sauce.  Swirl about 1/4 cup of water in the bottom of the tomato sauce jar and add that as well.
Let this simmer for about 15 minutes, then stir in the cooked rice and remove from heat.
In another large, deep, pan heat 2 more tbsp of olive oil over medium high heat and add the chopped cabbage.  Cook, stirring almost constantly until the cabbage is about half cooked - add salt and pepper generously as it cooks, then remove from heat.
Heat your oven to 350 F (175 C) and grease a large casserole dish.
Spread about 1/2 the cabbage onto the bottom, pressing it down a bit with the back of a spoon.
Spoon half the beef mixture over the cabbage, then add the other half of the cabbage and finish with the rest of the meat mixture.
Cover tightly with foil and bake for about 45 minutes, then remove the foil and sprinkle the cheeses on top.
Bake uncovered for about 10 more minutes, until the cheese melts, then move the dish to the top of the oven - turn the broiler on for a minute or two until the cheese begins to brown.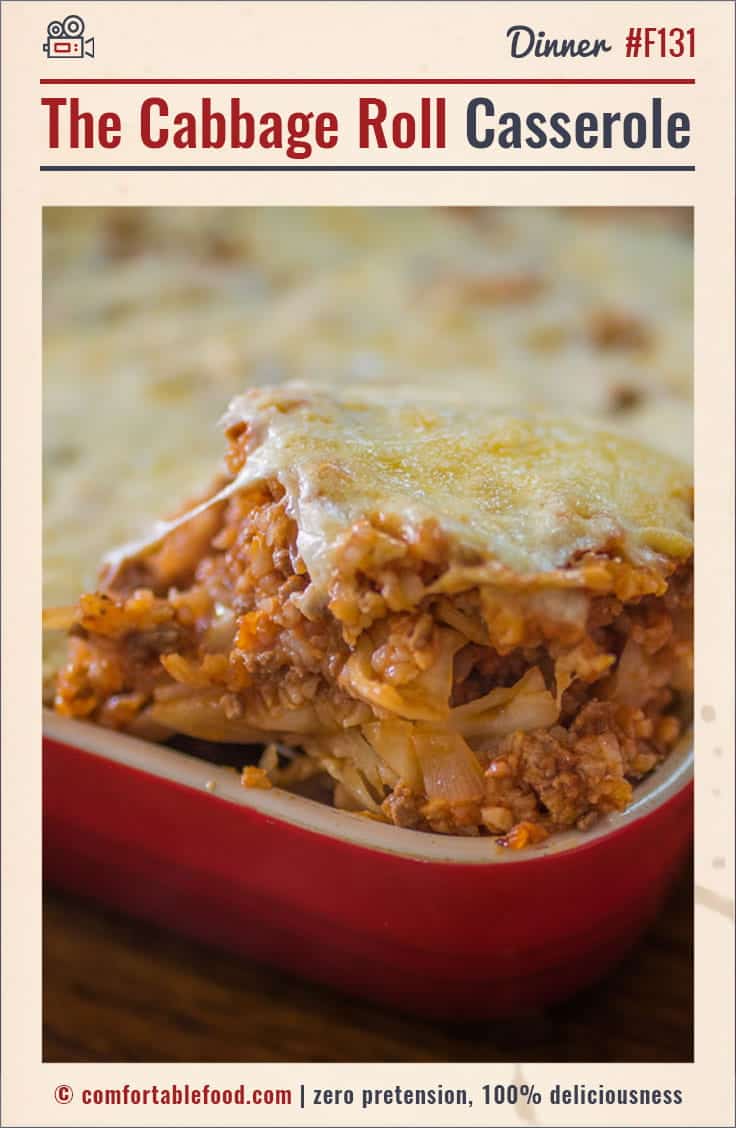 this post contains affiliate links
5

stars - based on

17

review(s)