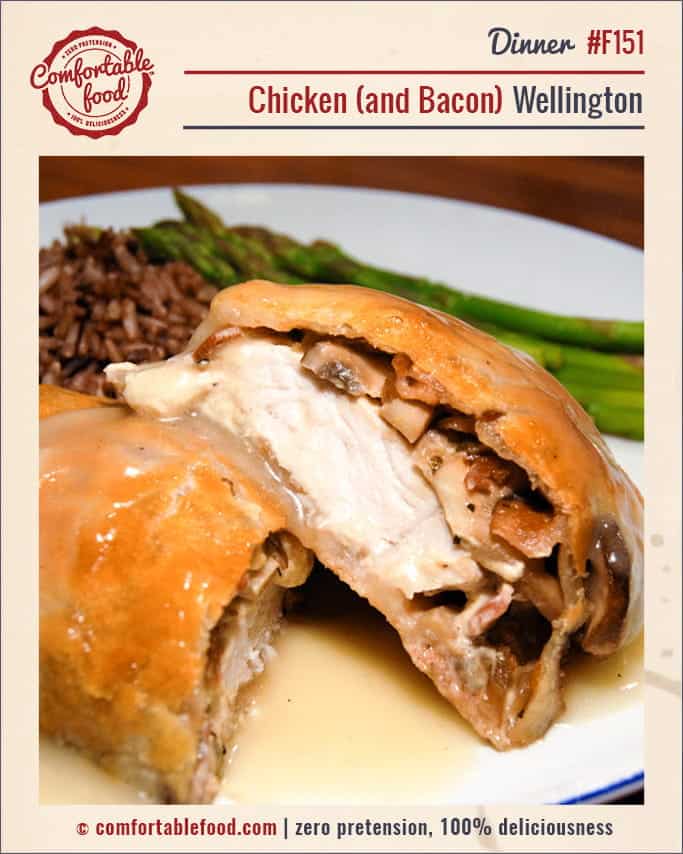 This Chicken Wellington is inspired by it's close cousin – beef wellington, but there are a few twists to make it unique. It's stuffed with cream cheese, mushrooms and bacon, there's no traditional pate involved.  It's topped off with some homemade chicken gravy and it's completely comforting and delicious. The first time I made these I could not have been happier with how it turned out. The crispy crust surrounding all that goodness is the perfect packaging for this dish.
This recipe reads like it's a lot harder to make than it actually is, so don't get scared off, just follow the instructions and you'll see it's not that hard. Even if you do find it a bit challenging – trust me it's worth every bit of effort involved. This dish is perfect for a special evening dinner – the person you're gonna make it for will love you forever (and I know that from personal experience haha). This dish truly is crazy delicious.
Prep time is a little extensive, about 40 minutes and these delicious rolls are in the oven about 35 minutes. The recipe yields 4 servings.
winner winner chicken dinner!
check out these other delicious dinner ideas:
Chicken (and Bacon) Wellington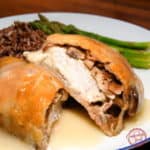 Prep Time: 40 minutes
Cook Time: 35 minutes
Serving: 4 servings
Print
Nutrition facts

(per portion)
Nutrition facts
(per portion)
Calories: 801
Carbohydrate Content: 24.4g
Cholesterol Content: 230mg
Fat Content: 53.3g
Fiber Content: 24.4g
Protein Content: 55.1g
Saturated Fat Content: 23g
Serving Size: 4
Sodium Content: 1558mg
Sugar Content: 3.4g
Ingredients
how to
to make the chicken:
Preheat the oven to 375 F.
Cook the bacon in a skillet until just crisp, then remove to a paper towel lined plate to drain - chop into pieces when cooled.  Remove most of the grease from the skillet, leaving about 1 tbsp.
Flatten the chicken pieces into even thickness and generously salt and pepper both sides.  Reheat the skillet with the grease in it, and cook the chicken until browned - about 4 minutes per side. Remove and set aside on a plate.
Add the butter to the skillet, and cook the onions, garlic and mushrooms - scraping up any brown bits - until the onions have softened and the mushrooms have lost most of their size and liquid.  Stir in the bacon pieces and rosemary and season with salt and pepper.  Cook on high heat for another minute or two, then remove from heat and set aside.
Cut the pastry dough into 4 equal squares, about 7" x 7".  you can roll the dough out on a floured surface if it's too small
Mix the cream cheese and mustard together in a small bowl and set aside.
Place 1/4 of the mushroom mixture in the centre of each pastry square, then spoon 1/4 of the cream cheese mixture on top.  Place a chicken breast on top, wrap the pastry around the it and seal the edges tightly.  you can run your finger with a little water on it around the edges to help it seal.
Place the wrapped chicken seam side down on a baking sheet lined with baking paper, brush generously with the egg wash, and bake for about 20 minutes, until puffed and browned.
to make the gravy:
Melt the butter in a small saucepan over medium heat, then whisk in the flour.  Whisk until the flour darkens and begins to thicken, whisk in the broth and wine.
Season with salt and pepper, and continue to stir well until it boils.  Allow it to boil for about 2 minutes, stirring very often, until the gravy thickens.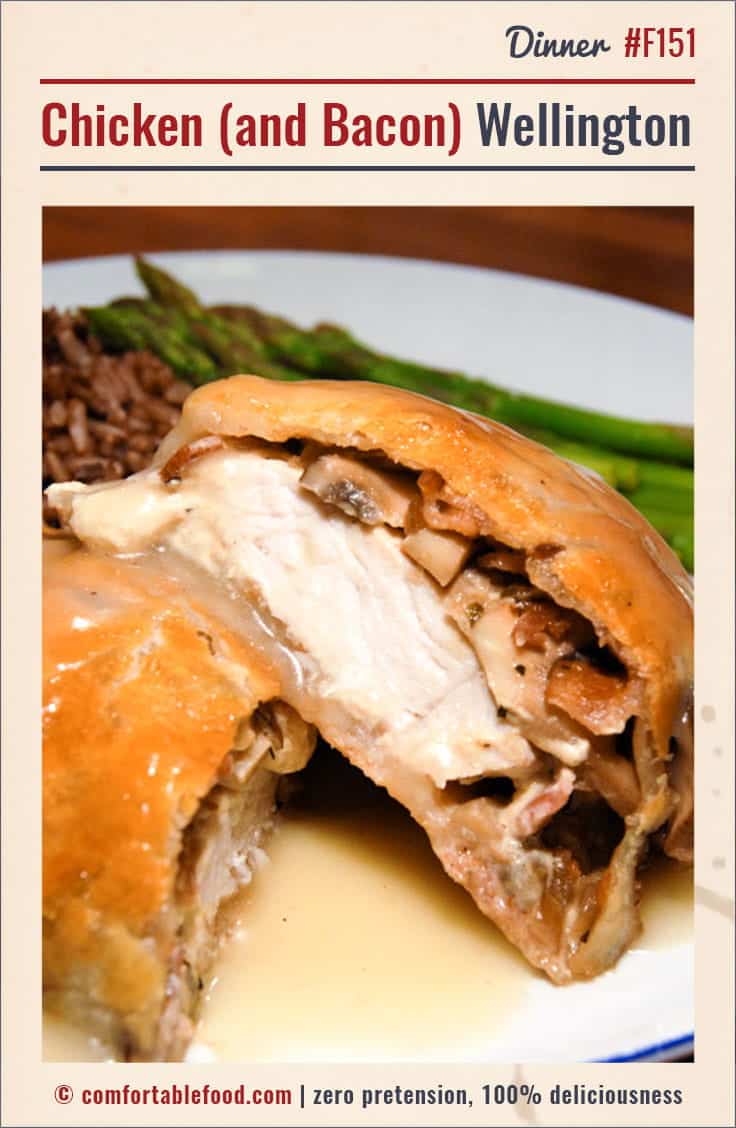 this post contains affiliate links