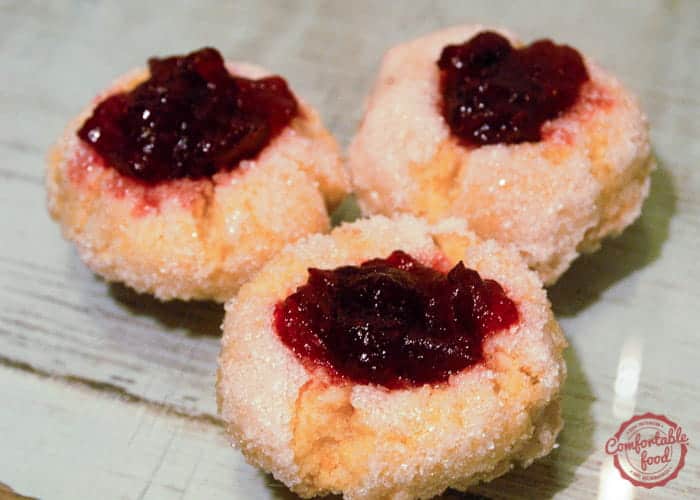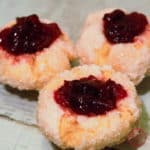 It's Christmas Cookie Week here at comfortable food, and first up are these fantastic Cranberry Orange Thumbprint Cookies.  I got this recipe from Martha Stewart, and as usual, she does not fail to impress.  The texture of these cookies is fantastic, the egg wash gives them an amazing crunchy shell, and the cornmeal gives just enough chewiness for a great contrast.  The combination of the sweet cranberry and the bitter orange peel gives perfect Christmas flavor, and they are absolutely beautiful enough to gift.
Ingredients
how to
Pre heat oven to 350 F (175 F)
In a large bowl, whisk together the flour, cornmeal, and salt.
In a separate bowl, using an electric mixer, beat the butter and 1/4 cup sugar together until fluffy, about 3 minutes.
Add the orange zest and egg yolk, mix well, then slowly add the flour mixture until combined.
In a small bowl, lightly whisk the egg white, until frothy.  Using a 2 tbsp scoop, form a of cookie dough, dip it in the egg white, then roll it in the remaining sugar.
Place the sugar coated balls on a baking paper covered baking sheet, and gently press into the center of each ball with your thumb.
Bake in the oven until golden brown, about 15 minutes.
Remove from oven, and while the cookies are still warm, gently press with your thumb again to make sure there is a well in the center., then transfer to a wire rack to cool.
while the cookies are baking, make the filling:
Bring the cranberries, water, sugar and orange zest to a boil in a small saucepan.
Reduce heat, and simmer, smashing the cranberries - until thick, about 5 minutes, then remove from heat and let cool.
Spoon a small amount of the cooled cranberries into the well in each cookie.