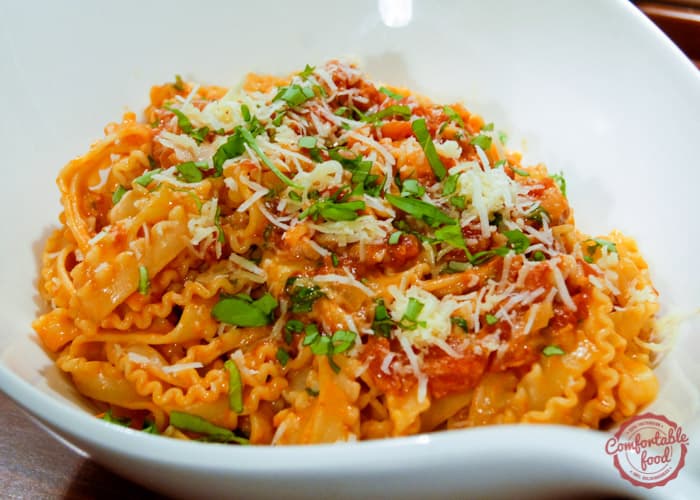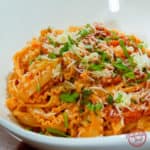 There are few meals that I love more than a big steaming bowl of creamy pasta. This one hits the spot every time—it's very simple to make and the flavors blend together perfectly. It's a great vegetarian dish as written, but if you want it to meat it up you can add Italian sausage or some cooked chicken breast.
A longer pasta, like fettuccine, works best with this sauce—you want something with as much surface area as possible to coat with all that deliciousness. I love my cream sauce with a kick, so I doubled the crushed red pepper. If you like it spicy like me, you should do the same.
(This recipe was originally published here on 11/25/2013)
Ingredients
how to
Bring a pot of water to boil and cook the pasta al dente, according to package directions. While the water is heating, you can prepare the sauce.
Melt the butter in a large skillet over medium heat. Add the onion and cook until softened, about 5 minutes. Add the garlic and red pepper and cook for another minute or two.
Stir in the tomatoes and salt and cook, stirring often, over medium-high heat until most of the liquid has cooked away. Remove from heat and let stand for a minute, then whisk in the milk.
Drain the pasta and place in a large serving bowl. Add the basil, Parmesan cheese and tomato mixture and toss to coat. Garnish with additional chopped basil and Parmesan cheese.