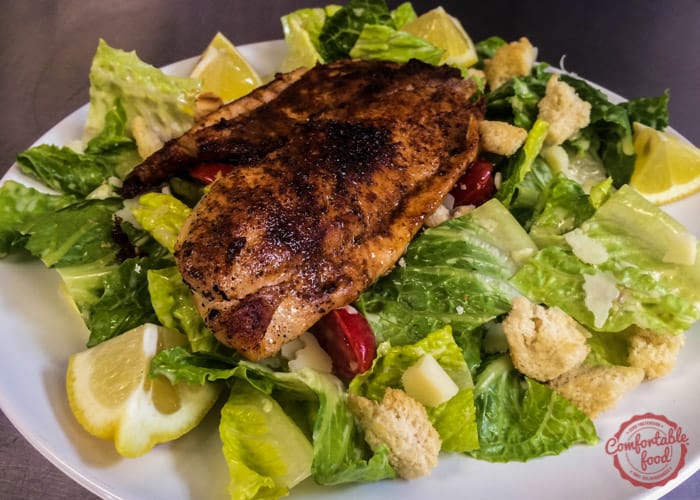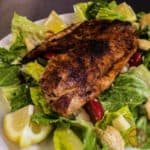 I was trying to come up with a good summer salad, and I knew I wanted to do a homemade Caesar, but I couldn't figure out what kind of protein I wanted to put on it. I went back and forth between many options, then settled on tilapia. I love how versatile the fish is—it really goes with almost anything. It also takes strong flavors well, so I decided to give it a blackening rub to contrast with the cool Caesar dressing. The result is amazing. I absolutely love this pairing. It's the perfect summer salad: full of flavor, with tons going on, but still light enough that you're actually energized after lunch and not ready for a nap.
You don't have to make your own dressing, but I highly encourage it. If you're worried about egg safety, the fresh lemon juice and the dijon provide enough acidity to kill most bacteria present. Always be sure to buy fresh, good quality eggs—and if you want to be extra-safe you can always coddle the egg by letting it sit in boiling water for about 1 minute before opening it.
(This recipe was originally published here on 05/15/2014)
Ingredients
how to
make the dressing:
Use a pestle and mortar to grind the anchovy filets, garlic and salt into a paste. (If you don't have a pestle, then just chop them together finely, and press with the side of a knife to make it a paste.) Scrape the paste into the bottom of a large mixing bowl.
Whisk in the egg and egg yolk, then whisk in the lemon juice, Worcestershire, and Dijon mustard. Very gradually begin to whisk in the olive oil - just a few drops at first, then in a thin stream, until the dressing is smooth and glossy.
make the croutons:
Heat the oven to 375 F.
Toss the bread pieces with the olive oil and salt and pepper, then spread evenly on a baking sheet and bake until browned - shaking the baking sheet occasionally, about 10 - 15 minutes. Remove and allow to cool.
make the salad:
Brush each side of the tilapia filets with some butter, then pour the rest into a heavy bottomed skillet. Generously season both sides of the tilapia with the blackening spices, pressing it into the fish.
Heat the skillet to medium high and cook the fish until done, about 3 minutes per side then remove to a plate to cool.
Chop the romaine and put in a large salad bowl. Toss well with the dressing, parmesan, and croutons - add black pepper to taste.
Heap a large pile of salad on 4 plates, then top with the tilapia filets. Sprinkle with any remaining parmesan and serve.