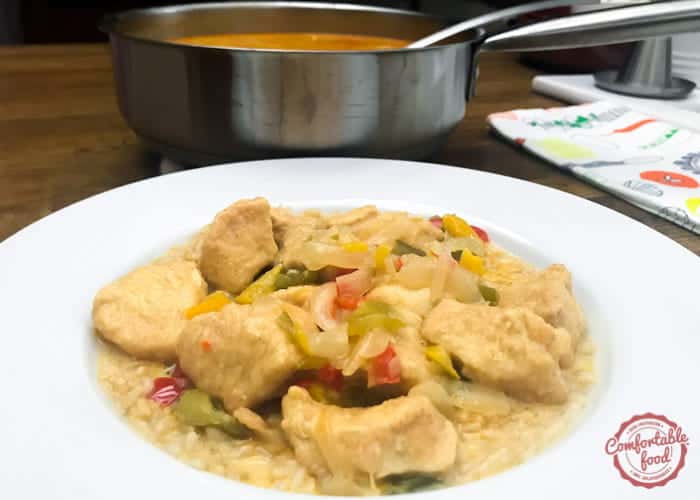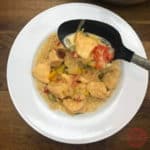 This paprikas (paprika chicken) is a very traditional Hungarian comfort food dish.  I know I say this a lot, but it's so quick and easy to put together it's ridiculous.   I highly recommend (ok, insist) that you use good quality, Hungarian paprika - it really does make all the difference in this dish.  There are so many small variations of paprikas - some people don't use bell peppers, some use tomatoes, some add a lot more paprika.  Feel free to shake things up or to make it just as I did - delicious.
here's a video showing how to make it:
Ingredients
how to
Whisk together the flour, 2 tbsp paprika, salt and pepper.
Dredge the chicken pieces in the flour mixture and set aside.
Melt butter in a dutch oven, or heavy bottomed skillet over medium heat, add the chicken pieces and cook for about 4 minutes per side, until well browned, then remove to a plate.
Add the onions, bell peppers, 1 tbsp paprika and cayenne to the pan, and cook for about 5 - 7 minutes - scraping up any pieces stuck to the bottom of the pan - until softened and the onions are browned.
Return the chicken to the pot and add enough broth to cover it.  Bring to a boil, then reduce heat, cover and simmer for about 20 - 25 minutes, or until chicken is cooked through.
Remove the pan from heat, use a slotted spoon to take the chicken out of the pan, then gently stir in the sour cream.  Return the chicken to the pan and coat well with sauce.
Serve with rice, wide pasta noodles or roasted potatoes.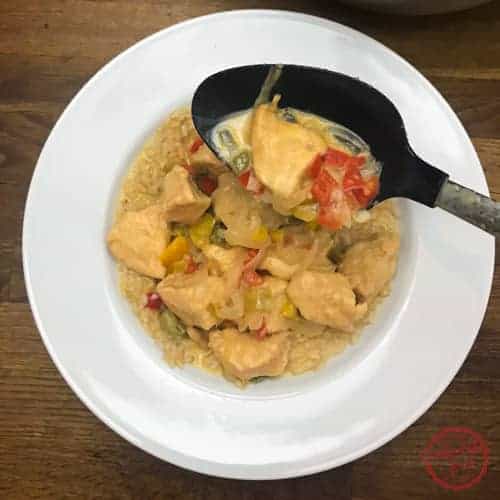 Add to Favourites