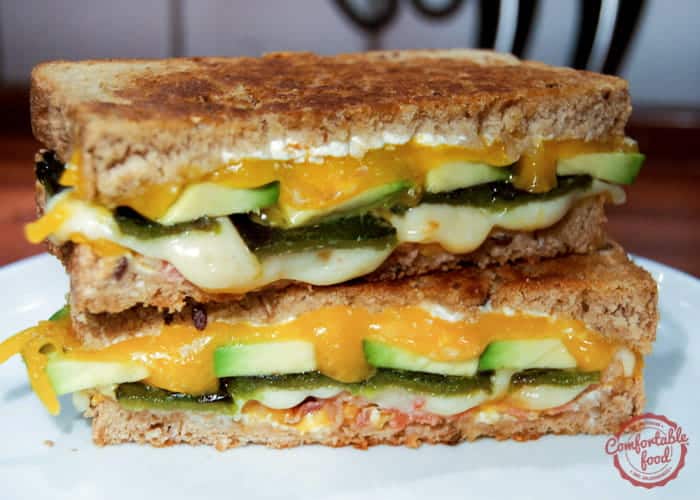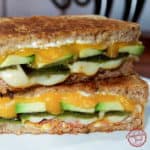 Bring some spice to your life with this jalapeño popper grilled cheese sandwich.  This sandwich contains the essential parts of the jalapeño popper appetizer - cream cheese, jalapeños and cheddar.   The bacon is added well, because it's bacon - and the avocado helps to cool the heat and bring it all together.
Ingredients
how to
Begin by roasting the jalapeños.  Turn your broiler on to 400 F (200 C).  Put the jalapeños on a baking sheet in the top of the oven.  Look at them after about 4 - 5 minutes, and if they are blackened, turn them over and allow to blacken on all sides.  Remove to a plate and allow to cool about 10 minutes.
When the jalapeños have cooled enough to handle them, strip the blackened skin off, then cut them in half and scrape away the seeds and set aside.
Half the avocado and hold it in your hand.  Carefully use a knife to cut thin slices into the flesh, then use a spoon to remove it from the skin and set aside on a plate.  (be careful to not let the knife pierce the skin when slicing)
Butter one side of each slice of bread and stack them with the buttered sides touching.  Spread 1 tbsp of cream cheese on the exposed top piece of bread.
Sprinkle some cheddar on top of the cream cheese, then lay 4 slices of bacon on each sandwich.
Place a slice of pepper jack on the bacon, then add the jalapeños, avocado and remaining cheddar.
Spread another tbsp of cream cheese on the unbuttered side of the bottom piece of bread and place on top.
Grill on a griddle over medium low heat until the cheese is melted and the bread is golden brown.