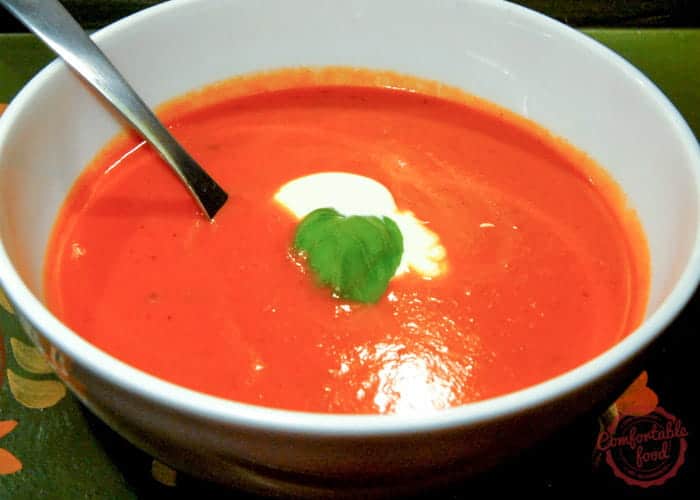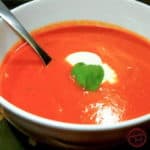 Roasting the tomatoes with the garlic stuffed inside of them gives this tomato soup so much flavor, it's ridiculous.  The balsamic adds a nice tang that really pulls it all together and the sour cream adds a bit of richness and really ups the yum factor.  Serve this soup with a gooey grilled cheese sandwich for lunch, or before a nice dinner.
Ingredients
how to
Preheat the oven to 400 F (200 C).
Line a baking sheet with aluminum foil, and grease lightly.
Drain the tomatoes, reserving the juice for later.
Take each tomato and gently push about 2 or 3 slices of garlic in it, then arrange on the foil and drizzle with a little olive oil, generously salt and pepper and sprinkle with dried basil.
Roast in the top third of your oven for about 30 - 35 minutes, until beginning to char, but not drying out completely.
While the tomatoes are roasting, heat the oil and butter in a large soup pot, add the onion and carrot, a generous amount of salt and pepper, and saute over medium heat until the onion begins to lose it's shape, about 5 or 6 minutes.
Add the reserved tomato liquid, tomato paste, the balsamic vinegar, sugar, and stock, then increase the heat a bit and bring the soup to a low simmer. 
When they are ready, add the tomatoes with their juices and continue to simmer the soup for about 30 minutes to an hour.
Remove the soup from heat, let cool for about 10 minutes, then whisk a few tablespoons of the hot soup into the sour cream to warm it, then add it and the basil to the soup and pulse-blending until smooth.
Serve with a crusty baguette and garnish with a little sour cream and a basil leaf or two.