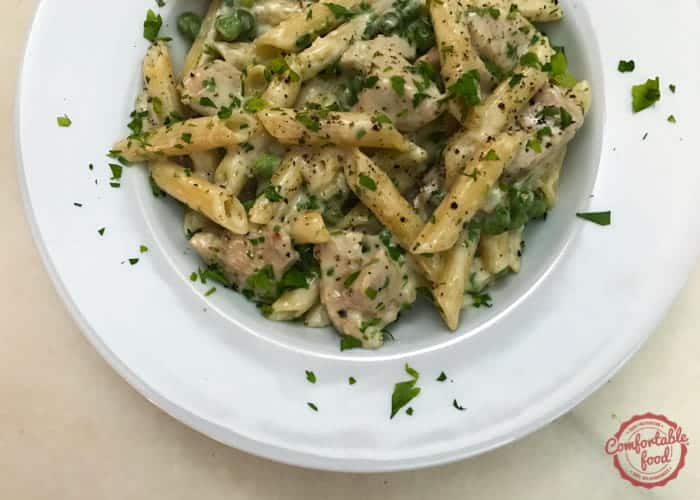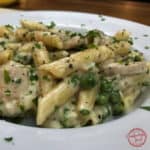 This Chicken Alfredo is the answer to those days you wake up and can only think about eating pasta.  It happens to me quite often and I know, I know - carbs and all.  But those times when the only thing that will satisfy is a piping hot bowl of creamy pasta, this is the dish for you.  It's on the table in under 30 minutes, it's so hearty and filling and absolutely delicious!
here's a video showing how to make it:
Ingredients
how to
Heat the butter and olive oil in a heavy bottomed skillet over medium low heat.  Add the onion and cook for about 2 - 3 minutes, or until softened.  Add the garlic and cook for another minute or two then increase the heat, add the chicken and cook - stirring often - until the chicken is cooked through, about 5 - 6 minutes.
Pour the cream into the skillet with the chicken and cook for a few minutes, then stir in the Parmesan and peas and cook until the sauce begins to thicken.  Add a generous amount of cracked black pepper while the sauce is cooking.
Toss the sauce with the cooked pasta, then add some more parmesan and parsley and toss again until combined.  Serve immediately.