Fall in love with this exquisite pumpkin cheesecake that combines the goodness of the pumpkin pie filling and the creaminess of the cheesecake filling. This easy pumpkin cheesecake recipe is the perfect showstopper to WOW your guests with delicious flavors and textures that feels like a touch of heaven with every bite!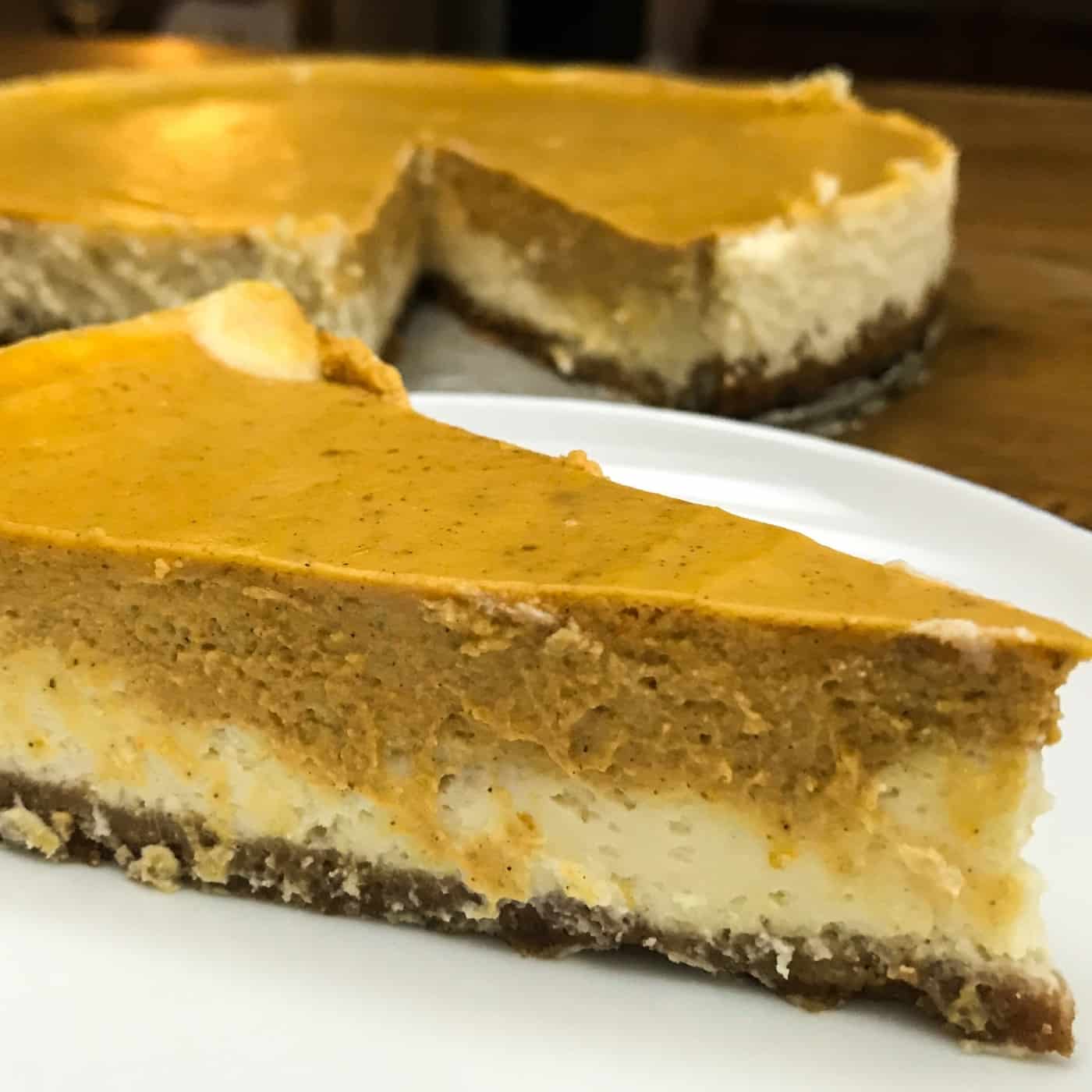 If you love cheesecake, one of my absolute favorites is my oreo cheesecake recipe. This recipe is fantastic, and it is super easy. Just pick your favorite oreo cookie flavor and bake. Another stellar option is my amazing pumpkin bread for an excellent breakfast option.
Contents
⭐ Pumpkin pie cheesecake
If you love pumpkin pie and cheesecake, this dessert is perfect for you! A sweet but not too sweet dessert that combines pumpkin flavor and cream cheese in a golden graham cracker crust to create the ultimate cheesecake.
Pumpkin pie cheesecake is one of the desserts my kids frequently request, and since it is not complicated to make, I usually make a double batch and freeze one for another day. Cheesecake is an excellent recipe for storing in the fridge or freezer, and once baked, it can last for a good few days in the fridge.
Celebrate your next thanksgiving dinner with a slice of creamy cheesecake infused with pumpkin spice and serve it with homemade rum-infused whip cream and salted caramel syrup for a thanksgiving dessert your friends and family will remember.
🍽 What you need
For the best pumpkin cheesecake filling results, I recommend letting the eggs, cream cheese, and sour cream come to room temperature before mixing. Dairy products work better together to make a smooth batter when they are at room temperature.
Equipment
Medium mixing bowl
Large mixing bowl
9-inch springform pan
Large roasting pan for water bath
Food processor, stand mixer, or handheld mixer
🔪 How to make
This pumpkin cheesecake is to die for!
It is definitely in my top 3 cheesecakes I have ever made, and for good reason. The crust has a lovely cinnamon flavor mixed with the graham crackers, and the pumpkin cheesecake filling is a mixture of dairy products and pumpkin purée.
Once it is baked in a water bath for over an hour and then cooled down, the texture becomes so smooth and light that it almost melts in your mouth.
ENOUGH SAID, LET'S GET STARTED!
For the graham cracker crust:
Preheat the oven to 350°F (177°C) and line a non-stick springform pan with parchment paper.
Pulse graham crackers in the blender until fine crumbs and pour them into a medium bowl with the melted butter, brown sugar, and cinnamon. Incorporate the mixture and press it into the springform pan on the bottom and sides to create a pie crust shape.
Bake it in the preheated oven for 10 minutes and then leave it on a rack to cool while making the creamy filling.
For the pumpkin cheesecake filling:
Turn the oven temperature down a few degrees to 350°F (163°C).
Combine cream cheese and sour cream in the stand mixer fitted with a whisk, or beat them together in a large bowl until light and fluffy.
Add the vanilla extract, salt, and granulated sugar for a further minute, then incorporate the eggs one by one. Beat continuously to create a silky batter.
Pour ¾ of the cheesecake batter into the springform pan and add the pumpkin puree and pumpkin pie spice to the other ¼ batter, mixing until just blended.
Gently spoon the pumpkin pie filling over the cream cheese mixture and spread it out to create a pumpkin pie layer.
Set the cheesecake into the large roasting pan half full with boiling water, then bake cheesecake for 75 minutes until firm on the outside and a little wobbly in the middle.
Take the roasting pan out of the oven and let the cheesecake sit on a wire rack until completely cooled. Then allow to cool completely in the fridge for 4 hours or overnight for best results.
Remove the springform and serve with fresh whipped cream and caramel sauce.
💭 Top tips
Do not open the oven door while the pumpkin cheesecake pie is baking. Opening the oven door will let the hot air out and potentially cause the cheesecake to fall in the middle.
Swap the graham crackers for gingersnap cookies to make a gingersnap crust or digestive biscuits for an even crunchier crust.
If you do not possess a mixer, you can always smash the graham crackers into crumbs Do not open the oven door while the pumpkin cheesecake pie is baking. Opening the oven door will let the hot air out and potentially cause the cheesecake to fall in the middle.
Swap the graham crackers for gingersnap cookies to make a gingersnap crust or digestive biscuits for an even crunchier crust.
You can always smash the graham crackers into crumbs inside a ziplock bag with a rolling pin if you do not possess a mixer. Using a whisk to beat the cheesecake mixture into a smooth consistency should take around 10 minutes.
Make sure to keep the dairy products at room temperature. This will help create a smooth batter and the amount of time needed to combine them.
When making whipping cream to serve on top of your cheesecake, put the bowl or mixer in the freezer for 20 minutes. The bowl will stay cooler for longer when beating the cream together, which leads to perfectly light and fluffy whipped cream.
📖 Variations
Switch up the pumpkin cheesecake recipe by creating small bars, mini cheesecakes, or muffins. These tasty alternatives are perfect for bringing to a party, bringing to a picnic, or serving them with an afternoon coffee with friends. You can always add some delicious cheesecake toppings to this recipe!
There are many different varieties of tasty cheesecake treats you can make, like truffles, bites, and even pumpkin-flavored cheesecake ice cream, to name a few. Still, my absolute favorites to make that are easy to prepare and highly moreish are:
Pumpkin cheesecake bars
These pumpkin swirl cheesecake bars are something! I Made this recipe last week when my kids had their friends over, and 20 bars lasted all 45 minutes.
The recipe uses the same ingredients, with the only difference creating beautiful swirls with the cheesecake batter and pumpkin pie filling before baking it in the buttery graham cracker crust. Once it's cooled, cut them into small squares and voilà; you have irresistible pumpkin cheesecake bars. Also, check out my pumpkin gingerbread bars recipe.
Mini pumpkin cheesecake
Similar to the cheesecake bars, these tasty little mini cheesecake treats are baked in a muffin tin. Combine the best of both worlds with pumpkin and cheesecake baked in harmony with a delicious crust. You can make the crust with graham's crackers or go NUTTY with a gingersnap crust.
The gingersnaps work perfectly with the pumpkin pie spice and are worth trying!
Cream Cheese Pumpkin Muffins
These delicate muffins are perfect for sharing, and they last for days! Pumpkin cheesecake muffins are made with a light pumpkin cake texture on the outside and a cream cheese filling on the inside. Eat them for breakfast, brunch, or as a quick snack!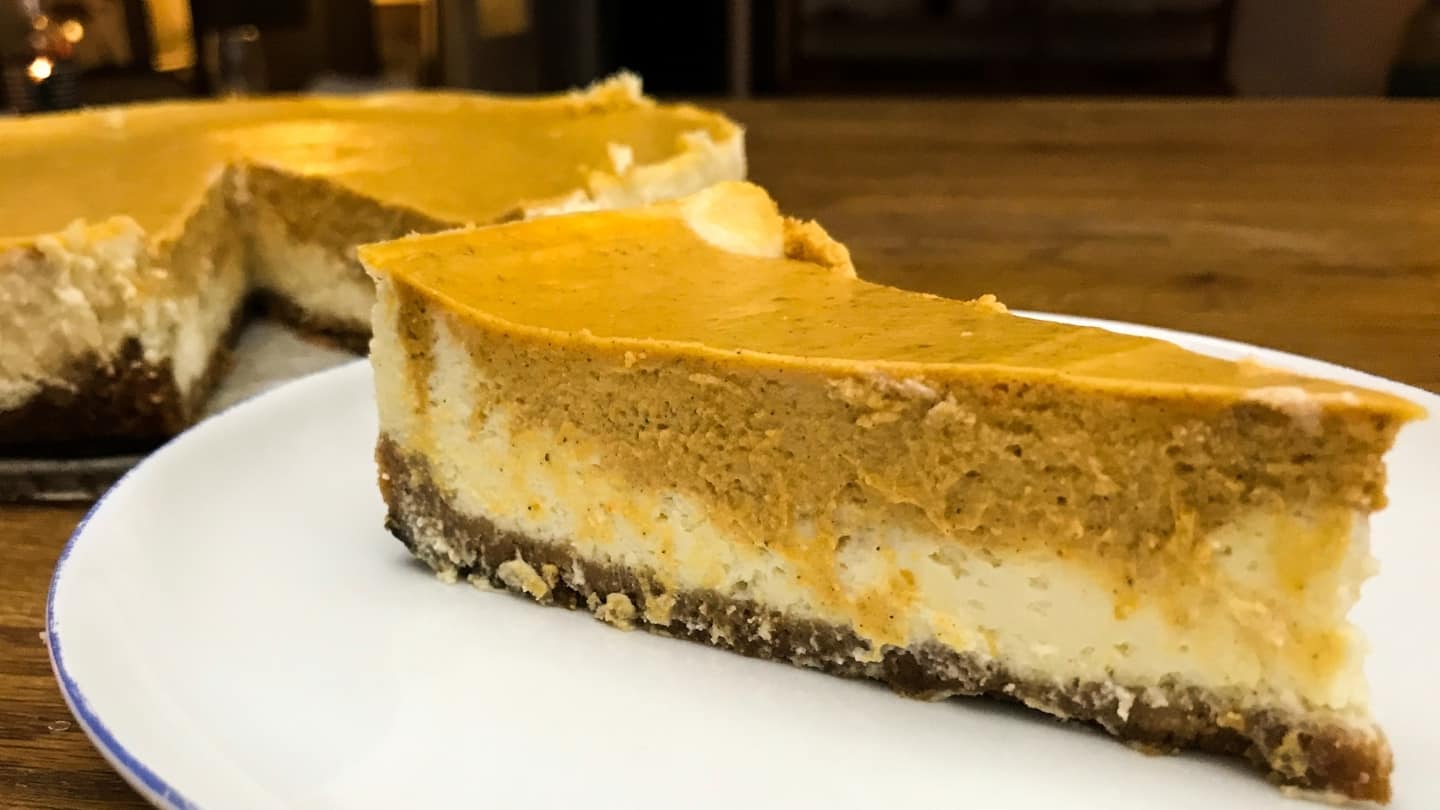 Make a perfect cheesecake with a water bath
The secret to making a sublime cheesecake is making a water bath that is watertight. To make sure that your cheesecake does not crack, discolor, or blow up in the middle while baking, you need to cover the springform pan with aluminum foil around the bottom and sides.
🥫 Storage
Pumpkin cheesecake is perfect for storing in the fridge or freezer and lasts up to 4 days refrigerated and up to 6 months frozen.
Fridge: Let the cheesecake cool before transferring it to the fridge. I recommend storing it in an airtight container to keep it from drying up.
Freezer: Allow the cheesecake to cool, cover it with plastic wrap, and transfer it to an airtight container—Thaw the cheesecake overnight in the fridge before serving.
👪 Serving Size
This wonderful recipe will serve 8 adult-sized portions, but BEWARE, you may need more as it tastes fantastic!
Forget going to the cheesecake factory to take a slice of pumpkin cheesecake when you can make your own in the comfort of your home that tastes amazing, and you can take a slice when you feel good and ready! For more pumpkin recipes check my collection of best pumpkin dessert recipes.
Watch how to make it
Love this dessert recipe? Please leave a 5-star 🌟rating in the recipe card below and/or a review in the comments section further down the page.

Try one of my comfort dessert recipes for your next meal! And if you have any questions, I'm here to help!
📋 Recipe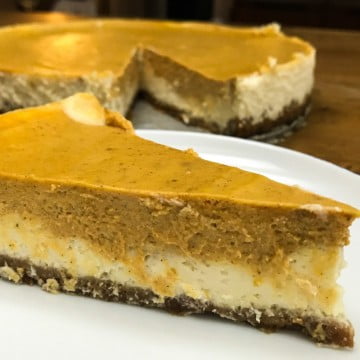 Pumpkin Cheesecake
Pumpkin desserts are one thing, but Pumpkin CHEESECAKE is another. If you love pumpkin you have to try this recipe. It is rich, creamy and the combination is perfect.
Print
Pin
Rate
Share
Ingredients
for the crust:
1 ½

cups

graham cracker crumbs

⅓

cup

butter

-

melted

2

tablespoon

brown sugar

½

teaspoon

cinnamon
for the filling:
3

packages

cream cheese

-

8 oz each, softened

1

cup

sour cream

1

cup

sugar

1

teaspoon

vanilla

4

large

eggs

1

cup

pumpkin puree

1

teaspoon

pumpkin pie spice
Instructions
for the crust:
Preheat oven to 350 and line the bottom of a springform pan with baking paper.  Spray the bottom and sides with non stick spray.

In a small bowl, stir the cracker crumbs together with the butter, brown sugar and cinnamon.  Press this mixture into the bottom of the springform, brining it up a little on the sides and bake until set - about 10 minutes.   Put the pan on a cooling rack and allow to cool completely.
for the filling:
Reduce the oven temperature to 325 degrees.

Beat the cream cheese and sour cream together in a medium sized mixing bowl until light and fluffy, then add the sugar, salt and vanilla and mix well.

Add the eggs, one at a time, mixing well after each addition until just blended.

Pour about ¾ of this mixture over the crust in the springform pan.

Into the remaining ¼ of the cream cheese mixture, add the canned pumpkin and pumpkin pie spice.  Mix together well.

Drop dollops of the pumpkin mixture over the cream cheese in the crust, then spread over evenly.

Put the springform into a large baking dish and pour boiling water in to come up about halfway up the side.  Bake until almost set in the center, about 75 minutes, then allow to cool completely.  Chill in the fridge for at least 4 hours before removing from the springform and serving.
Nutrition
Calories:
575
kcal
|
Carbohydrates:
48
g
|
Protein:
11
g
|
Fat:
39
g
|
Saturated Fat:
21
g
|
Trans Fat:
1
g
|
Cholesterol:
202
mg
|
Sodium:
448
mg
|
Potassium:
304
mg
|
Fiber:
2
g
|
Sugar:
37
g
|
Vitamin A:
6236
IU
|
Vitamin C:
2
mg
|
Calcium:
166
mg
|
Iron:
2
mg